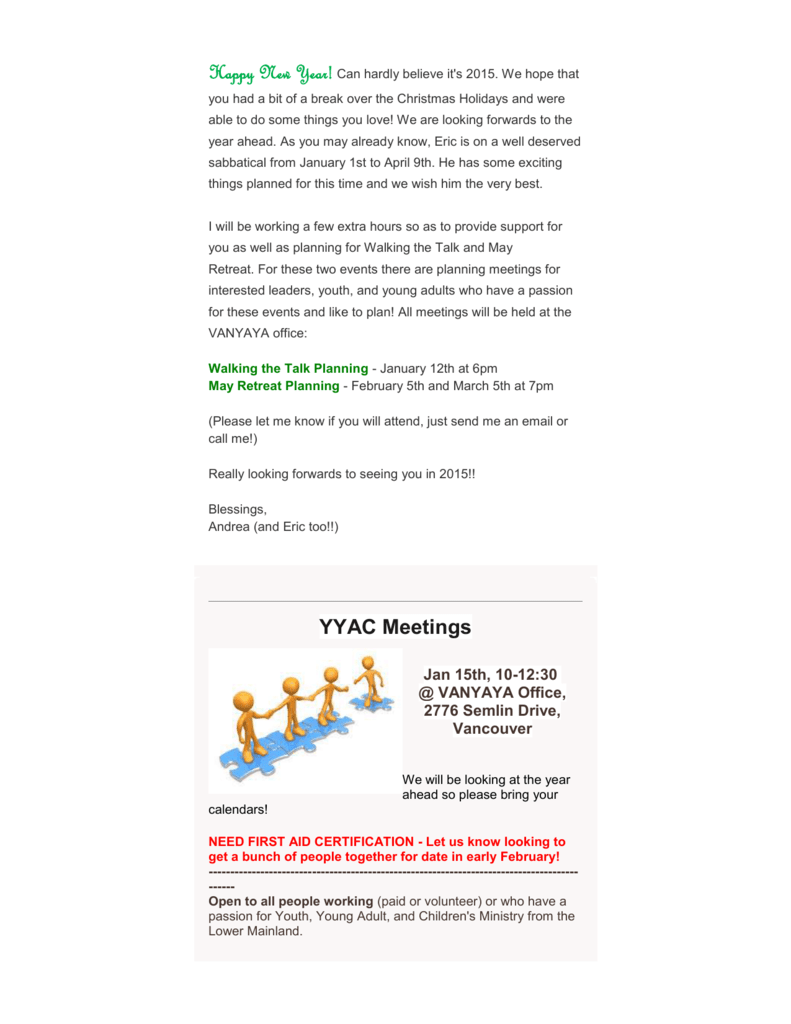 Happy New Year! Can hardly believe it's 2015. We hope that
you had a bit of a break over the Christmas Holidays and were
able to do some things you love! We are looking forwards to the
year ahead. As you may already know, Eric is on a well deserved
sabbatical from January 1st to April 9th. He has some exciting
things planned for this time and we wish him the very best.
I will be working a few extra hours so as to provide support for
you as well as planning for Walking the Talk and May
Retreat. For these two events there are planning meetings for
interested leaders, youth, and young adults who have a passion
for these events and like to plan! All meetings will be held at the
VANYAYA office:
Walking the Talk Planning - January 12th at 6pm
May Retreat Planning - February 5th and March 5th at 7pm
(Please let me know if you will attend, just send me an email or
call me!)
Really looking forwards to seeing you in 2015!!
Blessings,
Andrea (and Eric too!!)
YYAC Meetings
Jan 15th, 10-12:30
@ VANYAYA Office,
2776 Semlin Drive,
Vancouver
We will be looking at the year
ahead so please bring your
calendars!
NEED FIRST AID CERTIFICATION - Let us know looking to
get a bunch of people together for date in early February!
------------------------------------------------------------------------------------------Open to all people working (paid or volunteer) or who have a
passion for Youth, Young Adult, and Children's Ministry from the
Lower Mainland.
The Purpose of Our YYAC Meetings
Intentional spiritual networking and mentoring of all involved in
Youth, Young Adult, and Children's Ministry, through community
building, sharing resources and talents, and planning events.
All gatherings are potluck-if you can please bring something to
share-however, please come even if you are unable to bring
anything! There is always tons to share.
YYAC Facebook Page
AWE
Sunday Jan 18th 1pm
& Sunday Feb 15th 1pm
@ St Andrew's Wesley UC
Come and join us in an expression of
worship that is engaging and
participatory and explore new ways of
worship.
Be Still
For those who work or volunteer with
Children, Youth, and Young Adults in The
United Church of Canada.
@ Rivendell Retreat Centre,
Bowen Island, BC
January 27-30, 2015 (3 Night Event)
contemplative...practices...rest...renewal...in community
Please email Mary Nichol at [email protected] for info!
Children and the Church
15th Bi-Annual Ecumentical Event
Storytelling and the Spiritual Lives of Children
January 31st, 2015 9am to 4:30pm
Special Guests: Storyteller, Kung
Jaadee(Haida) and Rev. Dr. Martin
Brokenleg(Lakota)
Presented by the Vancouver School of
Theology
Learn more and Register
Imagine Children's Retreat 2015
February 20-22 @ Stillwood Retreat Centre
Camp Counsellors are needed once again for this event. If you
have experience and love working with children please apply as
soon as you can to join our fun team. You must be in Grade 10 to
12!
Apply to be a Camp Counsellor
www.imaginechildrensretreat.ca
May Retreat 2015
We are planning May Retreat
for 2015 (May 15-18) for
Vancouver and Westminster
Presbyteries and we want your
input! This event is to take place at
Fircom!
Please email [email protected] if you are interested in
helping plan this event.
We are meeting the following dates to plan:
Thurs Feb 5 7-9pm @ VANYAYA
Thurs Mar 5 7-9pm @ VANYAYA
Walking the Talk
2015
This event is schedule to take
place April 24-26th based out of
St Stephen's United Church on
Granville. We are currently
planning this event around the
theme of Climate Justice. Our
first meeting is on January 12th
at 6pm! Please email [email protected] if you are
interested as I will be figuring out food in advance!