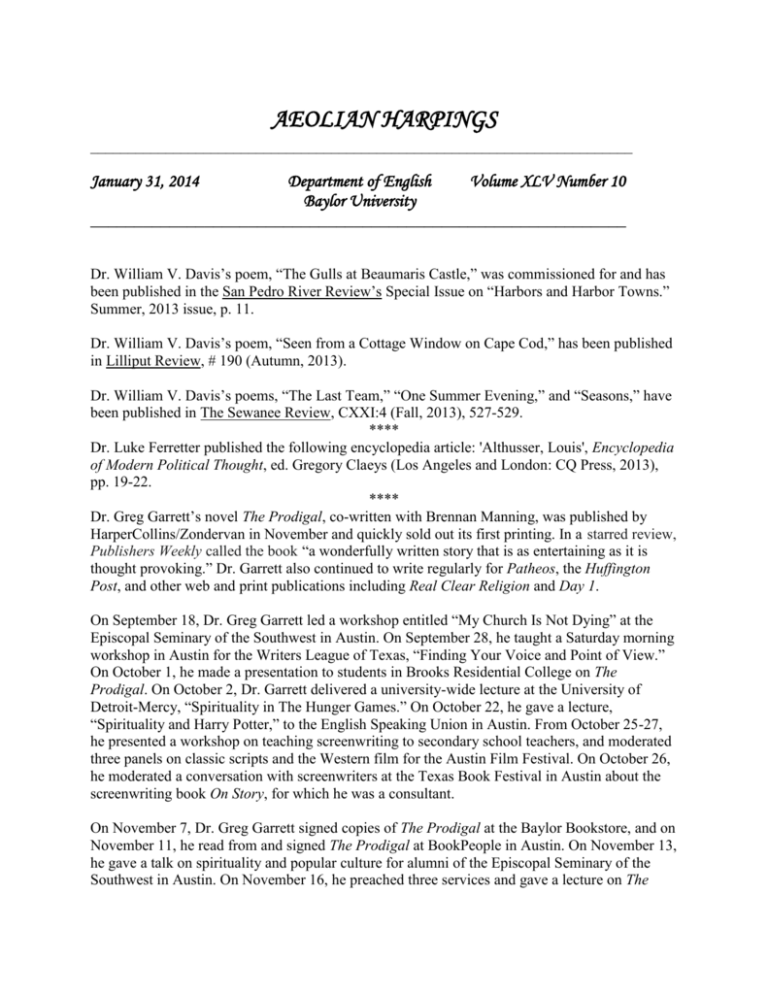 AEOLIAN HARPINGS
________________________________________________________________________
January 31, 2014
Department of English
Volume XLV Number 10
Baylor University
_____________________________________________________________
Dr. William V. Davis's poem, "The Gulls at Beaumaris Castle," was commissioned for and has
been published in the San Pedro River Review's Special Issue on "Harbors and Harbor Towns."
Summer, 2013 issue, p. 11.
Dr. William V. Davis's poem, "Seen from a Cottage Window on Cape Cod," has been published
in Lilliput Review, # 190 (Autumn, 2013).
Dr. William V. Davis's poems, "The Last Team," "One Summer Evening," and "Seasons," have
been published in The Sewanee Review, CXXI:4 (Fall, 2013), 527-529.
****
Dr. Luke Ferretter published the following encyclopedia article: 'Althusser, Louis', Encyclopedia
of Modern Political Thought, ed. Gregory Claeys (Los Angeles and London: CQ Press, 2013),
pp. 19-22.
****
Dr. Greg Garrett's novel The Prodigal, co-written with Brennan Manning, was published by
HarperCollins/Zondervan in November and quickly sold out its first printing. In a starred review,
Publishers Weekly called the book "a wonderfully written story that is as entertaining as it is
thought provoking." Dr. Garrett also continued to write regularly for Patheos, the Huffington
Post, and other web and print publications including Real Clear Religion and Day 1.
On September 18, Dr. Greg Garrett led a workshop entitled "My Church Is Not Dying" at the
Episcopal Seminary of the Southwest in Austin. On September 28, he taught a Saturday morning
workshop in Austin for the Writers League of Texas, "Finding Your Voice and Point of View."
On October 1, he made a presentation to students in Brooks Residential College on The
Prodigal. On October 2, Dr. Garrett delivered a university-wide lecture at the University of
Detroit-Mercy, "Spirituality in The Hunger Games." On October 22, he gave a lecture,
"Spirituality and Harry Potter," to the English Speaking Union in Austin. From October 25-27,
he presented a workshop on teaching screenwriting to secondary school teachers, and moderated
three panels on classic scripts and the Western film for the Austin Film Festival. On October 26,
he moderated a conversation with screenwriters at the Texas Book Festival in Austin about the
screenwriting book On Story, for which he was a consultant.
On November 7, Dr. Greg Garrett signed copies of The Prodigal at the Baylor Bookstore, and on
November 11, he read from and signed The Prodigal at BookPeople in Austin. On November 13,
he gave a talk on spirituality and popular culture for alumni of the Episcopal Seminary of the
Southwest in Austin. On November 16, he preached three services and gave a lecture on The
Prodigal at the American Cathedral in Paris, France, and on November 19, he spoke on theology
and popular culture at the American Library in Paris. On November 20, Dr. Garrett preached at
the College Chapel at King's College, London, and gave a seminar on theology and Harry Potter.
On November 21, he spoke at Magdalene College, Cambridge, on "The Novelist as Theologian,"
and he and his son Chandler were the guests of Lord Rowan Williams, the college's Master, at
college dinner.
On December 8, he signed copies of The Prodigal at St. David's Episcopal Church, Austin,
Texas. On December 11, The Prodigal was the featured book for "Johnson City Reads," and Dr.
Greg Garrett spoke at the Johnson City (Texas) Public Library. On December 15, he preached
two services at St. George's Episcopal Church in Austin, Texas. On December 18, he spoke
about The Prodigal for his grandmother's book club at the Watonga (Oklahoma) Public Library.
This fall, Dr. Greg Garrett was interviewed by media sources including The Baptist Standard,
Christian Retailing, Patheos, Waco Tribune Herald, KUT-FM (Austin), SHINE-FM (Alberta,
Canada), and Read the Spirit.
****
The Journal of the Early Book Society has accepted Dr. Hope Johnston's article on "The George
A. Aitken Collection of Early Printed Chaucer Editions at the University of Texas Harry Ransom
Center."
The Harry Ransom Center has invited Dr. Hope Johnston to deliver a guest lecture at the
University of Texas on February 20, 2014 to share findings from my HRC research fellowship
on "Owner Markings in Early Printed Chaucer Editions."
The Bibliographical Society (UK) has awarded Dr. Hope Johnston a £200.00 research travel
grant to study early printed Chaucer editions at the Morgan Library in New York City during
spring break.
****
Dr. Marie Smart has been invited on the judging committee for the 2014 Modernist Studies
Association Book Prize. Dr. Smart will be reviewing 60-80 books for the MSA Book Prize.
****
Dr. Joshua King's book, Imagined Spiritual Communities in Britain's Age of Print, has been
accepted for publication with Ohio State University Press. The book will be published in Ohio
State UP's notable series on religion and literature, Literature, Religion, and Postsecular Studies.
****
Christina Boyles's article entitled "'...And the Gulf did not Devour Them': The Gulf as a Site of
Transformation in Anzaldua's Borderlands and Kingsolver's The Lacuna" was accepted for
publication by Southern Literary Journal.
****
Sara Kelm, English Department graduate student and tutor in the Athletic Writing Center, was
named an Assistant Editor for the South Central Writing Center Association Newsletter. This is a
new publication, edited by Alanna Bitzel, an academic counselor in UT/Austin Intercollegiate
Athletics. One assistant editor was chosen from each state in the region to serve a one-year term.
CONFERENCES—CALLS FOR PAPERS
Information has been received from Palm Beach Atlantic University concerning their
Southeastern Regional Meeting of the Conference of the Christianity and Literature. "Imagining
Paradise" is the central theme for the conference, scheduled April 3-5, 2014. Paper submissions
are encouraged, and should explore how literary artists imagine paradise or paradise's dark
opposite depiction. Some examples are abstract images of height and light to concrete images of
mountains and seascapes; Hades or purgatory; and convergences between heaven and hell. Paper
proposals are due February 14, 2014, and can be submitted to Samuel Joeckel at
Samuel_Joeckel@pba.edu. For more information, please see the flier on file in CS 106.