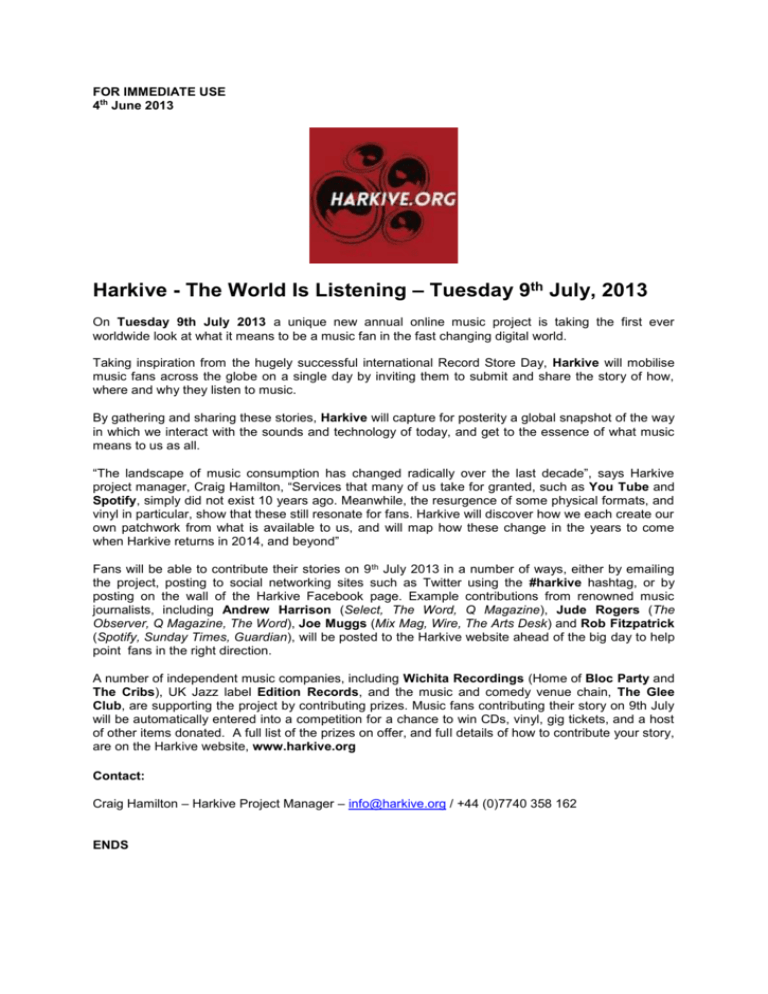 FOR IMMEDIATE USE
4th June 2013
Harkive - The World Is Listening – Tuesday 9th July, 2013
On Tuesday 9th July 2013 a unique new annual online music project is taking the first ever
worldwide look at what it means to be a music fan in the fast changing digital world.
Taking inspiration from the hugely successful international Record Store Day, Harkive will mobilise
music fans across the globe on a single day by inviting them to submit and share the story of how,
where and why they listen to music.
By gathering and sharing these stories, Harkive will capture for posterity a global snapshot of the way
in which we interact with the sounds and technology of today, and get to the essence of what music
means to us as all.
"The landscape of music consumption has changed radically over the last decade", says Harkive
project manager, Craig Hamilton, "Services that many of us take for granted, such as You Tube and
Spotify, simply did not exist 10 years ago. Meanwhile, the resurgence of some physical formats, and
vinyl in particular, show that these still resonate for fans. Harkive will discover how we each create our
own patchwork from what is available to us, and will map how these change in the years to come
when Harkive returns in 2014, and beyond"
Fans will be able to contribute their stories on 9th July 2013 in a number of ways, either by emailing
the project, posting to social networking sites such as Twitter using the #harkive hashtag, or by
posting on the wall of the Harkive Facebook page. Example contributions from renowned music
journalists, including Andrew Harrison (Select, The Word, Q Magazine), Jude Rogers (The
Observer, Q Magazine, The Word), Joe Muggs (Mix Mag, Wire, The Arts Desk) and Rob Fitzpatrick
(Spotify, Sunday Times, Guardian), will be posted to the Harkive website ahead of the big day to help
point fans in the right direction.
A number of independent music companies, including Wichita Recordings (Home of Bloc Party and
The Cribs), UK Jazz label Edition Records, and the music and comedy venue chain, The Glee
Club, are supporting the project by contributing prizes. Music fans contributing their story on 9th July
will be automatically entered into a competition for a chance to win CDs, vinyl, gig tickets, and a host
of other items donated. A full list of the prizes on offer, and full details of how to contribute your story,
are on the Harkive website, www.harkive.org
Contact:
Craig Hamilton – Harkive Project Manager – info@harkive.org / +44 (0)7740 358 162
ENDS
Links
Website: www.harkive.org Twitter: @harkive Facebook: /harkive
Notes for Editors
●
We are keen to secure coverage for Harkive project in print, broadcast and online outlets,
and as such Craig Hamilton will be available for interviews, either by phone, email or in
person, between now and 9th July.
●
Harkive will take place on Tuesday 9th July. Submissions will continue to be accepted until
Tuesday 16th July, after which collection of stories will cease. Following a period of content
analysis, results and initial findings will be published on the Harkive site later in 2013
●
Harkive aims to become an annual event in the music calendar. The next instance will take
place in July 2014, and will be repeated again each year from 2015 onwards.
●
The project aims to make contribution to the project as easy as possible. Music fans can
contribute simply by emailing their story to submit@harkive.org, or by posting on a number of
social networking platforms using the #harkive hashtag. A full explanation of the various
methods can be found on the How To Contribute page of the Harkive site.
●
Harkive is being undertaken as part of the MA studies of Birmingham City University student
Craig Hamilton. Upon completion of his MA studies in September 2013, Craig will use Harkive
as the basis for further post graduate research into the consumption habits of music fans.
Further information about Craig and the Harkive project can be found on About and FAQ
pages of the Harkive site.
●
Harkive is not affiliated with any industrial bodies or trade interest groups. None of the
personal information collected (email addresses, etc.) will be shared with third parties. The
information collected (stories and observations) may be shared with other interested parties
upon written request.