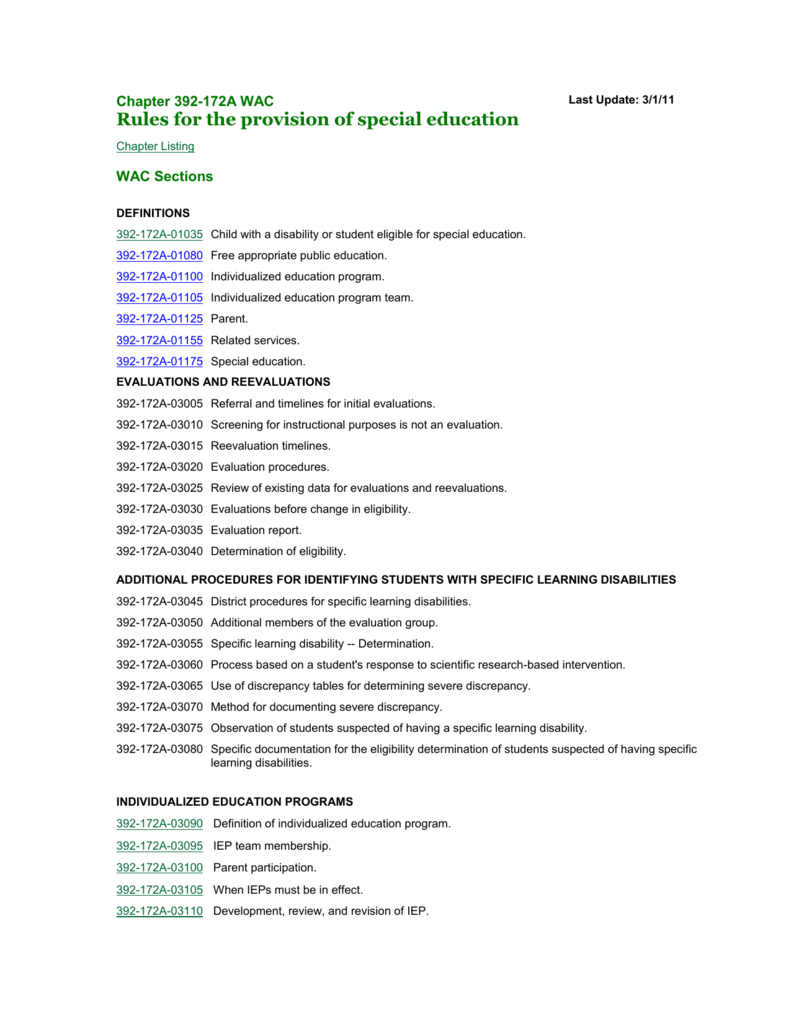 Chapter 392-172A WAC
Last Update: 3/1/11
Rules for the provision of special education
Chapter Listing
WAC Sections
DEFINITIONS
392-172A-01035 Child with a disability or student eligible for special education.
392-172A-01080 Free appropriate public education.
392-172A-01100 Individualized education program.
392-172A-01105 Individualized education program team.
392-172A-01125 Parent.
392-172A-01155 Related services.
392-172A-01175 Special education.
EVALUATIONS AND REEVALUATIONS
392-172A-03005 Referral and timelines for initial evaluations.
392-172A-03010 Screening for instructional purposes is not an evaluation.
392-172A-03015 Reevaluation timelines.
392-172A-03020 Evaluation procedures.
392-172A-03025 Review of existing data for evaluations and reevaluations.
392-172A-03030 Evaluations before change in eligibility.
392-172A-03035 Evaluation report.
392-172A-03040 Determination of eligibility.
ADDITIONAL PROCEDURES FOR IDENTIFYING STUDENTS WITH SPECIFIC LEARNING DISABILITIES
392-172A-03045 District procedures for specific learning disabilities.
392-172A-03050 Additional members of the evaluation group.
392-172A-03055 Specific learning disability -- Determination.
392-172A-03060 Process based on a student's response to scientific research-based intervention.
392-172A-03065 Use of discrepancy tables for determining severe discrepancy.
392-172A-03070 Method for documenting severe discrepancy.
392-172A-03075 Observation of students suspected of having a specific learning disability.
392-172A-03080 Specific documentation for the eligibility determination of students suspected of having specific
learning disabilities.
INDIVIDUALIZED EDUCATION PROGRAMS
392-172A-03090 Definition of individualized education program.
392-172A-03095 IEP team membership.
392-172A-03100 Parent participation.
392-172A-03105 When IEPs must be in effect.
392-172A-03110 Development, review, and revision of IEP.
392-172A-03115 Educational placements.
SAFEGUARDS
392-172A-05000 Opportunity to examine records -- Parent participation in
meetings.
392-172A-05005 Independent educational evaluation.
392-172A-05010 Prior notice and contents.
392-172A-05015 Procedural safeguards notice.
392-172A-05020 Electronic mail.
STATE CITIZEN COMPLAINT PROCEDURES
392-172A-05025 Procedures for filing a complaint.
392-172A-05030 Investigation of the complaint and decision.
392-172A-05035 Citizen complaints and due process hearings.
392-172A-05040 Complaints against OSPI.
392-172A-05045 Informing citizens about complaint procedures.
MEDIATION
392-172A-05060 Mediation purpose -- Availability.
392-172A-05065 Qualifications and selection of mediators.
392-172A-05070 Resolution of a dispute through mediation.
392-172A-05075 Meeting to encourage mediation.
DUE PROCESS HEARING PROCEDURES
392-172A-05080 Right to a due process hearing.
392-172A-05085 Due process hearing request filing and response.
392-172A-05090 Resolution process.
392-172A-05095 Administrative law judges.
392-172A-05100 Hearing rights.
392-172A-05105 Hearing decisions.
392-172A-05110 Timelines and convenience of hearings.
392-172A-05115 Civil action.
392-172A-05120 Attorneys' fees.
392-172A-05125 Student's status during proceedings.