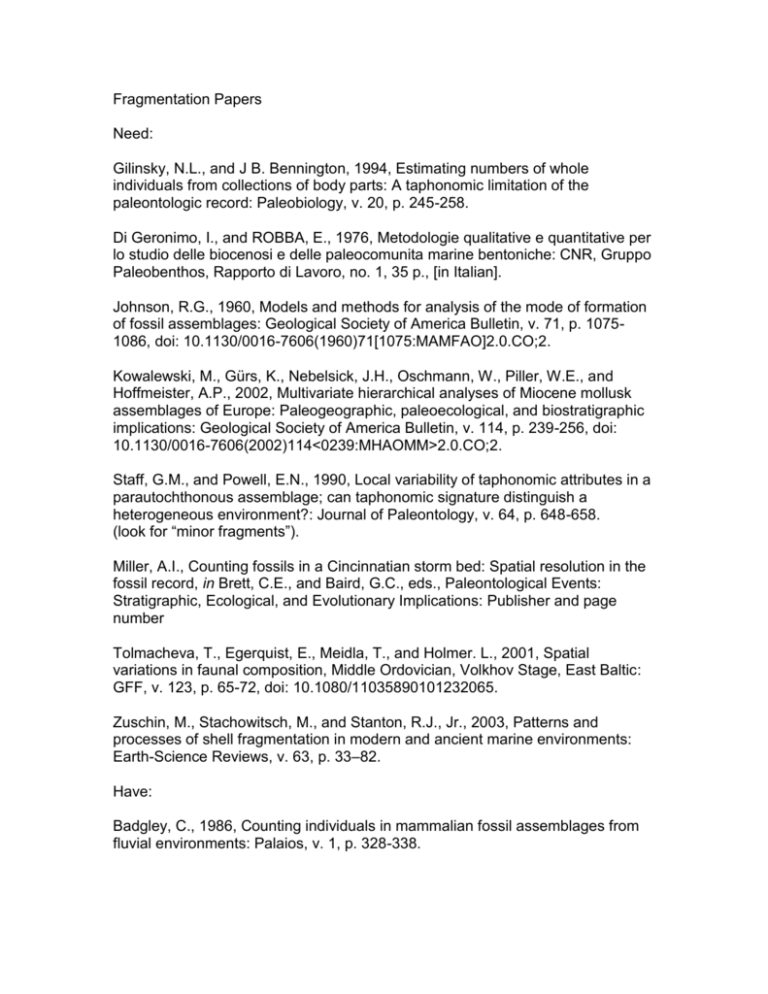 Fragmentation Papers
Need:
Gilinsky, N.L., and J B. Bennington, 1994, Estimating numbers of whole
individuals from collections of body parts: A taphonomic limitation of the
paleontologic record: Paleobiology, v. 20, p. 245-258.
Di Geronimo, I., and ROBBA, E., 1976, Metodologie qualitative e quantitative per
lo studio delle biocenosi e delle paleocomunita marine bentoniche: CNR, Gruppo
Paleobenthos, Rapporto di Lavoro, no. 1, 35 p., [in Italian].
Johnson, R.G., 1960, Models and methods for analysis of the mode of formation
of fossil assemblages: Geological Society of America Bulletin, v. 71, p. 10751086, doi: 10.1130/0016-7606(1960)71[1075:MAMFAO]2.0.CO;2.
Kowalewski, M., Gürs, K., Nebelsick, J.H., Oschmann, W., Piller, W.E., and
Hoffmeister, A.P., 2002, Multivariate hierarchical analyses of Miocene mollusk
assemblages of Europe: Paleogeographic, paleoecological, and biostratigraphic
implications: Geological Society of America Bulletin, v. 114, p. 239-256, doi:
10.1130/0016-7606(2002)114<0239:MHAOMM>2.0.CO;2.
Staff, G.M., and Powell, E.N., 1990, Local variability of taphonomic attributes in a
parautochthonous assemblage; can taphonomic signature distinguish a
heterogeneous environment?: Journal of Paleontology, v. 64, p. 648-658.
(look for "minor fragments").
Miller, A.I., Counting fossils in a Cincinnatian storm bed: Spatial resolution in the
fossil record, in Brett, C.E., and Baird, G.C., eds., Paleontological Events:
Stratigraphic, Ecological, and Evolutionary Implications: Publisher and page
number
Tolmacheva, T., Egerquist, E., Meidla, T., and Holmer. L., 2001, Spatial
variations in faunal composition, Middle Ordovician, Volkhov Stage, East Baltic:
GFF, v. 123, p. 65-72, doi: 10.1080/11035890101232065.
Zuschin, M., Stachowitsch, M., and Stanton, R.J., Jr., 2003, Patterns and
processes of shell fragmentation in modern and ancient marine environments:
Earth-Science Reviews, v. 63, p. 33–82.
Have:
Badgley, C., 1986, Counting individuals in mammalian fossil assemblages from
fluvial environments: Palaios, v. 1, p. 328-338.
Bennington, J B., and Rutherford, S.D., 1999, Precision and reliability in
paleocommunity comparisons based on cluster-confidence intervals: How to get
more statistical bang for your sampling buck: Palaios, v. 14, p. 506-515, doi:
10.2307/3515400.
Behrensmeyer, A.K., and Barry, J.C., 2005, Biostratigraphic Surveys in the
Siwaliks of Pakistan: A Method for standardized surface sampling of the
vertebrate fossil record: Palaeontologia Electronica, v. 8, no. 1, 839KB,
http://palaeo-electronica.org/2005_1/behrens15/issue1_05.htm. Checked June
2015.
Behrensmeyer, A.K., Kidwell, S.M., and Gastaldo, R.A., 2000. Taphonomy and
paleobiology: Paleobiology: v. 26, no. sp4, p. 103-147.
Bernasconi, M.P., and Stanley, D.J., 1997, Molluscan biofacies, their distributions
and current erosion on the Nile Delta Shelf: Journal of Coastal Research, v. 14, p.
1201-1212.
Carnevale, G., Landini, W., Ragaini, L., di Celma, C., and Cantalamessa, G.,
2011, Taphonomic and paleoecological analyses (mollusks and fishes) of the
Súa Member condensed shellbed, Upper Onzole Formation (Early Pliocene,
Ecuador): Palaios, v. 26, p. 160-172, doi: 10.2110/palo.2010.p10-070r.
Grey, M., Boulding, E.G., and Brookfield, M.E., 2006, Estimating multivariate
selection gradients in the fossil record: A naticid gastropod case study:
Paleobiology, v. 32, p. 100-108.
Kidwell, S.M., Rothus, T.A., and Best, M.M.R., 2001, Sensitivity of taphonomic
signatures to sample size, sieve size, damage scoring system, and target taxa:
Palaios, v. 16, p. 26-52.
Kolbe, S.E., Zambito, J.J., IV., Brett, C.E., Wise, J.L., and Wilson, R.D., 2011,
Brachiopod shell discoloration as an indicator of taphonomic alteration in the
deep-time fossil record: Palaios, v. 26, p. 682-692, doi: 10.2110/palo.2011.p11023r.
Kowalewski, M., Kiessling, W., Aberhan, M., Fürsich, F.T., Scarponi, D., Barbour
Wood, S.L., and Hoffmeister, A.P., 2006, Ecological, taxonomic, and taphonomic
components of the post-Paleozoic increase in sample-level species diversity of
marine benthos: Paleobiology, v. 32, p. 533-561.
Leighton, L.R., and Schneider, C.L., 2004, Neighbor Proximity Analysis, a
technique for assessing spatial patterns in the fossil record: Palaios, v. 19, p.
396-407.
(see caveats, p. 401)
Mannion, P.D., and Upchurch, P., 2010, Completeness metrics and the quality of
the sauropodomorph fossil record through geological and historical time:
Paleobiology, v. 36, p. 283-302.
Olszewski, T.D., and Kidwell, S.M., 2007, The preservational fidelity of evenness
in molluscan death assemblages, Paleobiology, v. 33, p. 1-23, doi:
doi: 10.1666/05059.1.
Salamon, M.A., Gorzelak, P., Niedzwiedzki, R., Trzesiok, D., and Baumiller, T.K.,
2014, Trends in shell fragmentation as evidence of mid-Paleozoic changes in
marine predation: Paleobiology, v. 40, p. 14-23, doi: 10.1666/13018.
(example of fragments being sufficient, informative)
Peters, S.E., 2004, Evenness of Cambrian–Ordovician benthic marine
communities in North America: Paleobiology, v. 30, p. 325-346.
Tomašových, A., and Kidwell, S.M., 2011, Accounting for the effects of biological
variability and temporal autocorrelation in assessing the preservation of species
abundance: Paleobiology, v. 37, p. 332-354, doi: 10.1666/09506.1.
White, P.D., Fastovsky, D.E., and Sheehan, P.M., 1998. Taphonomy and
suggested structure of the Dinosaurian assemblage of the Hell Creek Formation
(Maastrichtian), eastern Montana and western North Dakota: Palaios, v. 13, p.
41-51.
Zaton, M., and Salamon, M.A., 2008, Durophagous predation on Middle Jurassic
molluscs, as evidenced from shell fragmentation: Palaeontology, v. 51, p. 63-70.
Zuschin, M., Harzhauser, M., and Mandic, O., 2005. Influence of size-sorting on
diversity estimates from tempestitic shell beds in the Middle Miocene of Austria:
Palaios, v. 20, p. 142, doi: 10.2210/palo.2003.p03-87.