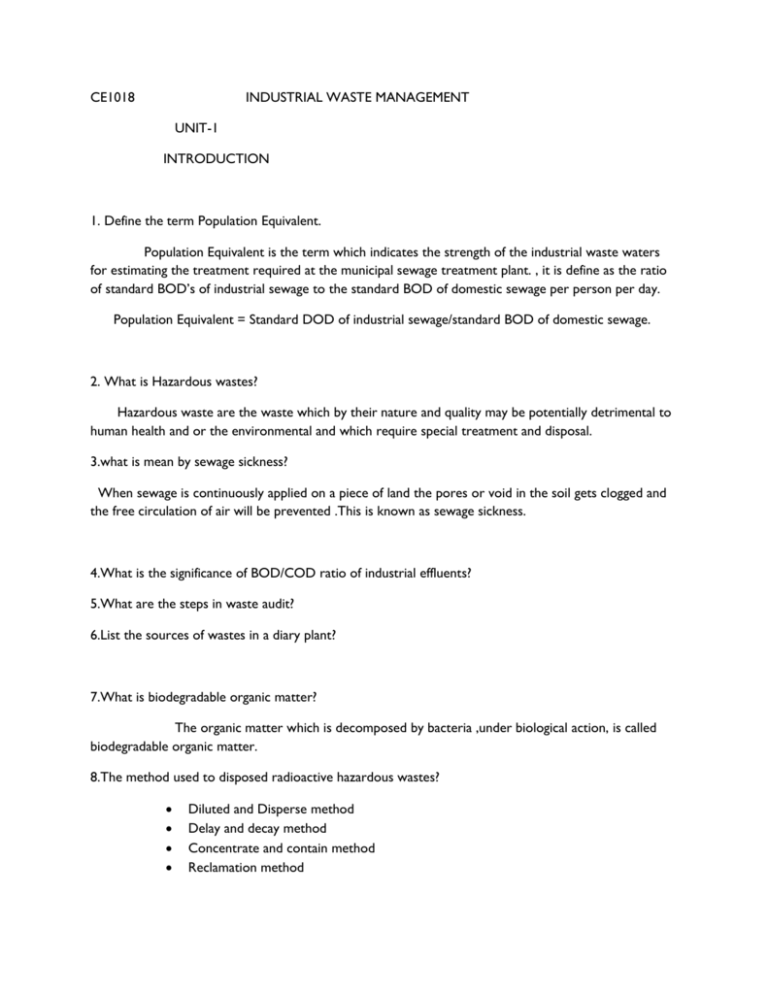 CE1018
INDUSTRIAL WASTE MANAGEMENT
UNIT-1
INTRODUCTION
1. Define the term Population Equivalent.
Population Equivalent is the term which indicates the strength of the industrial waste waters
for estimating the treatment required at the municipal sewage treatment plant. , it is define as the ratio
of standard BOD's of industrial sewage to the standard BOD of domestic sewage per person per day.
Population Equivalent = Standard DOD of industrial sewage/standard BOD of domestic sewage.
2. What is Hazardous wastes?
Hazardous waste are the waste which by their nature and quality may be potentially detrimental to
human health and or the environmental and which require special treatment and disposal.
3.what is mean by sewage sickness?
When sewage is continuously applied on a piece of land the pores or void in the soil gets clogged and
the free circulation of air will be prevented .This is known as sewage sickness.
4.What is the significance of BOD/COD ratio of industrial effluents?
5.What are the steps in waste audit?
6.List the sources of wastes in a diary plant?
7.What is biodegradable organic matter?
The organic matter which is decomposed by bacteria ,under biological action, is called
biodegradable organic matter.
8.The method used to disposed radioactive hazardous wastes?




Diluted and Disperse method
Delay and decay method
Concentrate and contain method
Reclamation method
9.Distinguish between sewage and sewerage?
SEWAGE: The society's wastes are mixed with sufficient quantity of water and carried through closed
conduits under the condition of gravity flow.This mixtures of water and waste products, popularly called
sewage.
SEWERAGE: The art of collecting, treating and finally disposing of sewage is known as sewerage.
10.What is Bioassay studies?


Determination of the strength or biological activity of a substance, such as a drug,
by comparing its effects with those of a standard preparation on a test organism.
A test used to determine such strength or activity
11.What is percapita water demand?
It is the annual average amount of daily water required by one person ,and includes the
domestic use, industrial and commercial use, public use, wastes, thefts etc.
12.
UNIT-2
CLEANER PRODUCTION
1.What is meant by incineration?
Incineration is a waste treatment technology that involves the combustion of organic
materials and/or substances. Incineration and other high temperature waste treatment systems
are described as "thermal treatment"
2.Give an example for reuse of waste.
3.List out the steps involved for auditing?
UNIT-3
POLLUTION FROM MAJOR INDUSTRIES
1.Why do industrial wastes need neutralization?
2.Distinguish between black liquor and white liquor in a paper manufacturing industry.
3.What are the process used in treatment of industrial wastes?
Depending upon the mode of discharge of the waste, and the nature of the consist of any
one or more of the following process.





Equalization
Neutralization
Physical treatment
Chemical treatment
Biological treatment
4.Factors affect the planning for a industrial waste water treatment plants?


The discontinuous and some time seasonally discharge wastes.
High
UNIT-4
TREATMENT TECHNOLOGIES
UNIT-5
HAZARDOUS WASTE MANAGEMENT
1.