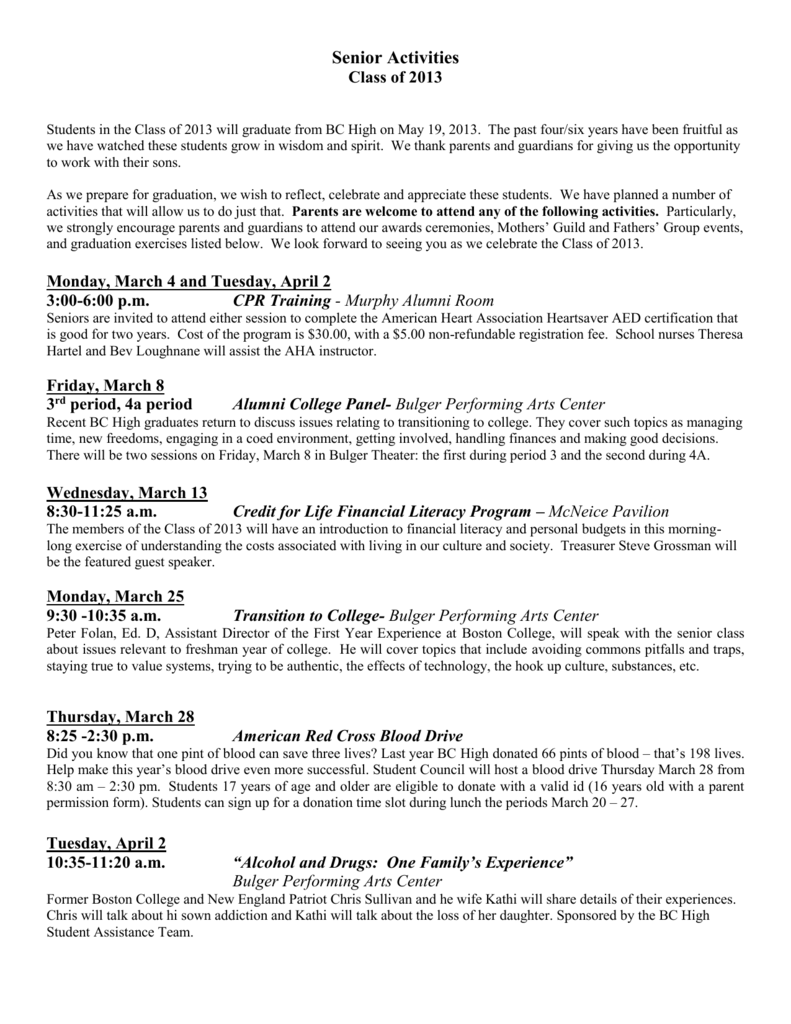 Senior Activities
Class of 2013
Students in the Class of 2013 will graduate from BC High on May 19, 2013. The past four/six years have been fruitful as
we have watched these students grow in wisdom and spirit. We thank parents and guardians for giving us the opportunity
to work with their sons.
As we prepare for graduation, we wish to reflect, celebrate and appreciate these students. We have planned a number of
activities that will allow us to do just that. Parents are welcome to attend any of the following activities. Particularly,
we strongly encourage parents and guardians to attend our awards ceremonies, Mothers' Guild and Fathers' Group events,
and graduation exercises listed below. We look forward to seeing you as we celebrate the Class of 2013.
Monday, March 4 and Tuesday, April 2
3:00-6:00 p.m.
CPR Training - Murphy Alumni Room
Seniors are invited to attend either session to complete the American Heart Association Heartsaver AED certification that
is good for two years. Cost of the program is $30.00, with a $5.00 non-refundable registration fee. School nurses Theresa
Hartel and Bev Loughnane will assist the AHA instructor.
Friday, March 8
3rd period, 4a period
Alumni College Panel- Bulger Performing Arts Center
Recent BC High graduates return to discuss issues relating to transitioning to college. They cover such topics as managing
time, new freedoms, engaging in a coed environment, getting involved, handling finances and making good decisions.
There will be two sessions on Friday, March 8 in Bulger Theater: the first during period 3 and the second during 4A.
Wednesday, March 13
8:30-11:25 a.m.
Credit for Life Financial Literacy Program – McNeice Pavilion
The members of the Class of 2013 will have an introduction to financial literacy and personal budgets in this morninglong exercise of understanding the costs associated with living in our culture and society. Treasurer Steve Grossman will
be the featured guest speaker.
Monday, March 25
9:30 -10:35 a.m.
Transition to College- Bulger Performing Arts Center
Peter Folan, Ed. D, Assistant Director of the First Year Experience at Boston College, will speak with the senior class
about issues relevant to freshman year of college. He will cover topics that include avoiding commons pitfalls and traps,
staying true to value systems, trying to be authentic, the effects of technology, the hook up culture, substances, etc.
Thursday, March 28
8:25 -2:30 p.m.
American Red Cross Blood Drive
Did you know that one pint of blood can save three lives? Last year BC High donated 66 pints of blood – that's 198 lives.
Help make this year's blood drive even more successful. Student Council will host a blood drive Thursday March 28 from
8:30 am – 2:30 pm. Students 17 years of age and older are eligible to donate with a valid id (16 years old with a parent
permission form). Students can sign up for a donation time slot during lunch the periods March 20 – 27.
Tuesday, April 2
10:35-11:20 a.m.
"Alcohol and Drugs: One Family's Experience"
Bulger Performing Arts Center
Former Boston College and New England Patriot Chris Sullivan and he wife Kathi will share details of their experiences.
Chris will talk about hi sown addiction and Kathi will talk about the loss of her daughter. Sponsored by the BC High
Student Assistance Team.
Wednesday, April 3
6:30 p.m.
Senior Parent Reception – Hunter-Fahey Commons
President William Kemeza is hosting a reception in thanksgiving for the parents and guardians of the members of the
senior class. Parents will have an opportunity to socialize with one another and with the faculty who have had a great
influence on our future graduates. The dress is business casual. Hors d'oeuvres will be served.
Monday, April 8
9:15-10:35 a.m.
Vocation Panel Discussion – Bulger Performing Arts Center
Fr. Gerry McKeon, SJ has put together a panel of various vocations to which members of our community have been
called. The vocations of religious life, marriage, teaching and learning will be the focal points of this discussion.
Wednesday, April 10
8:25 a.m.
Senior Prayer Service – Bulger Performing Arts Center
The Campus Ministry team will lead seniors in prayer offered in thanksgiving for the last four years. This event will give
them the opportunity to reflect upon who they have become and pray for the grace to follow God's call as they depart the
halls of BC High and seek to impact new worlds.
Thursday, April 11
7:30-8:20 a.m.
Class of 2013 Arrupe Video - Murphy Alumni Room
Members of the Class of 2013 who attended the Arrupe Division are invited to watch the video the class made as the first
7th grade class at BC High.
9:15-10:35 a.m.
Featured Speaker – Bulger Performing Arts Center
Dr. Stephen Durant '71 from Harvard University and Mass General Hospital is an expert in adolescent psychology and
development. He will address the senior class sharing his vast experience to help prepare our seniors for the challenges
they will face as they leave the protective environment of high school and enter the more complicated life on a college
campus. He will focus on life choices with which students will be confronted.
Friday, April 12
8:25 a.m.
Pavilion
Senior Scholarship and Co-Curricular Awards Assembly – McNeice
Parents are invited to attend a ceremony to celebrate the accomplishments of the members of the Class of 2013. Students
will be recognized for their leadership in various co-curricular activities. Department chairpersons will present awards for
academic excellence. Coffee and pastry will be served at 8 a.m. Award recipients will be posted on the school website
and communicated to senior parents via the Eagle Update on March 31.
9:15 a.m.
Awards Convocation – McNeice Pavilion
Special recognition of our finest seniors and juniors will take place in a high school assembly in the McNeice Pavilion.
These award recipients personify the Graduate at Gradation and will be held in high esteem in front of the student body,
faculty, and parents. Parents and guardians of award recipients will be notified by phone, and e-mail.
10:30 a.m.
Hunter Awards – Bulger Performing Arts Center
The Hunter Awards ceremony is organized and lead by our Student Council coordinators, Ms. Amanda Adamczyk and
Mr. Bernie Stedman. The Hunter Awards are a lighthearted and reflective look back at the past four years.
11:30 a.m.
6:00 p.m.
Senior Lunch – McNeice Pavilion
Senior Prom - Gillette Stadium, Foxboro
Thursday, May 9
6:00 p.m.
Father/Son Comedy Night – Cafeteria
Auditions for open mic will be held in April with a date to be determined. Again, this year we will have professional
comedians to judge, critique, and advise students.
Thursday, May 2
6:00 p.m.
Athletic Awards – McNeice Pavilion
BC High is proud to acknowledge the hard work and dedication of our varsity athletes. Mr. Jon Bartlett, BC High's
athletic director, will host this ceremony.
Sunday, May 5
5:00 p.m.
Mother and Son Night – McNeice Pavilion
Senior Mother and Son Night is a long standing tradition at Boston College High School. This evening of reflection and
celebration provides us with a great setting to recognize your son's accomplishments, share in his memories of the last
four years and witness, firsthand, the bonds of friendship and camaraderie that have been so much a part of your son's
high school experience.
Thursday, May 16
6:30 p.m.
7:00 p.m.
Musical Interlude
Graduation Mass – The Cathedral of the Holy Cross
The graduation mass for the class of 2013 will be celebrated at the Cathedral of the Holy Cross located at 1400
Washington Street, Boston, MA. There will be a musical prelude to the ceremony beginning at 6:30 p.m. All are
encouraged to attend this beautiful experience that will bring together our parents, guardians, faculty and graduating
students for their last mass. Please allow for additional time in transit as parking can be a challenge.
Friday, May 17
10:00 a.m. – 12:00 p.m.
Graduation Rehearsal – McNeice Pavilion
All seniors are required to come to school for a graduation rehearsal. Students will be given their tuxedos at that time.
Failure to attend may result in exclusion from the graduation exercises.
Sunday, May 19
1:00 p.m.
Commencement Exercises – McNeice Pavilion
The graduation will take place in the McNeice Pavilion at precisely 1:00 p.m. Graduating seniors must arrive at 12:00
noon. Each student is afforded ten tickets. Tickets can be picked up in the school office during the week of April 8.
Should a student need additional tickets, he can give his name and the number of tickets needed to Mrs. Ellen Collins in
the main office. If extra tickets become available, we will contact him.