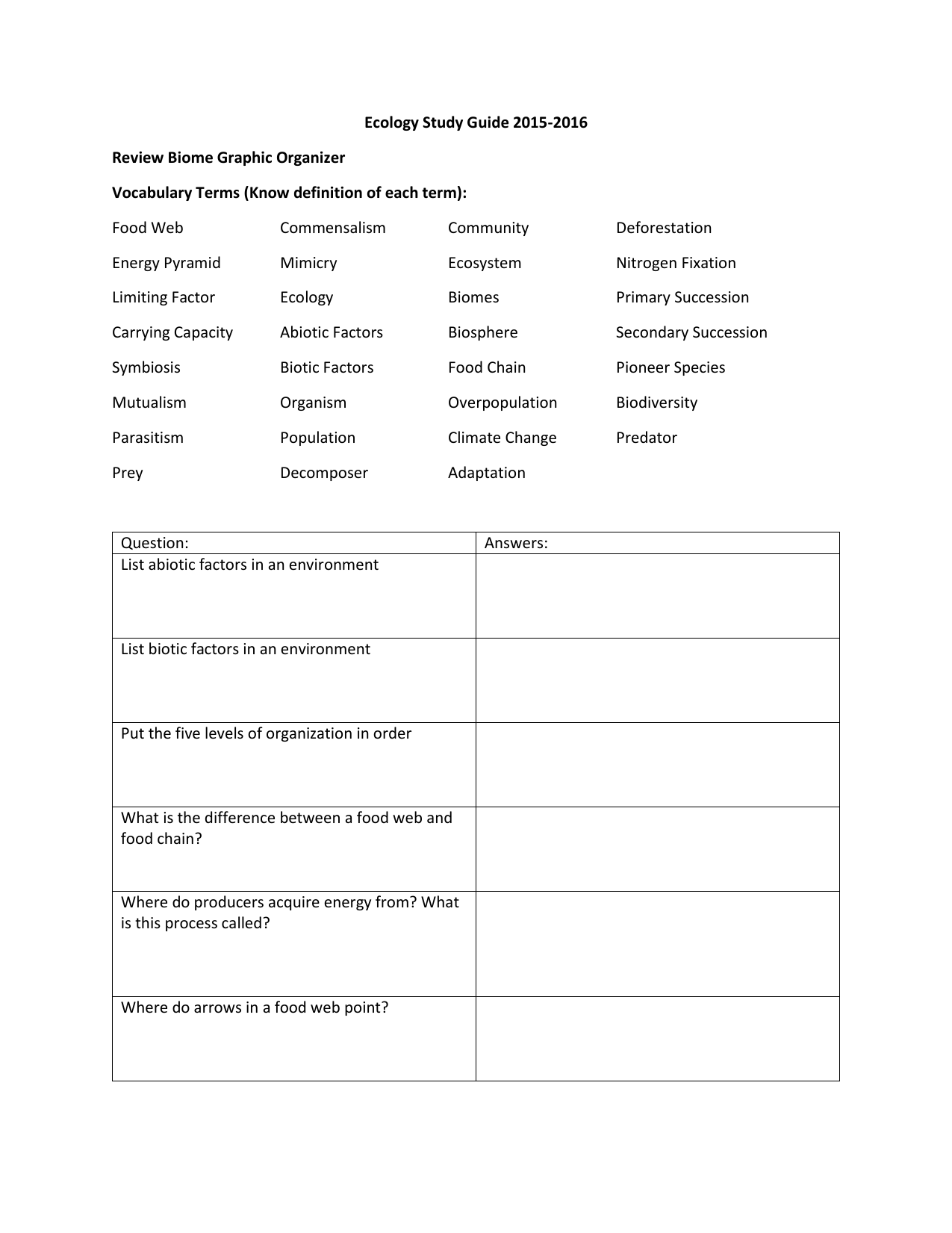 Ecology Study Guide 2015-2016
Review Biome Graphic Organizer
Vocabulary Terms (Know definition of each term):
Food Web
Commensalism
Community
Deforestation
Energy Pyramid
Mimicry
Ecosystem
Nitrogen Fixation
Limiting Factor
Ecology
Biomes
Primary Succession
Carrying Capacity
Abiotic Factors
Biosphere
Secondary Succession
Symbiosis
Biotic Factors
Food Chain
Pioneer Species
Mutualism
Organism
Overpopulation
Biodiversity
Parasitism
Population
Climate Change
Predator
Prey
Decomposer
Adaptation
Question:
List abiotic factors in an environment
List biotic factors in an environment
Put the five levels of organization in order
What is the difference between a food web and
food chain?
Where do producers acquire energy from? What
is this process called?
Where do arrows in a food web point?
Answers:
Be able to determine what each level on an
energy pyramid stands for in relation to number
of organisms, available energy, levels of
consumers.
What is the main source of energy for the planet?
If producers are removed from an ecosystem,
how would it affect the food web?
For the carbon cycle and the nitrogen cycle to
function properly, which organism must always
be present?
Be able to determine the differences between
primary and secondary succession
How do humans contribute to the carbon cycle?
What type of organism helps with nitrogen
fixation?
Which element do all living things have in
common?
What is the purpose of fungi in an ecosystem?
How does carbon get into the atmosphere?