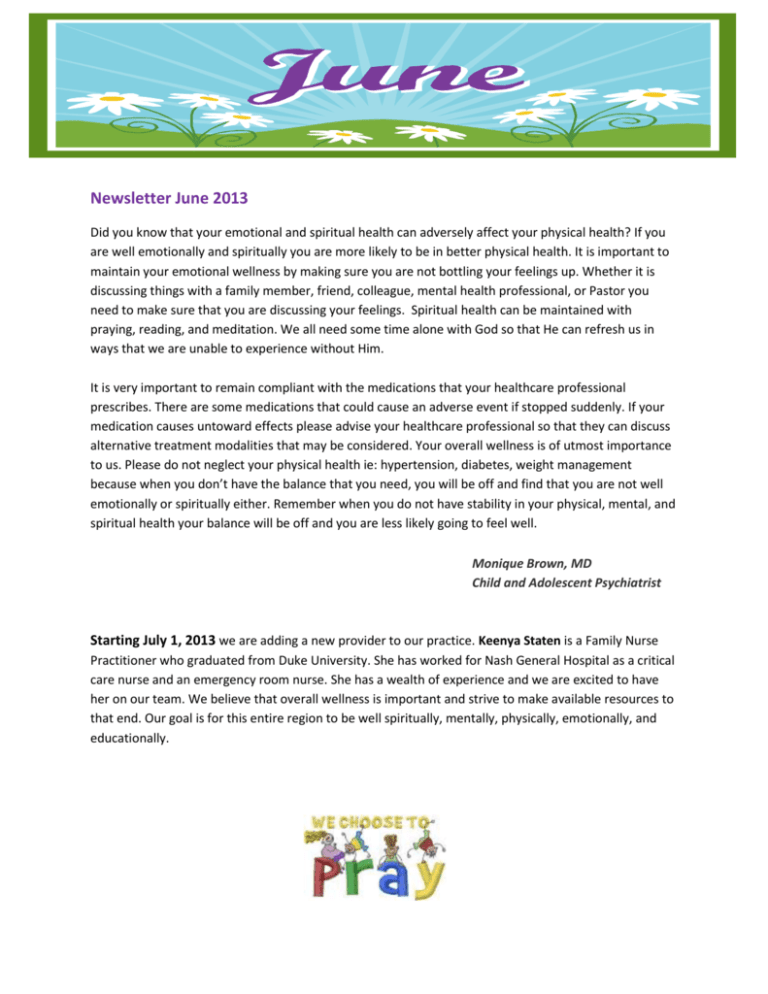 Newsletter June 2013
Did you know that your emotional and spiritual health can adversely affect your physical health? If you
are well emotionally and spiritually you are more likely to be in better physical health. It is important to
maintain your emotional wellness by making sure you are not bottling your feelings up. Whether it is
discussing things with a family member, friend, colleague, mental health professional, or Pastor you
need to make sure that you are discussing your feelings. Spiritual health can be maintained with
praying, reading, and meditation. We all need some time alone with God so that He can refresh us in
ways that we are unable to experience without Him.
It is very important to remain compliant with the medications that your healthcare professional
prescribes. There are some medications that could cause an adverse event if stopped suddenly. If your
medication causes untoward effects please advise your healthcare professional so that they can discuss
alternative treatment modalities that may be considered. Your overall wellness is of utmost importance
to us. Please do not neglect your physical health ie: hypertension, diabetes, weight management
because when you don't have the balance that you need, you will be off and find that you are not well
emotionally or spiritually either. Remember when you do not have stability in your physical, mental, and
spiritual health your balance will be off and you are less likely going to feel well.
Monique Brown, MD
Child and Adolescent Psychiatrist
Starting July 1, 2013 we are adding a new provider to our practice. Keenya Staten is a Family Nurse
Practitioner who graduated from Duke University. She has worked for Nash General Hospital as a critical
care nurse and an emergency room nurse. She has a wealth of experience and we are excited to have
her on our team. We believe that overall wellness is important and strive to make available resources to
that end. Our goal is for this entire region to be well spiritually, mentally, physically, emotionally, and
educationally.