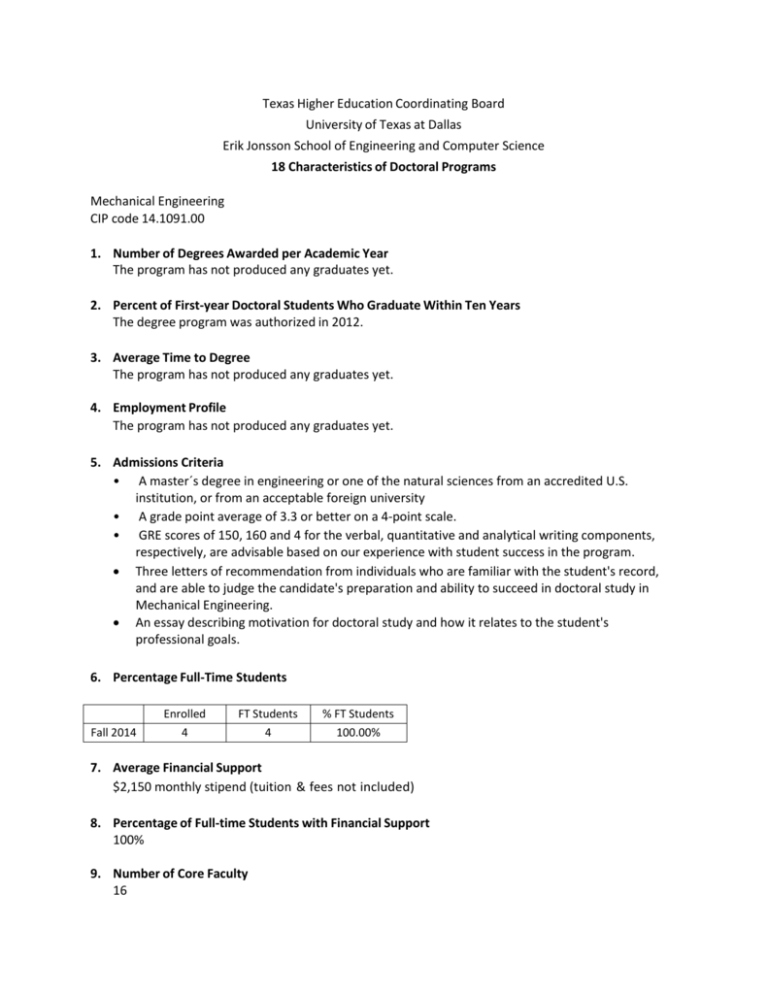 Texas Higher Education Coordinating Board
University of Texas at Dallas
Erik Jonsson School of Engineering and Computer Science
18 Characteristics of Doctoral Programs
Mechanical Engineering
CIP code 14.1091.00
1. Number of Degrees Awarded per Academic Year
The program has not produced any graduates yet.
2. Percent of First-year Doctoral Students Who Graduate Within Ten Years
The degree program was authorized in 2012.
3. Average Time to Degree
The program has not produced any graduates yet.
4. Employment Profile
The program has not produced any graduates yet.
5. Admissions Criteria
• A master´s degree in engineering or one of the natural sciences from an accredited U.S.
institution, or from an acceptable foreign university
• A grade point average of 3.3 or better on a 4-point scale.
• GRE scores of 150, 160 and 4 for the verbal, quantitative and analytical writing components,
respectively, are advisable based on our experience with student success in the program.
 Three letters of recommendation from individuals who are familiar with the student's record,
and are able to judge the candidate's preparation and ability to succeed in doctoral study in
Mechanical Engineering.
 An essay describing motivation for doctoral study and how it relates to the student's
professional goals.
6. Percentage Full-Time Students
Fall 2014
Enrolled
4
FT Students
4
% FT Students
100.00%
7. Average Financial Support
$2,150 monthly stipend (tuition & fees not included)
8. Percentage of Full-time Students with Financial Support
100%
9. Number of Core Faculty
16
10. Student-Core Faculty Ratio
Total PhD
FTS PhD
Enrolled
Fall 2014
4
4
Core
Faculty
16
16
11. Core Faculty Publications:
Year
2012
2013
2014
Publications
102
142
131
12. Core Faculty External Grants
Year
FY 2014
FY 2013
FY 2012
External Grants
$3,684,425
$4,684,211
$2,221,054
13. Faculty Teaching Load
Semester
Credit
Hours
Number
of Core
Faculty
Faculty
Teaching
Load
MS 1613
16
100.81
PHD 58
16
3.63
14. Faculty Diversity
Faculty Diversity
African American
Asian
1
8
Hispanic
1
International
Two or more
Unknown
White
6
Total
16
Female
2
Male
14
15. Student Diversity
Student-Core
Faculty Ratio
0.25
0.25
Student Diversity
African American
Asian
Hispanic
International
2
Two or more
Unknown
2
White
Total
4
Female
1
Male
3
16. Date of Last External Review
The program has not been externally reviewed.
17. External Program Accreditation
In the United States, the engineering accreditation agency, ABET, does not accredit engineering
doctoral programs. The Mechanical Engineering Bachelor's program is ABET-accredited.
18. Student publications/presentations
Few students publish or present independently; they primarily do this activity in collaboration
with their mentoring professors.