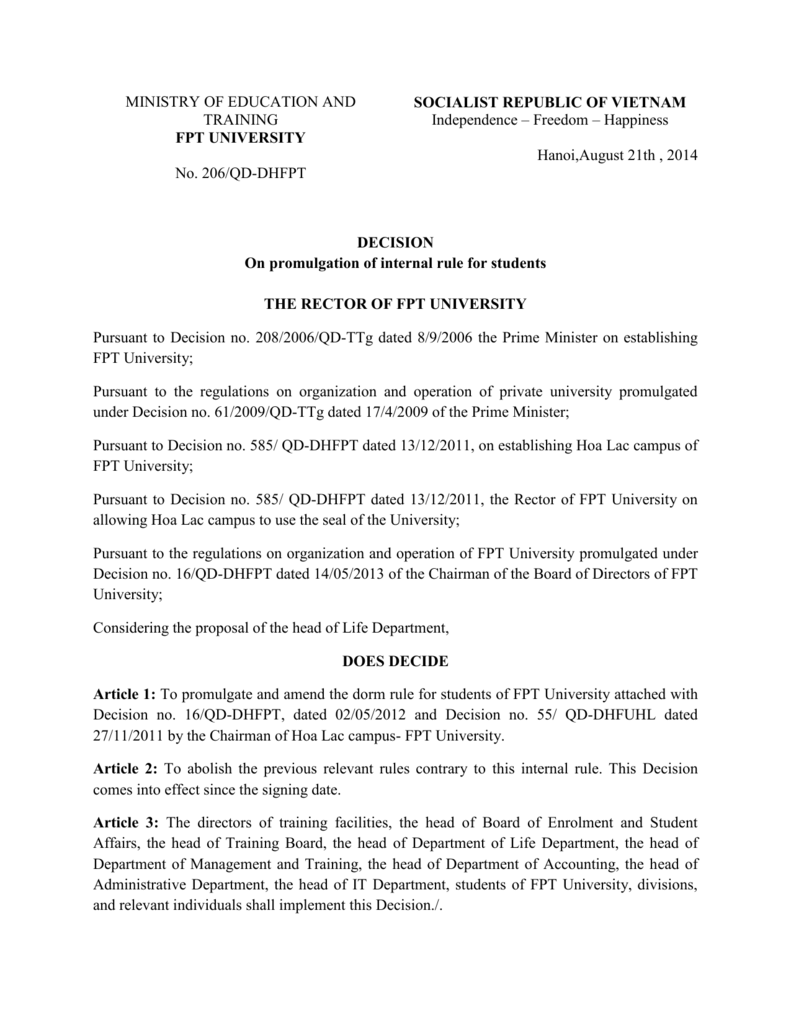 MINISTRY OF EDUCATION AND
TRAINING
FPT UNIVERSITY
SOCIALIST REPUBLIC OF VIETNAM
Independence – Freedom – Happiness
Hanoi,August 21th , 2014
No. 206/QD-DHFPT
DECISION
On promulgation of internal rule for students
THE RECTOR OF FPT UNIVERSITY
Pursuant to Decision no. 208/2006/QD-TTg dated 8/9/2006 the Prime Minister on establishing
FPT University;
Pursuant to the regulations on organization and operation of private university promulgated
under Decision no. 61/2009/QD-TTg dated 17/4/2009 of the Prime Minister;
Pursuant to Decision no. 585/ QD-DHFPT dated 13/12/2011, on establishing Hoa Lac campus of
FPT University;
Pursuant to Decision no. 585/ QD-DHFPT dated 13/12/2011, the Rector of FPT University on
allowing Hoa Lac campus to use the seal of the University;
Pursuant to the regulations on organization and operation of FPT University promulgated under
Decision no. 16/QD-DHFPT dated 14/05/2013 of the Chairman of the Board of Directors of FPT
University;
Considering the proposal of the head of Life Department,
DOES DECIDE
Article 1: To promulgate and amend the dorm rule for students of FPT University attached with
Decision no. 16/QD-DHFPT, dated 02/05/2012 and Decision no. 55/ QD-DHFUHL dated
27/11/2011 by the Chairman of Hoa Lac campus- FPT University.
Article 2: To abolish the previous relevant rules contrary to this internal rule. This Decision
comes into effect since the signing date.
Article 3: The directors of training facilities, the head of Board of Enrolment and Student
Affairs, the head of Training Board, the head of Department of Life Department, the head of
Department of Management and Training, the head of Department of Accounting, the head of
Administrative Department, the head of IT Department, students of FPT University, divisions,
and relevant individuals shall implement this Decision./.
To:
-
As Article 3 (for implementation);
The leadership;
Departments of PR, CNBM, QA (for
coordination of implementation);
Archives
For the Rector
(Signed and sealed)
Nguyen Khac Thanh
DORM RULES FOR STUDENT
(Promulgated with Decision no. 28/QD-FUHL dated 21/08/2014 of the Rector of Hoa
Lac campus- FPT University)
I.
GENERAL REGULATION
1. Opening time for School Gateway Hours: 5 h 00 to 2 1 h 00; the dormitory gate
(KTX): 5 h 00 to 22 h 30.
2. All dorm members must register and cancel booking when needed.
3. All dorm members must follow dorm rule and management from Life Department.
4. Students must pay the deposit 1 week before the semester starting, if not, the
University will cancel the booking.
5. Head of Life Department must follow and monitor the electrical and water bills
arising from day 1 to day 6 in the beginning of the semester. If student does not
pay on time, there will be punishment on cutting electricity and water.
6. No visitor after 10h30 p.m.
7. Prohibit students changing room on their own.
II.
Student Affair's regulation
1. Strictly forbid gambling in dormitory in any form.
2. Prohibition alcohol use and smoking in dormitory.
3. No cooking in dormitory.
4. No pet allowed in dormitory.
III. Security regulation
1. No fighting, arguing or inciting for fighting.
2. Do not affect the security of the school and make noise affecting others.
3. No climbing- especially through the fence or balcony.
4. Lock the door carefully before going out.
IV. Regulation about property
1. Student is responsible about handling and transfer the room to Life Department at
the end of living time (Also guarantee all about facilities and hygiene).
2. Not to repair, renovate or alter the original texture in a room.
3. Do not move assets from its setting location or add equipments which are not
permitted under the provisions of Section 6 of Article 4.
4. Do not write or draw, paste paper, crucifixion or hanging items on walls in rooms and
public areas.
5. Student has to preserve personal property; all value items should be stored in a
locked cabinet. Strictly prohibit acts of vandalism; theft of property; etc.
6. The devices are allowed to bring into the dorm include: TV; refrigerator; electric
fans; iron; kettle; Hot water plant - cold; study lamp (Other equipments must get
approval from Life Department before bringing in).
V.
Sanitary and environment regulation
1. Keep regular room, hallway, balcony in clean and tidy status; full participation in
sanitation plan when required.
2. Turn off all electrical and water equipment when getting out of the room.
3. No littering, picking leaves, breaking branches, tree vandalism, etc.
4. Throwing garbage at designated places.
VI.
Health regulation
1. Life Department checks sanitary and hygiene conditions of each room regularly
with strict reward and punishment.
2. If there is any symptoms of disease, immediately notify the Life Department or the
Clinic room to take immediate action to prevent the disease.
3. All abnormal conditions in health of student must have instruction from Clinic
room for treatment.
VII.
Punishment for violation
1. All students staying in dormitories have executive responsible in following above
provisions.
2. In case of necessity, the school will stop providing services at a dormitory for
students who violate rules and regulations.
3. Any dorm member who violated the rule will get reprimand, warning, compensate
the damage caused and take the form of higher discipline prescribed by schools
and law.
Appendix
Breaking rules and punishment framework
No.
1.
2.
The level of
Breaking rules
Cooking, baking or drying clothes on
the balcony.
Climb-
especially
Notes
fines
Confiscation cooking items
50, 000 VNĐ
which not allowed into the
dorm.
climb
fences,
balconies and terraces.
50, 000 VNĐ
3.
Trash and litter improperly.
50, 000 VNĐ
4.
Bring pets in the room.
50, 000 VNĐ
-
5.
Coming late after the prescribed hour
with no good reasons
At
school
h
after 21 00.
50, 000 VNĐ
-
At the dormitory after
22 h 30.
-
Fine
by
public
employees.
Do not complete the sanitary task
when assigned.
-
24-hour power cut.
-
If after 24 hours still
6.
not complete the task, cut
Time to complete sanitary task :
Interior: before 9:00
Public: 6:30
electricity until done their
assigned tasks.
-
Minus
point
emulation.
Gambling in any form.
7.
(Under level of prosecution in law).
50 0,000 VNĐ
1st time : fine of
VND500,000
/
1
participant; Notice of the
family.
2nd time: Suspension
-
for 01 semesters.
8.
9.
Writing - paint, paper portfolio
nailed to the wall, door ...
Make noise, affect others.
10. Staying in another room after 22h30.
11.
50, 000 VNĐ
Power cuts until follow
50, 000 VNĐ
the rules.
50, 000 VNĐ
Changing room without inform the
1 month fees
staff.
of dorm room
Fine all related students.
Pursuant to the provisions of
the specific amount of each
Dom.
Also collect payment for the
12. Staying in dorm without register.
1,00 0, 000VNĐ room
staying
for
this
semester.
Will collect payment for room
13. No cancel booking when not living.
until the booking cancels.
-
time:
administrative
Smoking; use of alcohol or under the
14. influence of alcohol – affecting the
1st
50, 000 VNĐ
environment in dormitories.
punishment, reprimand.
-
2nd time: Expulsion
from the hostel.
15. Other violations.
Handled according to the rules
FPT University.
Depend on each case of violating rules, by the nature and the number of times in breaking
rules, the punishment can be considered into stopping student's dormitory or applying
higher regulation from the University and Vietnamese law.