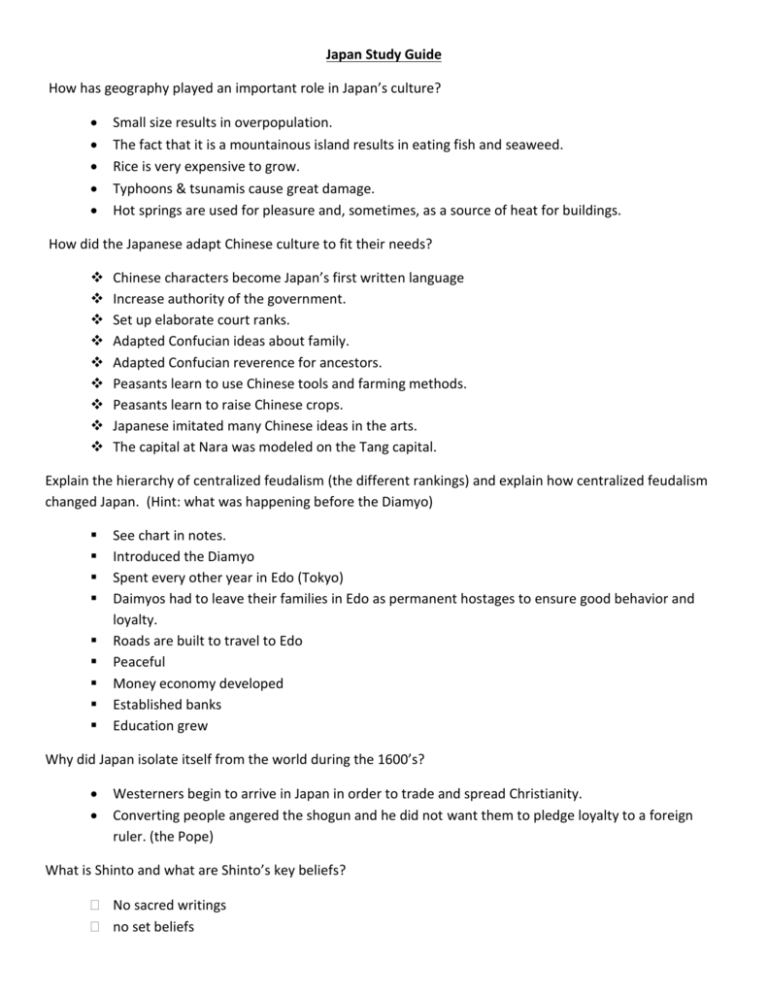 Japan Study Guide
How has geography played an important role in Japan's culture?





Small size results in overpopulation.
The fact that it is a mountainous island results in eating fish and seaweed.
Rice is very expensive to grow.
Typhoons & tsunamis cause great damage.
Hot springs are used for pleasure and, sometimes, as a source of heat for buildings.
How did the Japanese adapt Chinese culture to fit their needs?









Chinese characters become Japan's first written language
Increase authority of the government.
Set up elaborate court ranks.
Adapted Confucian ideas about family.
Adapted Confucian reverence for ancestors.
Peasants learn to use Chinese tools and farming methods.
Peasants learn to raise Chinese crops.
Japanese imitated many Chinese ideas in the arts.
The capital at Nara was modeled on the Tang capital.
Explain the hierarchy of centralized feudalism (the different rankings) and explain how centralized feudalism
changed Japan. (Hint: what was happening before the Diamyo)









See chart in notes.
Introduced the Diamyo
Spent every other year in Edo (Tokyo)
Daimyos had to leave their families in Edo as permanent hostages to ensure good behavior and
loyalty.
Roads are built to travel to Edo
Peaceful
Money economy developed
Established banks
Education grew
Why did Japan isolate itself from the world during the 1600's?


Westerners begin to arrive in Japan in order to trade and spread Christianity.
Converting people angered the shogun and he did not want them to pledge loyalty to a foreign
ruler. (the Pope)
What is Shinto and what are Shinto's key beliefs?
 No sacred writings
 no set beliefs
 Spirits lived in everything and controlled natural forces (earthquakes typhoons)
 link between people and nature.
What were the shortcomings of Shintoism? How did the Japanese address these shortcomings?


It did not answer important questions like life after death and proper behavior.
The Japanese turn to Buddhism - Taught them the cycle of life and the goal of enlightenment.
How did Confucian ideas influence Japan?





5 relationships used to show that they need to be loyal to govt.
Took the idea of hard work and education.
Adapted Confucian ideas about family.
Adapted Confucian reverence for ancestors.
Discarded the Chinese civil service system. Japanese thought people should inherit position – not
earn it.
Why was Buddhism embraced by Japan?


Commoners followed the sect that believed anyone could reach salvation.
Samurais focused on Zen Buddhism which focused on meditation and self-control.
What is Bushido?




The Samurai code of conduct.
"the way of the warrior"
Emphasized loyalty to the lord, bravery, self-discipline, and honor.
If dishonorable they had to perform seppuku which was a ritual suicide.
What was the Meiji Restoration and what was its impact on Japan?




People become upset with the treaties Japan was signing with the west.
Dislike the laws that were enacted to hold the feudal system together.
Samurais began to raise taxes to get more money.
1868 rebels force the shogun to step down and the emperor becomes the real head of the govt.
What is Kami?
 Kami are spirits that are in everything according to the Shinto religion.
What role did the west have in modernizing Japan?
o
o
o
o
1889 Japan wrote a constitution that took western ideas and adopted them for Japan.
Gave the emperor supreme power, but set up a two house parliament.
Established a court and legal system based on western ideas.
West helps them build transportation systems, steam engines, factories, and set up communication
systems.
How was Japan involved in World War II? What happened when Japan refused to surrender?









Japan needed China for raw materials and as market and viewed the taking of China as the same
thing the west does.
Japan seizes the French colony of Indochina.
US does not like this and cuts off oil and other supplies they were trading with Japan.
US and Japan negotiate to avoid war although Japan is preparing a surprise attack on the US
(Bombing of Pearl Harbor 12/7/1941)
Japan creates an empire stretching from southeast Asia across the western Pacific.
Pearl Harbor forces the US to enter WWII
Allies defeat Germany and Italy, but Japan refuses to surrender.
US drops an atomic bomb on Hiroshima that kills over 80,000 people and leveled 4 square miles.
Japan still refuses to surrender so the US drops a bomb on Nagasaki that kills over 40,000 people
which causes Japan to surrender.