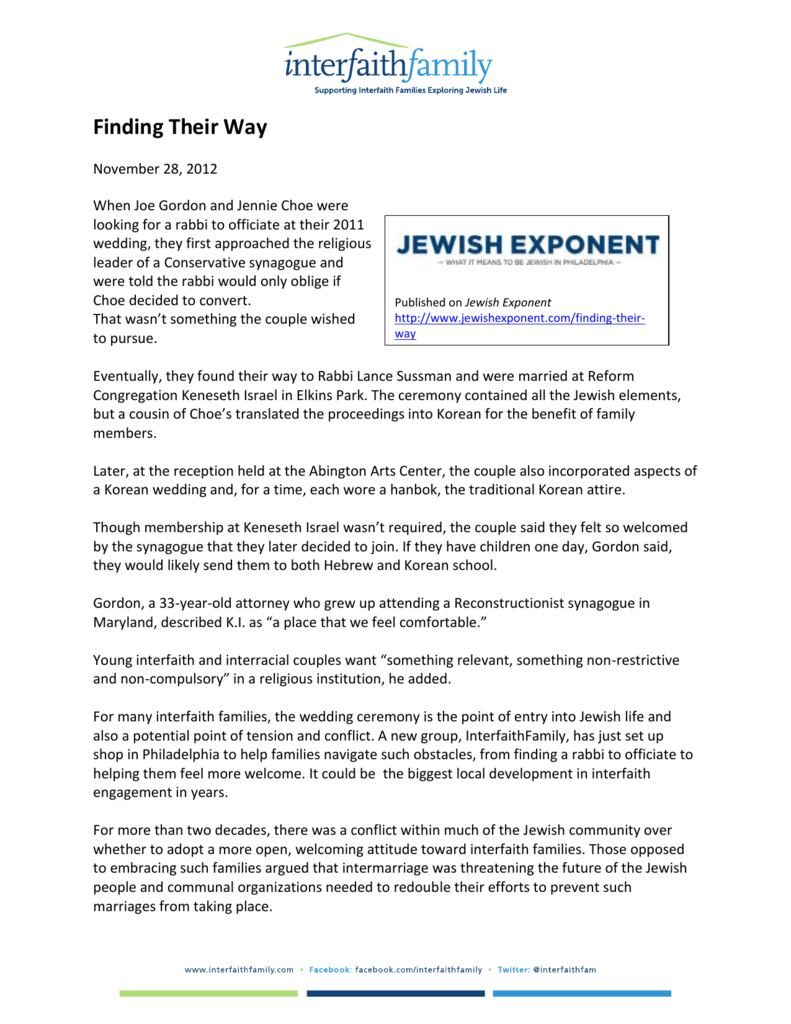 Finding Their Way
November 28, 2012
When Joe Gordon and Jennie Choe were
looking for a rabbi to officiate at their 2011
wedding, they first approached the religious
leader of a Conservative synagogue and
were told the rabbi would only oblige if
Choe decided to convert.
That wasn't something the couple wished
to pursue.
Published on Jewish Exponent
http://www.jewishexponent.com/finding-theirway
Eventually, they found their way to Rabbi Lance Sussman and were married at Reform
Congregation Keneseth Israel in Elkins Park. The ceremony contained all the Jewish elements,
but a cousin of Choe's translated the proceedings into Korean for the benefit of family
members.
Later, at the reception held at the Abington Arts Center, the couple also incorporated aspects of
a Korean wedding and, for a time, each wore a hanbok, the traditional Korean attire.
Though membership at Keneseth Israel wasn't required, the couple said they felt so welcomed
by the synagogue that they later decided to join. If they have children one day, Gordon said,
they would likely send them to both Hebrew and Korean school.
Gordon, a 33-year-old attorney who grew up attending a Reconstructionist synagogue in
Maryland, described K.I. as "a place that we feel comfortable."
Young interfaith and interracial couples want "something relevant, something non-restrictive
and non-compulsory" in a religious institution, he added.
For many interfaith families, the wedding ceremony is the point of entry into Jewish life and
also a potential point of tension and conflict. A new group, InterfaithFamily, has just set up
shop in Philadelphia to help families navigate such obstacles, from finding a rabbi to officiate to
helping them feel more welcome. It could be the biggest local development in interfaith
engagement in years.
For more than two decades, there was a conflict within much of the Jewish community over
whether to adopt a more open, welcoming attitude toward interfaith families. Those opposed
to embracing such families argued that intermarriage was threatening the future of the Jewish
people and communal organizations needed to redouble their efforts to prevent such
marriages from taking place.
Though the debate still goes on, decision-makers who favor a more open approach now appear
to hold sway at many local communal organizations and congregations.
The 2009 "Jewish Population Study of Greater Philadelphia" revealed that the intermarriage
rate has reached 45 percent for Jews under 40 in the five-county region, with only 29 percent of
intermarried couples of all ages raising their children solely as Jews.
Those results raised calls for the Jewish Federation of Greater Philadelphia, which sponsored
the study, and other groups to come up with ways to reach this population and encourage
parents to educate and raise their children as Jews.
One way Federation has responded is by facilitating the merger of two organizations.
InterFaithways, a small, local organization that has struggled financially in the last few years,
has become part of InterfaithFamily, a 13-year-old organization with a national reputation that
recently opened branches in San Francisco and Chicago. (The legal process of merging locally is
expected to be completed by the new year.)
InterfaithFamily's local branch will maintain a comprehensive database of clergy members who
will perform interfaith ceremonies as well as provide other services. The group will also
introduce two new educational initiatives, first introduced in Chicago, that are aimed at
interfaith couples.
One program will be geared toward young couples without children and the other will focus on
raising a Jewish child. Both courses will combine in-person classes with cyber meetings.
Chris Gallagher and Hedy Dietzen, who reside in Chicago, took the class that was specifically
tailored for engaged interfaith couples. Gallagher, who was raised Catholic, said that the
program's director helped them sort out conflicts that had arisen between the families over the
wedding ceremony.
Gallagher and Dietzen got into deep discussions with other couples and explored what kind of
household they wanted to have religiously and whether they will raise their future children as
Jews. They say they plan to do so.
InterfaithFamily officials said they expect to introduce nationally some of the programing
pioneered by InterFaithways, such as the annual Interfaith Family Shabbat, which typically gets
more than 50 local synagogues participating in programming in November.
Wendy Armon, who served as executive director for InterFaithways, will now direct
Philadelphia activities for InterfaithFamily. She said she will focus on programming rather than
on administrative tasks, which will now be handled by the national office.
"I'm going to be able to spend much time networking and planning programs," said Armon,
who was raised as an Orthodox Jew and is not intermarried but has come to view interfaith
outreach as a vital mission.
Edmund Case, the Boston-based activist who started InterfaithFamily.com in 1999 and is now
considered one of the nation's foremost authorities on interfaith engagement, called its
expansion into Philadelphia a "huge leap."
Several years ago, Case decided that offering information on the web wasn't enough and, in
order to initiate change, the organization needed to be on the ground in different communities.
"No one has ever been able to offer a relatively comprehensive set of services for interfaith
families and keep it going," said Case. He has long believed that "local Jewish communities
should respond positively to intermarriage. I'm saying that the tide has turned in terms of the
interest in federations and we feel like we have a pretty good model."
For years, the Philadelphia Federation was not seen as a leader in interfaith engagement. But
that changed over time, in part through the activism of the late Leonard Wasserman, a former
Federation trustee who was a founder of InterFaithways.
Now, Federation has played a key role in the InterfaithFamily merger. In order to make a
Philadelphia branch financially feasible, InterfaithFamily required a commitment of $165,000
for the first year. The local InterFaithways managed to raise $130,000 through foundations and
donors. Federation is guaranteeing the rest. It has awarded the group a $25,000 grant to
establish the class on raising Jewish children.
"One of our major priorities is to reach out to interfaith families and make the Jewish
community as welcoming as possible," Federation CEO Ira M. Schwartz said. He added that
Federation funds other programs that serve all Jewish families, but in the process, reach a large
number of interfaith households. Those programs include PJ Library — which sends free Jewish
books and CDs to households with young children — and overnight Jewish camp scholarships.
How the Movements See It
Although Conversative rabbis will not perform intermarriages, the movement has taken steps in
recent years to become more inclusive. For example, the Rabbinical Assembly has ruled that
non-Jews can be buried in Jewish cemeteries next to their spouses — though those graves must
be separated by at least six feet from the rest of the cemetery.
Locally, Temple Beth Hillel-Beth El in Wynnewood last year adopted a constitutional
amendment to extend membership to non-Jewish individuals. The synagogue also decided to
announce interfaith weddings in its bulletin.
Joshua Kohn, a Beth Hillel member active in Keruv, the outreach effort sponsored by the
Conservative movement's Federation of Jewish Men's Clubs, said that the move was significant,
but so far few interfaith couples have joined.
Kohn, whose wife, Kari, was raised a Presbyterian, said, "We don't know, if we open our doors,
whether they will come in. We do know that if we close our doors, they won't come in."
Orthodox synagogues are usually left out of most discussions on interfaith outreach and,
needless to say, Orthodox rabbis won't perform interfaith weddings. But intermarried couples
and families can be found attending some Orthodox congregations including Chabad shuls.
Reform and Reconstructionist synagogues, which have long engaged in outreach, generally
have a much larger percentage of interfaith families. As many as half of their clergy will perform
an interfaith ceremony.
For many Reform and Reconstructionist rabbis, the more pertinent question now is whether
they will perform a wedding with a co-officiant of another faith.
Newlyweds Brooke Jacobs and Andrew Drago, both teachers from Bucks County, were looking
to include both Catholic and Jewish elements in their Nov. 3 wedding ceremony. They found
their way to Rabbi Julie Greenberg, a Reconstructionist rabbi who heads a Center City
congregation but also conducts life-cycle ceremonies independently.
Jacobs, who grew up in a Conservative Jewish household, said that her mother thought it would
be unfair to include only one religious tradition in the service. In the end, a neighbor who had
known Drago for years and serves as a pastor at a Korean church co-officiated.
"It was meaningful for us and both our families," said Jacobs.
One man who knows how much things have changed is Rabbi Mayer Selekman, the rabbi
emeritus of Temple Sholom in Broomall who served on the board of InterFaithways and will
now join the advisory body for InterfaithFamily's Philadelphia branch. He was considered a
maverick when he first started officiating at interfaith weddings in the late 1960s. He and his
family even received death threats for his actions, he said.
Now, with InterfaithFamily coming to Philadelphia, he thinks yet another corner has been
turned, though there is a long way to go. "Jewish communities across the country are now
aware of the possibility, through welcoming, of helping ensure and creating Jewish tomorrows.
I am really excited that this is now happening," said Selekman, who recently became a greatgrandfather. "I have never given up hope on the future of the Jewish community.