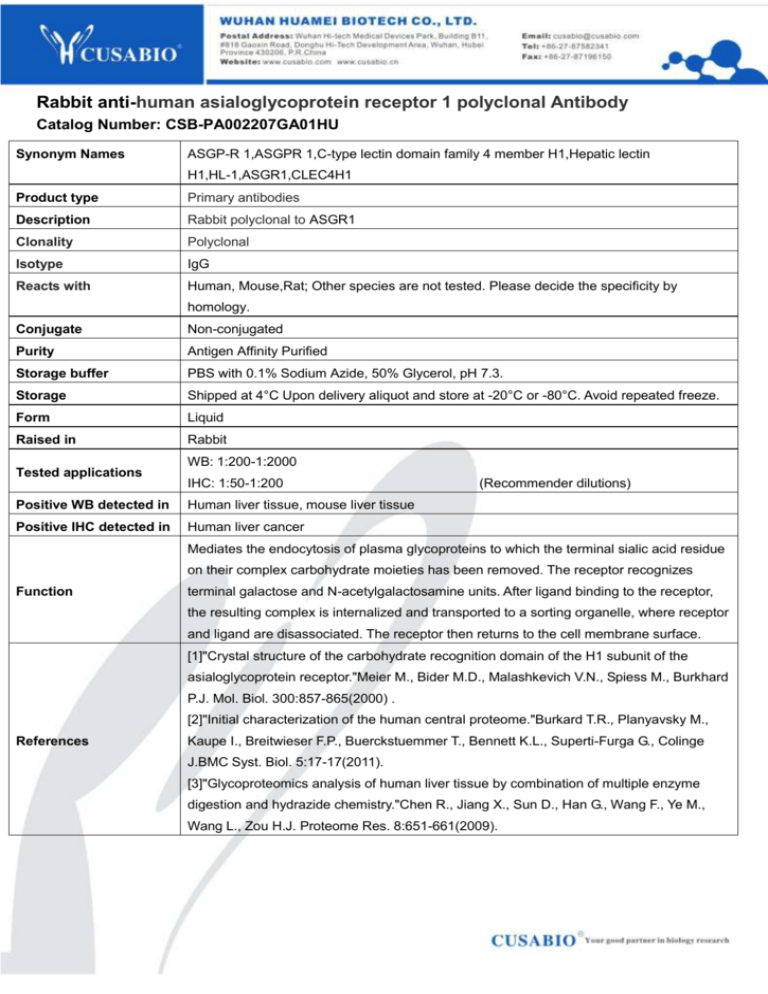 Rabbit anti-human asialoglycoprotein receptor 1 polyclonal Antibody
Catalog Number: CSB-PA002207GA01HU
Synonym Names
ASGP-R 1,ASGPR 1,C-type lectin domain family 4 member H1,Hepatic lectin
H1,HL-1,ASGR1,CLEC4H1
Product type
Primary antibodies
Description
Rabbit polyclonal to ASGR1
Clonality
Polyclonal
Isotype
IgG
Reacts with
Human, Mouse,Rat; Other species are not tested. Please decide the specificity by
homology.
Conjugate
Non-conjugated
Purity
Antigen Affinity Purified
Storage buffer
PBS with 0.1% Sodium Azide, 50% Glycerol, pH 7.3.
Storage
Shipped at 4°C Upon delivery aliquot and store at -20°C or -80°C. Avoid repeated freeze.
Form
Liquid
Raised in
Rabbit
Tested applications
WB: 1:200-1:2000
IHC: 1:50-1:200
Positive WB detected in
Human liver tissue, mouse liver tissue
Positive IHC detected in
Human liver cancer
(Recommender dilutions)
Mediates the endocytosis of plasma glycoproteins to which the terminal sialic acid residue
on their complex carbohydrate moieties has been removed. The receptor recognizes
Function
terminal galactose and N-acetylgalactosamine units. After ligand binding to the receptor,
the resulting complex is internalized and transported to a sorting organelle, where receptor
and ligand are disassociated. The receptor then returns to the cell membrane surface.
[1]"Crystal structure of the carbohydrate recognition domain of the H1 subunit of the
asialoglycoprotein receptor."Meier M., Bider M.D., Malashkevich V.N., Spiess M., Burkhard
P.J. Mol. Biol. 300:857-865(2000) .
[2]"Initial characterization of the human central proteome."Burkard T.R., Planyavsky M.,
References
Kaupe I., Breitwieser F.P., Buerckstuemmer T., Bennett K.L., Superti-Furga G., Colinge
J.BMC Syst. Biol. 5:17-17(2011).
[3]"Glycoproteomics analysis of human liver tissue by combination of multiple enzyme
digestion and hydrazide chemistry."Chen R., Jiang X., Sun D., Han G., Wang F., Ye M.,
Wang L., Zou H.J. Proteome Res. 8:651-661(2009).