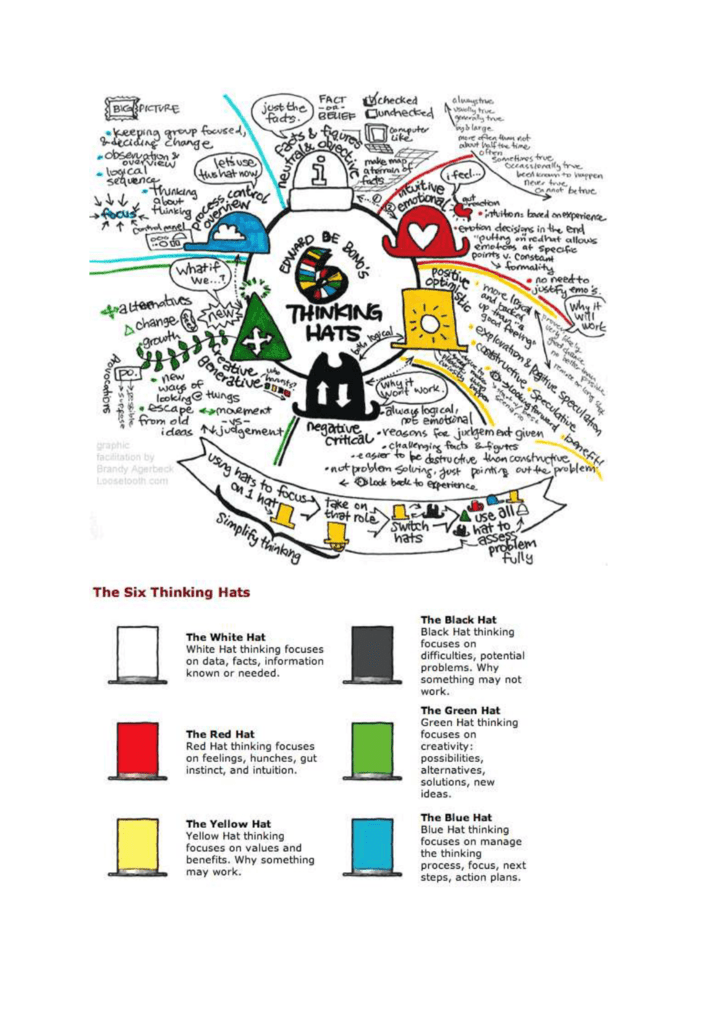 http://newmillenniumthinking.blogspot.com/2010/06/sixaction-shoes-concept-principles.html
Six Action Shoes: Concept & Principles
When de Bono Thinking advocates talk about Dr de Bono's New Thinking programmes,
invariably, two dominate the conversation:
1. The CoRT Programme of 60 thinking 'tools'.
2. The Six Thinking Hats Framework.
Few are aware of can speak with any authority about two other frameworks whose
potential is considerable, who complement CoRT and Six hats yet have many unique and
valuable attributes.
These are:
1. The Six Action Shoes Framework.
2. The Six Value Medals Framework.
This post explores the concept that is the foundation of Six Action Shoes and elaborates
on the principles that identify the framework as an invaluable contribution to full and
effective training in de Bono Thinking in schools.
Dr de Bono describes his New Thinking programmes as 'mental software'. He maintains
the brain is a superb 'pattern-maker' but the traditional software it has been
programmed to use is no longer sufficiently effective to deal with contemporary
challenges and needs. I am reminded of an episode from Chinese history: When the
Chou conquered the Shang in 1111 BC, prayers for rain were gradually replaced by
irrigation. In the realm of de Bono Thinking, criticism, argument, analysis and
judgement are replaced with thinking tools, design and generational thinking, the
exploration of possibilities and alternatives. The final step involves operacy, application
of thinking, action, movement forward.
The CoRT and Six Thinking Hats Framework are about thinking operations: Here is a
new idea, Let's look at the plus factors, minus factors then the interesting possibilities.
(PMI). What can we do with this idea? Let's have your feelings about it then we can
look at the positives of an idea I feel most of you dislike. (Red Hat and then Yellow or
Green Hat).
The Six Thinking Hats Framework is a development of the CoRT Programme. It is part
of the progressive on-going development of Dr de Bono's principles. It does not replace
CoRT. Instead it is an extension of CoRT and a complement to it. Most of my lesson
planning involved an integrated CoRT-Six Hats approach.
The real world demands action. Thinking is a preliminary to action. Thinking sets a path
and action follows. Too often, Dr de Bono maintains, thinking leads nowhere: Let's think
about this! That common exhortation asks for thinking, criticism, analysis and
judgement, not necessarily thinking and action.
The Six Action Shoes Framework is about operacy, the skill of doing, action, movement,
forward design. That is the concept of the framework.
The principles are equally simple and brief. To quote Dr de Bono:
The framework of the Six Action Shoes is to help both in the training of action skills and
also in the use of those action skills at the moment of action... By breaking down action
into six distinct modes, the six action shoe framework gives specific guidance about the
action that needs to be taken. When you cook, you choose your ingredients. In action,
you choose the action style to fit the needs of the occasion.
The Shang used prayer to their gods as their operation to hope for rain. The Chou
surveyed land for slope, found reliable water supplies, designed and dug
permanent aqueducts and channels ensuing water was available for people and crops,
when needed.
In a similar way, our traditional mental software has served us well but is now
insufficient. We do not need people who can describe things as they are. Instead we
need people who can design things as they can be, then effect those ideas. Knowledge
will not necessarily show us the truth. More and more knowledge will not refine our view
of truth. That knowledge equals truth 'software' is in urgent need of an upgrade.
We now need people who can practice a new sort of thinking that focuses on
collaboration, thinking tools and frameworks, design, possibilities, parallel thinking and
action.
The Six Action Shoes refine the de Bono Thinker's perceptions about the appropriate
type of action that best fits a specific situation.
When I want to write a letter, I use MacOS Pages software. When I wish to write
an article or book, I use Adobe InDesign. If I wish to collaborate on an article, I use
Google Docs, or Google Wave, or SAP StreamWork. In other words, I choose the most
effective software for the job.
The Six Action Shoes Framework is mental 'software' for use when action follows
thinking.
http://homepage.mac.com/bobembry/studio/biz/concept
ual_resources/authors/edward_de_bono/six_action_shoe
s.html
Six action shoes (by Edward de Bono)


A brilliant new way to take control of any business or life situation
Author's note
o Think and then take action
o Often we assume that action is easy and obvious
That thinking lays out the roads and decides which road is to be
taken
 That action is simple as walking along the correct road
 It's not that easy
o The direct teaching of thinking
o Education is too often about description and analysis
o The real world involves action as well as knowledge
o Operacy is just as important as literacy and numeracy
 Has to do with operations
o Six action shoes helps
 In the training of action skills
 In the use of those skills at the moment of action
 Specific guidance about the action that needs to be taken
o Choose your action style to fit the needs of the occasion
Introduction
Six pairs of action shoes
o Introduction
 Occasionally, thinking is an end in itself
 Usually the purpose of thinking is to choose or design a course of
action
 Sometimes there is a distinct thinking phase and then an action
phase
 At other times thinking and action are intertwined
 Shoes imply action
 Situations require different styles of action
o The perfect person
 Knowing how to act appropriately in any type of situation
Six styles of action
o Introduction
o The feel of a situation
 The feel of a situation is all important
 Based on experience
 Also on perception
 Six action shoes provide a framework
 Become familiar with different types of situations
 Then use this familiarity to react suitably in similar
situations
 The mind
 Sees what it is prepared to see
 Notices what it is ready to notice
 Works as a self-organizing system
 Information arranges itself into patterns
 Once the patters are there then we see the world
through these patterns
o Two shoes in a pair
 Have to respond to a particular situation without pretending that it
is something that we would like it to be
 Situations are rarely pure
 Often require a combination of 2 types of shoes
 15 possible combinations
o Color for the shoes
 Must differ from the hats. To avoid confusion
 Must suggest the nature of the mode
o Physical nature of the shoes
 Important for visualization and learning purposes
o The shoes
 Overview




Navy formal shoes
 Routines and formal procedures
 Grey sneakers
 Exploration, investigation, and collection of evidence
 Purpose of the action is to get information
 Brown brogues
 Involves practically and pragmatism
 Do what is sensible and what is practical
 Figure it out as you go using initiative, practical
behavior, and flexibility
 Almost the opposite of the formality navy formal
shoes
 Orange gumboots
 Danger and emergency
 Emergency action is required
 Safety is a prime concern
 Pink slippers
 Suggest care, compassion, and attention to human
feelings and sensitivities
 Purple riding boots
 Suggest authority
 Playing out the role give by virtue of a position or
authority
 There is an element of leadership and command
 The person is not acting in his or her own capacity
but in an official role.
 Once the framework has been learned and visualized, then there is
no need to repeat the whole description of the action mode each
time:
The shoes in detail
o Navy formal shoes
o Grey Sneakers
o Brown brogues
o Orange gumboots
o Pink slippers
o Purple riding boots
Combination of shoes
o No formal framework for combining the different modes of action
o See discussion of individual shoes for more suggestions
o Types
 Balanced combination
 The uncertain situation
 A modifying situation
o See table
o It is also possible to have flavors of more than two colors in a
situation
o In practice, situations are rarely pure examples of one or another
action mode.
Action, not description
o The purpose of the framework is to set the style of the action in
advance so that a person can behave within a certain style
framework
o Six action shoes are concerned with what is about to be done
o Each person should be capable of operating in each of the different
modes
o Just as each person should be capable of using each of the six hats




Must resist the tendency to use the six action modes for purposes
of description and categorization
Simple and practical
Language and terminology
Action mode summary
o



http://en.wikipedia.org/wiki/Edward_de_Bono
Biography
Edward de Bono studied at St Edward's College in Malta and gained a medical degree from
the University of Malta. He was a Rhodes Scholar at Christ Church, Oxford where he gained
an M.A. degree in psychology and physiology. He also has a Ph.D. degree and a D.Phil.
degree in Medicine from Cambridge University, a D.Des. degree (Doctor of Design) from the
Royal Melbourne Institute of Technology, and an LL.D. degree from the University of
Dundee.
He is a professor at Malta, Pretoria, Central England, and Dublin City University. de Bono
Da holds the Vinci Professor of Thinking chair at University of Advancing Technology in
Phoenix, USA.[1] He is one of the 27 for the European Year of Creativity and Innovation
2009.[2]
He was formerly married, has two sons and resides on the Channel Islands.
In 1969 de Bono founded the Cognitive Research Trust (CoRT) which continues to produce
and promote material based on his ideas.
He has written 82 books with translations into 41 languages. He has taught his thinking
methods to government agencies, corporate clients, organisations and individuals, privately
or publicly in group sessions. He has started to set up the World Center for New Thinking,
based in Malta, which he describes as a "kind of intellectual Red Cross".
In 1995, he created the futuristic documentary film, 2040: Possibilities by Edward de Bono, a
lecture designed to prepare an audience of viewers released from a cryogenic freeze for
contemporary (2040) society.
De Bono has developed a range of 'deliberate thinking techniques' - which emphasise
thinking as a deliberate act.
De Bono's techniques are used in companies like IBM, DuPont. Agencies offer corporate
training courses based on his techniques think outside the box.
[edit] Work
[edit] Lateral Thinking
de Bono's key concept is that vertical, or logical, linear and critical thinking has limitations. It
is reductive, designed to eliminate all but the truth, which is in contrast to design thinking or
creativity where new ideas are sought. De Bono claims it is important to disrupt the
conventional patterns adopted by the brain to facilitate creativity. One aspect is that creativity
should be producible on demand, and that formation of new ideas cannot merely be left to
chance. So the act of provocation, denoted by the artificial word "Po", is designed to
introduce a random factor into the thinking to shift the emphasis in new directions. This
introduces new stimuli in an effort to shift the thinking in new directions.
[edit] Direct Teaching of Thinking
De Bono proposes that most of the problems in thinking are at the perceptual level - that is,
that many more mistakes are made by people jumping to the wrong conclusion than by
behaving irrationally once all the relevant facts are known.
To address this problem, he created attention directing tools under the name of CoRT, later as
DATT and also included as Code 2 in the de Bono Code.
As the name suggests, the tools operate by directing peoples' attention to different aspects of
the situation for a couple of minutes. For example, an OPV (Other Peoples' View) prompts
the thinker to list the people (or types of people) who would be affected by a proposed idea.
The thinker is then required to imagine what effects that idea would have on each of these
different people.
While this may sound like an exercise in altruism, it need not be. Say you've got a selfish
desire (e.g. you're a kid wanting ice cream), then doing an OPV will help you anticipate and
plan for other peoples' responses (e.g. "Mummy, me and Jimmy were thinking that cleaning
our rooms to your complete satisfaction might earn us both an ice cream. But we would have
to eat these ice-creams immediately to avoid spoiling our dinner.").
Schools from over twenty countries have included de Bono's thinking tools into their
curriculum.[3]
[edit] Language
De Bono has stated that he regards language as having been both the biggest help and the
biggest barrier to human progress.
His contention is that just as language has allowed one generation to pass useful knowledge
onto the next, it has also allowed dangerous myths and out-of-date ideas to become
enshrined.
Convinced that a key way forward for humanity is better language, he published "The
Edward de Bono Code Book" in 2000. In this book, he proposed a suite of new words based
on numbers, where each number combination represents a useful idea or situation that
currently does not have a single-word representation.
For example, de Bono code 6/2 means "Give me my point of view and I will give you your
point of view." dBc 6/2 might be used in situations where one or both of two parties in a
dispute are making insufficient effort to understand the other's perspective.[4]
[edit] Ideas
In 2000, de Bono advised a U.K Foreign Office committee that the Arab-Israeli conflict
might be due, in part, to low levels of zinc found in people who eat unleavened bread (i.e.
pita flatbread), a known side-effect of which is aggression. He suggested shipping out jars of
Marmite to compensate.[5][6]
He has suggested an alternative to the penalty shootout when a soccer match ends in a draw.
If the number of times each goalkeeper touches the ball is recorded throughout the game the
results can be compared in the event of a draw. The team whose goalkeeper has touched the
ball more often is the loser. The winner will then be the team that has had more attempts at
scoring goals and is more aggressive (and therefore exciting) in their style of play. This
mechanism would avoid the tension of the penalty shoot out. However, some people argue
that this method of deciding a drawn match completely ignores the goalkeeper's skill which
can win a game for a team. If the game goes to a penalty shootout, even though one team may
have completely dominated the other, the goalkeeper has kept the scores level. Furthermore
the goalkeeper can make highly skilled saves in a penalty shootout and defeat the better team.
In 2007, his Septoe idea was given life through a new website. Septoes allow people to distill
their wisdom into phrases of exactly seven words.[7]
[edit] Games
Edward de Bono invented a simple game as a challenge, called the L Game, that requires
strategy to win, and 'Concept Snap', which requires participants to think of ways in which
different objects can be used to perform similar functions. He does contend that what is
learned from games tends not to be transferred to thinking in real life.
[edit] Critiques
In the Handbook of Creativity, Robert J. Sternberg writes, "Equally damaging to the scientific
study of creativity, in our view, has been the takeover of the field, in the popular mind, by
those who follow what might be referred to as a pragmatic approach. Those taking this
approach have been concerned primarily with developing creativity, secondarily with
understanding it, but almost not at all with testing the validity of their ideas about it."
Sternberg continues, "Perhaps the foremost proponent of this approach is Edward De Bono,
whose work on lateral thinking and other aspects of creativity has had what appears to be
considerable commercial success."[8]
Frameworks For Thinking is a comprehensive evaluation of 42 popular thinking frameworks
conducted by a team of researchers. Regarding Edward De Bono they write, "[he] is more
interested in the usefulness of developing ideas than proving the reliability or efficacy of his
approach. There is sparse research evidence to show that generalised improvements in
thinking performance can be attributed to training in the use of CoRT or Thinking Hats tools.
An early evaluation of CoRT reported significant benefits for Special Educational Needs
(SEN) pupils.... However, in a more recent study with Australian aboriginal children (Ritchie
and Edwards, 1996), little evidence of generalisation was found other than in the area of
creative thinking."[9]
[edit] Published works
Books by de Bono include:
































The Use of Lateral Thinking (1967) ISBN 0-14-013788-2, introduced the term "lateral
thinking"
New Think (1967, 1968) ISBN 0-380-01426-2
The Five-Day Course in Thinking (1968), introduced the L game
The Mechanism of the Mind (1969), Intl Center for Creative Thinking 1992 reprint: ISBN 0-14013787-4, suggests that the mind is a pattern matching machine
Lateral Thinking: Creativity Step by Step, (1970), Harper & Row 1973 paperback: ISBN 0-06090325-2
The Dog-Exercising Machine (1970)
Technology Today (1971)
Practical Thinking (1971)
Lateral Thinking for Management (1971)
Po: A Device for Successful Thinking (1972), ISBN 0-671-21338-5, introduced the term Po
Children Solve Problems (1972) ISBN 13-978-0060110246, ISBN 10-0060110244
Po: Beyond Yes and No (1973), ISBN 0-14-021715-0
Eureka!: An Illustrated History of Inventions from the Wheel to the Computer (1974)
Teaching Thinking (1976)
The Greatest Thinkers: The Thirty Minds That Shaped Our Civilization (1976), ISBN 0-39911762-8
Wordpower (1977)
The Happiness Purpose (1977)
Opportunities : A handbook for business opportunity search (1978)
Future Positive (1979)
Atlas of Management Thinking (1981)
De Bono's Course in Thinking (1982)
Learn-To-Think: Coursebook and Instructors Manual with Michael De Saint-Arnaud (1982),
ISBN 0-88496-199-0
Tactics: The Art and Science of Success (1985)
Conflicts: A Better Way to Resolve them (1985)
Masterthinker's Handbook (1985)
Six Thinking Hats (1985) ISBN 0-316-17831-4
I Am Right, You Are Wrong: From This to the New Renaissance: From Rock Logic to Water
Logic (1990) ISBN 0-14-012678-3
Six Action Shoes (1991)
Handbook for the Positive Revolution (1991) ISBN 0-14-012679-1
Serious Creativity: Using the Power of Lateral Thinking to Create New Ideas (1992) ISBN 0-00255143-8 – a summation of many of De Bono's ideas on creativity
Sur/Petition (1992) ISBN 0-88730-543-1 - creating value monopolies when everyone else is
merely competing.
Parallel thinking: from Socratic thinking to de Bono thinking (1994) ISBN 0670851264












Teach Yourself How to Think (1995)
How to Be More Interesting (1998)
Simplicity (1999)
New Thinking for the New Millennium (1999)
Why I Want To Be King of Australia (1999)
How to Have A Beautiful Mind (2004)
Six Value Medals (2005)
H+ (Plus): A New Religion (2006)
How to Have Creative Ideas (2007)
Free or Unfree? : Are Americans Really Free? (2007) ISBN 1597775444
Six Frames For Thinking About Information (2008)
Think! Before It's Too Late (2009) ISBN 9780091924096
De Bono has also written numerous articles published in refereed and other journals,
including The Lancet and Clinical Science.