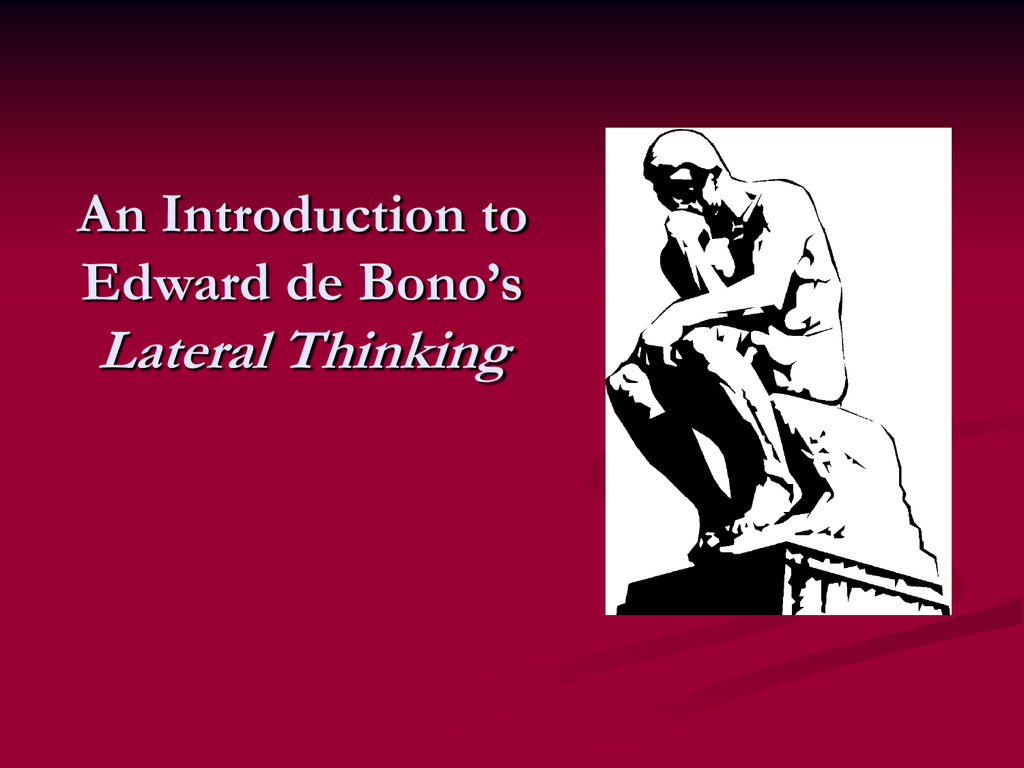 An Introduction to
Edward de Bono's
Lateral Thinking
How do you put on your
clothes every morning?
Bet you have a routine!
What bread do you buy?
If our brains
didn't filter
information
and categorize
it, we would not
be able to
function.
So what's the problem?
In a world of endless choices,
businesses desperately need to
differentiate themselves from
their competitors.
Are humans naturally creative?
No.
The self-organizing system
of the brain guides humans
along well-established trains
of thought.
And to make it worse…
College Bound Students in
Minnesota can expect to
take which gateway tests?
A.
B.
C.
D.
E.
F.
How do you succeed at this?
G.
H.
I.
MCA-II
GRAD Component of the MCA-II
BST
EPAS
NAEP
PSAT
SAT
ACT
All of the Above
As a result, it's easy for people to
think of ideas and solutions that
already exist. Completely new
innovations and directions,
however, are easy to overlook.
Many believe that creativity
can be attained simply
through freeing people from
their inhibitions.
Yet, simply freeing a person
does not mean that they have
the capacity to be creative.
Nor does it mean that they will consistently come up
with new ideas that have the potential to be used.
The market doesn't wait for
ideas to drop from the sky.
In a highly-competitive world,
businesses need proven, risk-adverse
methods of generating innovation.
Edward de Bono's Lateral
Thinking Methodologies fill
that need.
Who is Edward de Bono?




M.D., Ph.D. (physiology,
medicine, and psychology),
Rhodes scholar
World's leading authority in
the field of creative and
conceptual thinking
Originator of Six Thinking
Hats, Lateral Thinking, and
Direct Attention Thinking
Tools (based on CoRT)
Author of over 70 books in
35+ languages
What is Lateral Thinking?
C
"In a self-organizing information
system, patterns are formed. Lateral
Thinking is a method for cutting
across patterns. It is for changing
concepts and perceptions."
-Edward de Bono
A
B
Translation…
Lateral Thinking is a series of formal tools designed to
improve creative thinking abilities in everyone. It can be
used to:
• solve problems companies could not otherwise solve
• create a more innovative organization, and
• fully utilize the assets companies already have, especially the
minds of managers and employees
Using Lateral Thinking
allows individuals and
organizations to generate
new ideas deliberately and
purposefully
As a result, creativity can
now be used to achieve
competitive advantages in
an increasingly global
marketplace.