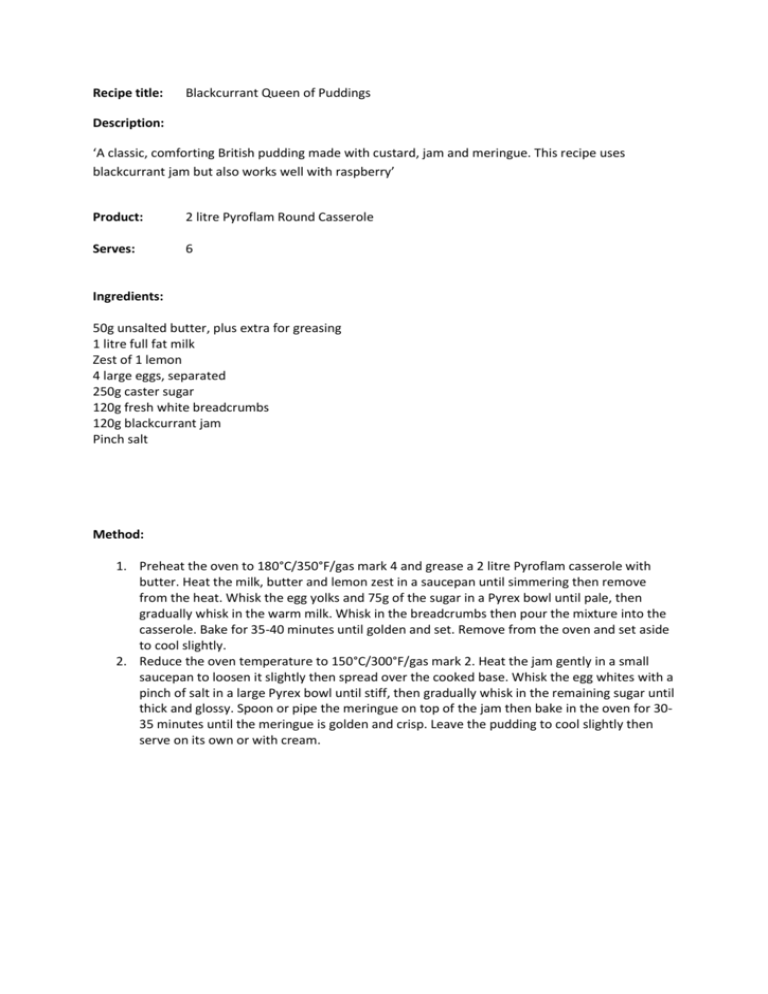 Recipe title:
Blackcurrant Queen of Puddings
Description:
'A classic, comforting British pudding made with custard, jam and meringue. This recipe uses
blackcurrant jam but also works well with raspberry'
Product:
2 litre Pyroflam Round Casserole
Serves:
6
Ingredients:
50g unsalted butter, plus extra for greasing
1 litre full fat milk
Zest of 1 lemon
4 large eggs, separated
250g caster sugar
120g fresh white breadcrumbs
120g blackcurrant jam
Pinch salt
Method:
1. Preheat the oven to 180°C/350°F/gas mark 4 and grease a 2 litre Pyroflam casserole with
butter. Heat the milk, butter and lemon zest in a saucepan until simmering then remove
from the heat. Whisk the egg yolks and 75g of the sugar in a Pyrex bowl until pale, then
gradually whisk in the warm milk. Whisk in the breadcrumbs then pour the mixture into the
casserole. Bake for 35-40 minutes until golden and set. Remove from the oven and set aside
to cool slightly.
2. Reduce the oven temperature to 150°C/300°F/gas mark 2. Heat the jam gently in a small
saucepan to loosen it slightly then spread over the cooked base. Whisk the egg whites with a
pinch of salt in a large Pyrex bowl until stiff, then gradually whisk in the remaining sugar until
thick and glossy. Spoon or pipe the meringue on top of the jam then bake in the oven for 3035 minutes until the meringue is golden and crisp. Leave the pudding to cool slightly then
serve on its own or with cream.