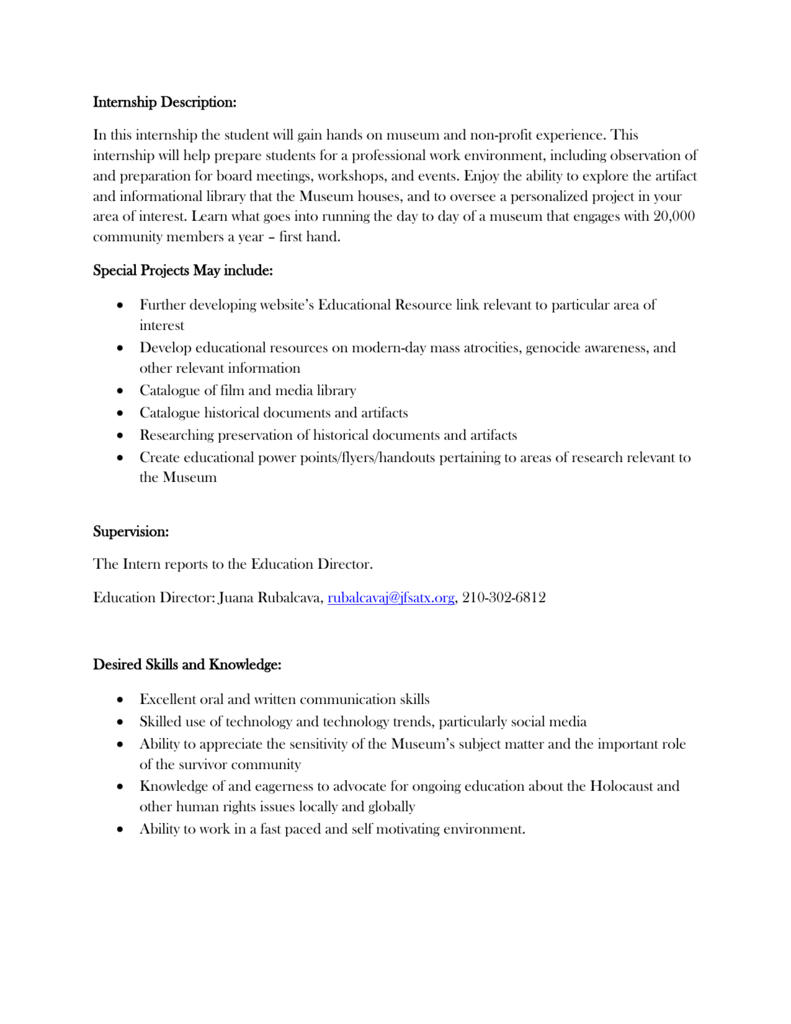 Internship Description:
In this internship the student will gain hands on museum and non-profit experience. This
internship will help prepare students for a professional work environment, including observation of
and preparation for board meetings, workshops, and events. Enjoy the ability to explore the artifact
and informational library that the Museum houses, and to oversee a personalized project in your
area of interest. Learn what goes into running the day to day of a museum that engages with 20,000
community members a year – first hand.
Special Projects May include:






Further developing website's Educational Resource link relevant to particular area of
interest
Develop educational resources on modern-day mass atrocities, genocide awareness, and
other relevant information
Catalogue of film and media library
Catalogue historical documents and artifacts
Researching preservation of historical documents and artifacts
Create educational power points/flyers/handouts pertaining to areas of research relevant to
the Museum
Supervision:
The Intern reports to the Education Director.
Education Director: Juana Rubalcava, [email protected], 210-302-6812
Desired Skills and Knowledge:





Excellent oral and written communication skills
Skilled use of technology and technology trends, particularly social media
Ability to appreciate the sensitivity of the Museum's subject matter and the important role
of the survivor community
Knowledge of and eagerness to advocate for ongoing education about the Holocaust and
other human rights issues locally and globally
Ability to work in a fast paced and self motivating environment.