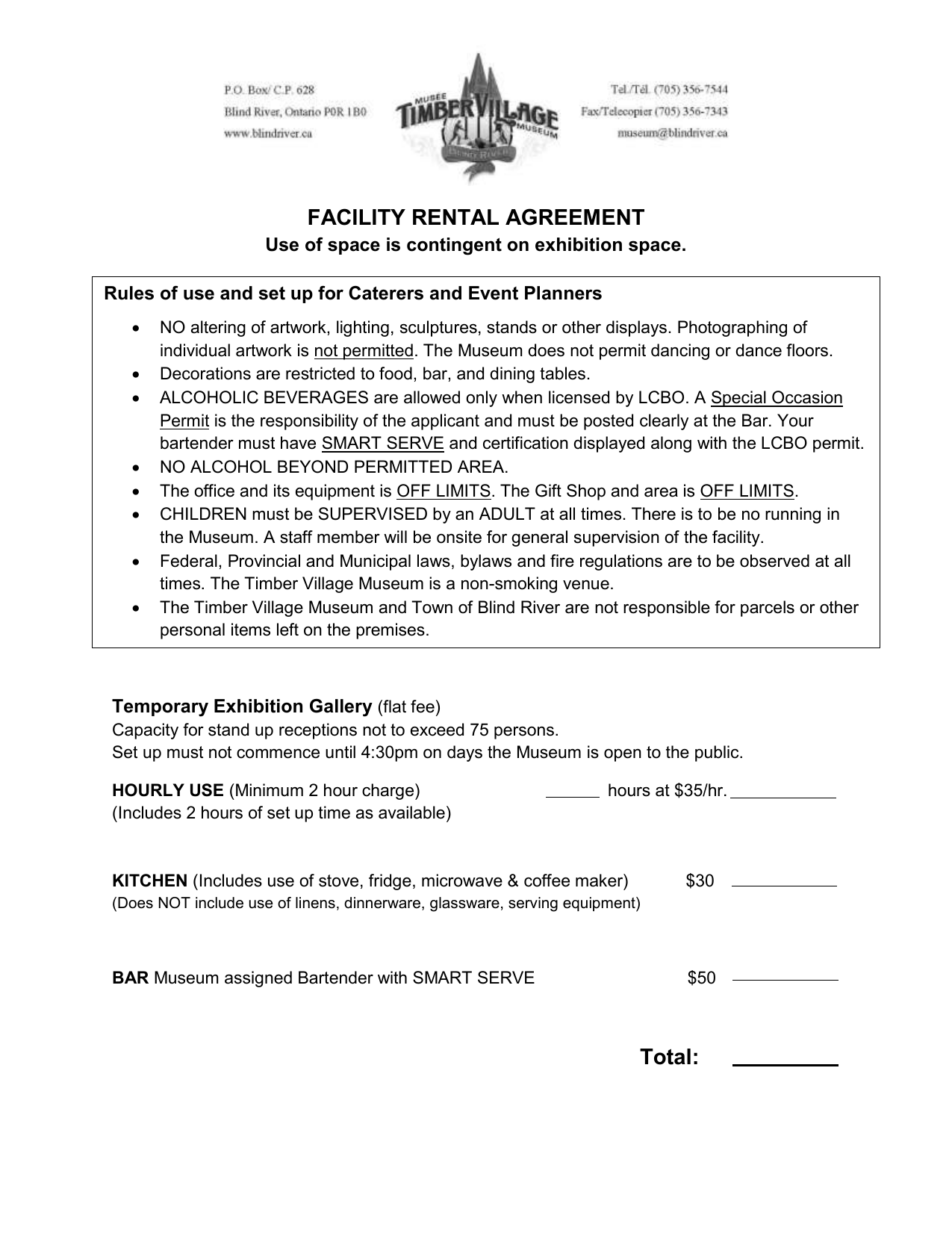 FACILITY RENTAL AGREEMENT
Use of space is contingent on exhibition space.
 NO altering of artwork, lighting, sculptures, stands or other displays. Photographing of individual artwork is not permitted. The Museum does not permit dancing or dance floors.  Decorations are restricted to food, bar, and dining tables.  ALCOHOLIC BEVERAGES are allowed only when licensed by LCBO. A Special Occasion Permit is the responsibility of the applicant and must be posted clearly at the Bar. Your bartender must have SMART SERVE and certification displayed along with the LCBO permit.  NO ALCOHOL BEYOND PERMITTED AREA.  The office and its equipment is OFF LIMITS. The Gift Shop and area is OFF LIMITS.  CHILDREN must be SUPERVISED by an ADULT at all times. There is to be no running in the Museum. A staff member will be onsite for general supervision of the facility.  Federal, Provincial and Municipal laws, bylaws and fire regulations are to be observed at all times. The Timber Village Museum is a non-smoking venue.  The Timber Village Museum and Town of Blind River are not responsible for parcels or other personal items left on the premises.
Temporary Exhibition Gallery
(flat fee) Capacity for stand up receptions not to exceed 75 persons. Set up must not commence until 4:30pm on days the Museum is open to the public.
HOURLY USE
(Minimum 2 hour charge) (Includes 2 hours of set up time as available) hours at $35/hr.
KITCHEN
(Includes use of stove, fridge, microwave & coffee maker) $30 (Does NOT include use of linens, dinnerware, glassware, serving equipment)
BAR
Museum assigned Bartender with SMART SERVE $50
Total: