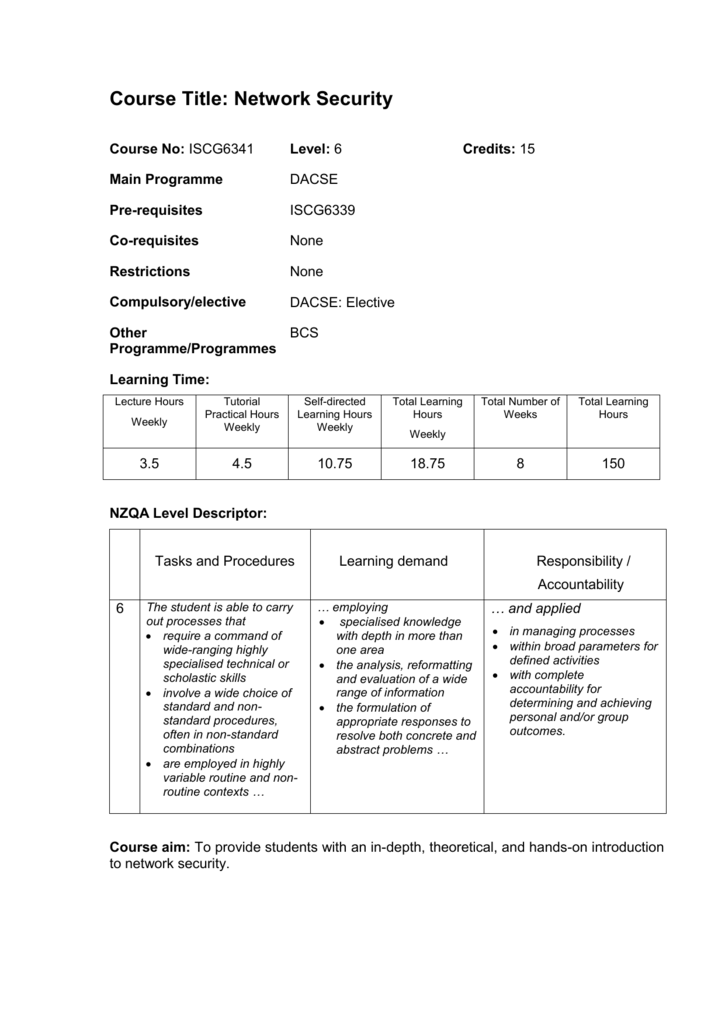 Course Title: Network Security
Course No: ISCG6341
Level: 6
Credits: 15
Main Programme
DACSE
Pre-requisites
ISCG6339
Co-requisites
None
Restrictions
None
Compulsory/elective
DACSE: Elective
Other
BCS
Programme/Programmes
Learning Time:
Lecture Hours
Weekly
3.5
Tutorial
Practical Hours
Weekly
Self-directed
Learning Hours
Weekly
Total Learning
Hours
4.5
10.75
18.75
Total Number of
Weeks
Total Learning
Hours
8
150
Weekly
NZQA Level Descriptor:
Tasks and Procedures
Learning demand
Responsibility /
Accountability
6
The student is able to carry
out processes that
 require a command of
wide-ranging highly
specialised technical or
scholastic skills
 involve a wide choice of
standard and nonstandard procedures,
often in non-standard
combinations
 are employed in highly
variable routine and nonroutine contexts …
… employing
 specialised knowledge
with depth in more than
one area
 the analysis, reformatting
and evaluation of a wide
range of information
 the formulation of
appropriate responses to
resolve both concrete and
abstract problems …
… and applied
 in managing processes
 within broad parameters for
defined activities
 with complete
accountability for
determining and achieving
personal and/or group
outcomes.
Course aim: To provide students with an in-depth, theoretical, and hands-on introduction
to network security.
Learning outcomes: The student will provide evidence that s/he can:
1. Describe the security threats facing modern network infrastructure
2. Secure network device access
3. Implement AAA on network devices
4. Mitigate threats to networks using ACLs.
5.
6.
7.
8.
9.
Analyse and implement secure network management and reporting.
Mitigate common later 2 attacks
Configure firewalls
Implement site-to-site IPSec VPNs
Administer effective security policies
Topics/Content/Outline:
Topics include: Modern network security threats, securing network devices,
authentication authorization and accounting, firewall technologies, intrusion
prevention, securing local area networks, cryptography, virtual private networks,
managing a secure network
Assessment:
Weighting
Nature of assessment
Learning
Outcomes
50%
Practical in-class assessments
1-5
50%
Final Practical Exam
1-5
Learning and teaching approaches:
Demonstrations, discussions, lectures, tutorials, in-class exercises and self-directed study
Students learn by doing real practical work.
Learning resources required:
Hardware: Computers and network equipment in laboratory environment.
Software: Access to current Cisco IOS, Packet Tracer and Windows desktop operating
system.
Textbook: Online Cisco resources.
Learning resources recommended:
Recommended learning resources are made available in class and addition material
made available on Moodle.