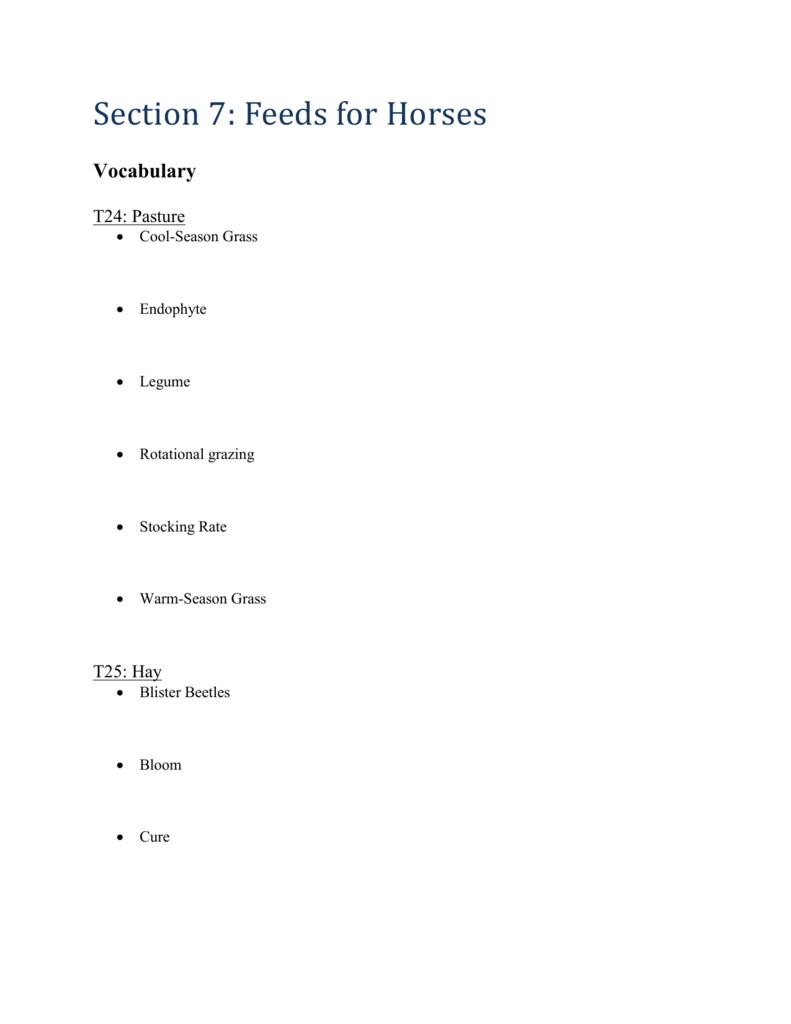 Section 7: Feeds for Horses
Vocabulary
T24: Pasture

Cool-Season Grass

Endophyte

Legume

Rotational grazing

Stocking Rate

Warm-Season Grass
T25: Hay

Blister Beetles

Bloom

Cure

Hay

Silage
T26: Concentrates

Laxative

Molasses

Oat Groats

Wheat Bran
T27: Supplements and Additives

Antibiotic

Canola

Milk Replacer

Probiotic

Sweet Feed
Questions
T24: Pasture
1. List two cool-season and two warm-season grasses.
2. List two grasses that one needs to be careful of if used in a pasture.
3. List two legumes commonly used for pasture.
4. What is the general stocking rate for horses on pasture?
5. How short can a pasture be mowed without damaging the plants?
T25: Hay
1. List three characteristics of good-quality hay.
2. List one legume and one grass hay.
3. At what moisture content should hay be baled?
4. What can happen to hay that is baled with too high a moisture content?
T26: Concentrates
1. List two common grains fed to horses. Corn increases heat, and feeding it will help keep
the horse warm in winter. True or False?
2. Which feed discussed in this topic tends to pack in the stomach and can lead to colic if
fed in high amounts?
3. Which feed discussed in this topic can act as a laxative?
T27: Supplements and Additives
1. List two protein supplements commonly fed to horses.
2. List two antibiotics in feed that can be toxic to horses.
3. When are milk replacers most often used?
4. For what are probiotics used?