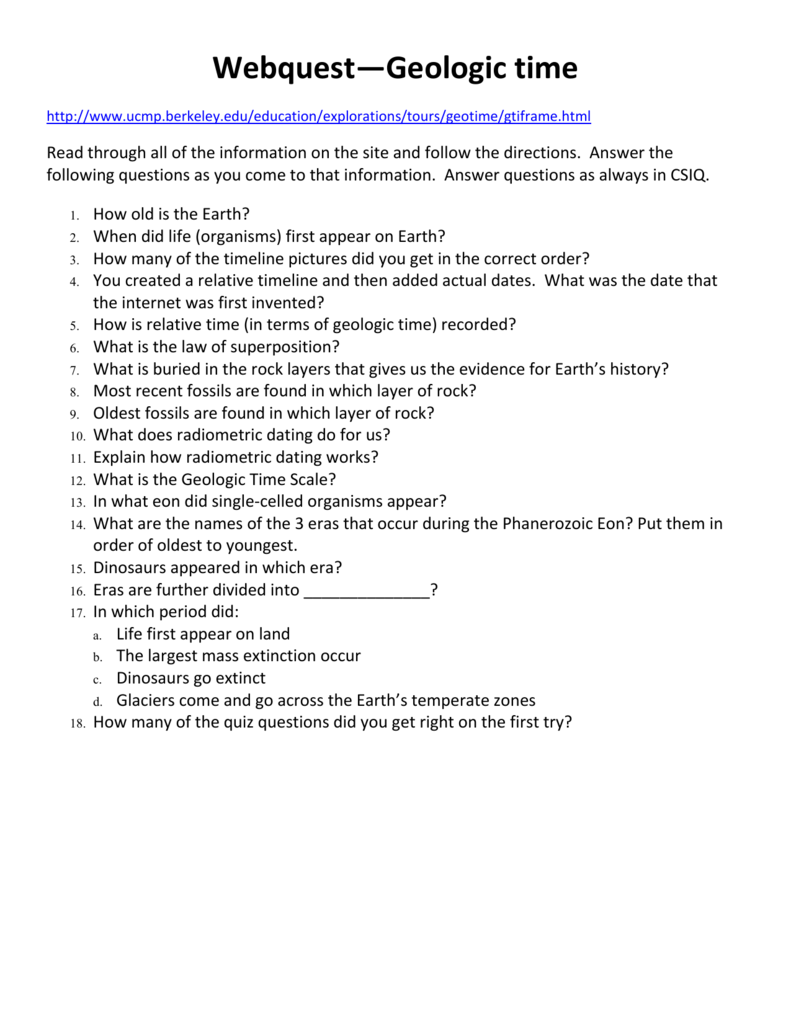 Webquest—Geologic time
http://www.ucmp.berkeley.edu/education/explorations/tours/geotime/gtiframe.html
Read through all of the information on the site and follow the directions. Answer the
following questions as you come to that information. Answer questions as always in CSIQ.
1.
2.
3.
4.
5.
6.
7.
8.
9.
10.
11.
12.
13.
14.
15.
16.
17.
18.
How old is the Earth?
When did life (organisms) first appear on Earth?
How many of the timeline pictures did you get in the correct order?
You created a relative timeline and then added actual dates. What was the date that
the internet was first invented?
How is relative time (in terms of geologic time) recorded?
What is the law of superposition?
What is buried in the rock layers that gives us the evidence for Earth's history?
Most recent fossils are found in which layer of rock?
Oldest fossils are found in which layer of rock?
What does radiometric dating do for us?
Explain how radiometric dating works?
What is the Geologic Time Scale?
In what eon did single-celled organisms appear?
What are the names of the 3 eras that occur during the Phanerozoic Eon? Put them in
order of oldest to youngest.
Dinosaurs appeared in which era?
Eras are further divided into ______________?
In which period did:
a. Life first appear on land
b. The largest mass extinction occur
c. Dinosaurs go extinct
d. Glaciers come and go across the Earth's temperate zones
How many of the quiz questions did you get right on the first try?