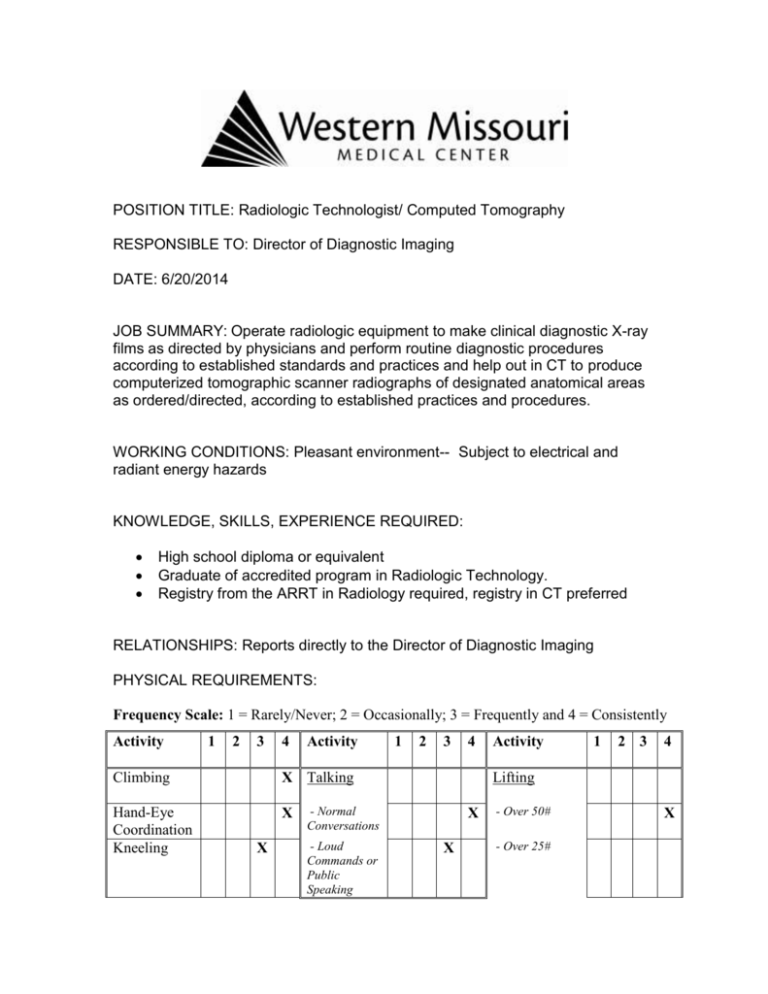 POSITION TITLE: Radiologic Technologist/ Computed Tomography
RESPONSIBLE TO: Director of Diagnostic Imaging
DATE: 6/20/2014
JOB SUMMARY: Operate radiologic equipment to make clinical diagnostic X-ray
films as directed by physicians and perform routine diagnostic procedures
according to established standards and practices and help out in CT to produce
computerized tomographic scanner radiographs of designated anatomical areas
as ordered/directed, according to established practices and procedures.
WORKING CONDITIONS: Pleasant environment-- Subject to electrical and
radiant energy hazards
KNOWLEDGE, SKILLS, EXPERIENCE REQUIRED:



High school diploma or equivalent
Graduate of accredited program in Radiologic Technology.
Registry from the ARRT in Radiology required, registry in CT preferred
RELATIONSHIPS: Reports directly to the Director of Diagnostic Imaging
PHYSICAL REQUIREMENTS:
Frequency Scale: 1 = Rarely/Never; 2 = Occasionally; 3 = Frequently and 4 = Consistently
Activity
1
2
3
4
Activity
Climbing
X Talking
Hand-Eye
Coordination
Kneeling
X
X
1
2
3
Activity
1
2 3
4
Lifting
- Normal
Conversations
- Loud
Commands or
Public
Speaking
4
X
X
- Over 50#
- Over 25#
X
Pulling
X Hearing
Pushing
X
- Normal
Conversations
Reaching
X
- Other
Sounds or
Auditory
Alarms
Standing
Stooping
X Memory
X
X
- Acuity, Near
- Acuity, Far
X
Walking
X - Color Vision
Range of
Motion
Use of
Hands
- Arms
X
- Shoulders
X - Keyboard
X
X
X Analytical
Thinking
Attention to
X
Detail
Concentration
X
- General
Manual
Dexterity
Skills or
Typing
- Short term
- Long Term
Vision
X
Sitting
- Under 25#
X
X
X
X
Decision
Making
X
X Reading
X
Writing
X
AGE CATEGORIES OF INDIVIDUALS SERVED:
Demonstrates the knowledge and skills necessary to provide age-appropriate
care to the following patient population:
_X_Neonatal (1-30 days)
X Infants (30 days-1 year) __X__Geriatric
_X_Adolescent (13-18 years)
_X_Adult (19-70 years)
(70+ yrs)
____No patient contact
__X__Children (1-12 years)
CORE DEPARTMENTAL COMPETENCIES- Take X-ray images of specified body areas/parts as ordered, following
established procedures.
 Apply lead shield to protect unaffected parts of the body from exposure to
radiation. Direct personnel to a safe area and/or shield them
 Able to perform portable exams
 Able to perform C-arm exams in the OR while maintaining a sterile field
 Mark all images correctly using provided lead markers.














Review requisitions, check and prepare equipment and supplies.
Identify, interview, and screen patient for proper preparation and for
possible allergies to contrast materials. Consult with radiologist, or
attending physician as needed
Explain procedure to patient, position patient on table and use appropriate
protocol for exam ordered
Knowledgeable on lab tests needed prior to exam
Schedule and/or Reschedule patients as needed
Able to enter exams in Radiology Information System and PACS
Provide radiologist with proper history for complete diagnosis
Review/evaluate completed images for quality, completeness and type of
test ordered
Maintain established department policies, procedures, objectives, quality
Assist in care and maintenance of facilities, equipment, and supplies.
Keep work areas clean. Maintain supply levels.
Must adhere to hospital dress code.
Attend in service meetings and other meetings as required. Attendance
of 50% of all department meetings is required.
Able to send images to both cloud systems
Perform other duties as directed by Diagnostic Imaging Director
This is not necessarily an inclusive list of all responsibilities, skills, tasks,
requirements, efforts or working conditions associated with the job. While this is
intended to be an accurate reflection of the current job, management reserves
the right to modify essential functions of the job or to require that other or
different tasks be performed when circumstances change (i.e. emergencies,
changes in personnel, workload, rush jobs, or technical developments).
____________________
Director
________
Date
____________________
Employee
________
Date
The qualifications for this position have been reviewed by the Chief of Radiology on
05/06/15 and the Medical Executive Committee on 5/14/15. Any changes to these
qualifications require review and approval of the Chief of Radiology and the Medical
Executive Committee, as well as updating the approval dates in this statement.