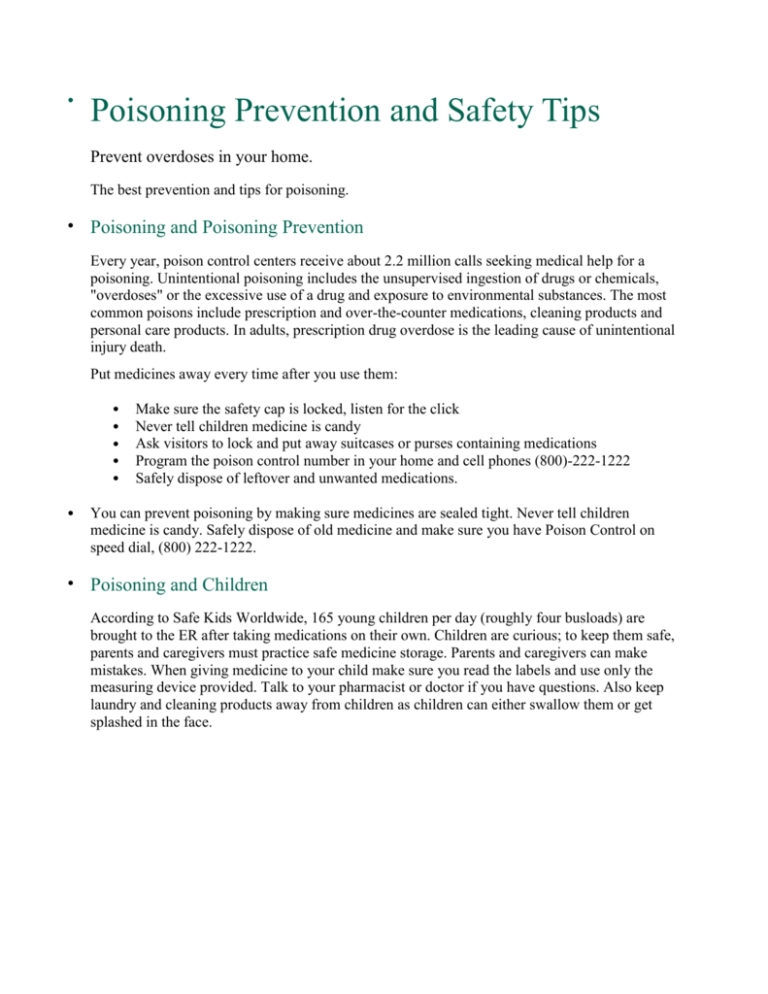 
Poisoning Prevention and Safety Tips
Prevent overdoses in your home.
The best prevention and tips for poisoning.

Poisoning and Poisoning Prevention
Every year, poison control centers receive about 2.2 million calls seeking medical help for a
poisoning. Unintentional poisoning includes the unsupervised ingestion of drugs or chemicals,
"overdoses" or the excessive use of a drug and exposure to environmental substances. The most
common poisons include prescription and over-the-counter medications, cleaning products and
personal care products. In adults, prescription drug overdose is the leading cause of unintentional
injury death.
Put medicines away every time after you use them:





Make sure the safety cap is locked, listen for the click
Never tell children medicine is candy
Ask visitors to lock and put away suitcases or purses containing medications
Program the poison control number in your home and cell phones (800)-222-1222
Safely dispose of leftover and unwanted medications.

You can prevent poisoning by making sure medicines are sealed tight. Never tell children
medicine is candy. Safely dispose of old medicine and make sure you have Poison Control on
speed dial, (800) 222-1222.

Poisoning and Children
According to Safe Kids Worldwide, 165 young children per day (roughly four busloads) are
brought to the ER after taking medications on their own. Children are curious; to keep them safe,
parents and caregivers must practice safe medicine storage. Parents and caregivers can make
mistakes. When giving medicine to your child make sure you read the labels and use only the
measuring device provided. Talk to your pharmacist or doctor if you have questions. Also keep
laundry and cleaning products away from children as children can either swallow them or get
splashed in the face.