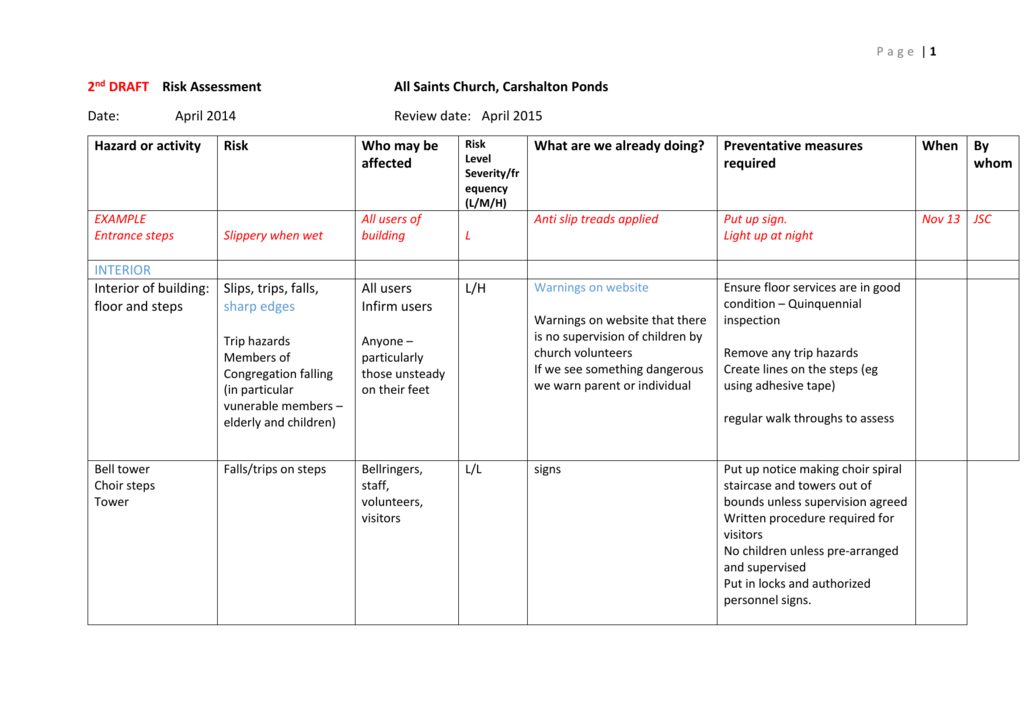 Page |1
2nd DRAFT Risk Assessment
All Saints Church, Carshalton Ponds
Date:
Review date: April 2015
April 2014
Hazard or activity
EXAMPLE
Entrance steps
Risk
Slippery when wet
INTERIOR
Interior of building: Slips, trips, falls,
floor and steps
sharp edges
Bell tower
Choir steps
Tower
Who may be
affected
All users of
building
All users
Infirm users
Trip hazards
Members of
Congregation falling
(in particular
vunerable members –
elderly and children)
Anyone –
particularly
those unsteady
on their feet
Falls/trips on steps
Bellringers,
staff,
volunteers,
visitors
Risk
Level
Severity/fr
equency
(L/M/H)
What are we already doing?
Preventative measures
required
When
By
whom
Anti slip treads applied
Put up sign.
Light up at night
Nov 13
JSC
Warnings on website
Ensure floor services are in good
condition – Quinquennial
inspection
L
L/H
Warnings on website that there
is no supervision of children by
church volunteers
If we see something dangerous
we warn parent or individual
Remove any trip hazards
Create lines on the steps (eg
using adhesive tape)
regular walk throughs to assess
L/L
signs
Put up notice making choir spiral
staircase and towers out of
bounds unless supervision agreed
Written procedure required for
visitors
No children unless pre-arranged
and supervised
Put in locks and authorized
personnel signs.
Page |2
Ladders
Falls/moving ladders
In particular: when
changing light bulbs,
adjusting altar,
curtains/screens,
putting up Christmas
tree
Anyone using
ladder
Sacristan
H/M
Employing suitably trained and
experienced staff
Observe Working at Height
regulations (does this affect us?)
Ensure someone else in in
building when using a ladder
Ensure ladders are in good order
Personal safety (lone
working regulations)
Harm from intruder,
injury to self
M/L
Keep doors locked where
possible
Keep mobile phone available
Let others know you are there
Manual handling
Personal injury when
moving staging, piano,
benches, stacked
chairs etc.
Clergy, anyone
in the building
alone
Staff and
volunteers
- Shock from electrical
equipment
- Injury in store
room/boiler room
Anyone using
equipment
L/L
Monitoring by users
Ensure trailing cables safely
secured
Regular monitoring/tidying of
store rooms
PAT testing for all portable
appliances (who does this)
FAT testing for fixed electrical
appliances – regular inspections
Develop scheme for labelling
No enclosed reel extensions
allowed.
Faulty electrical
equipment being
brought in by outside
users
Anyone
L
Employing suitably trained and
experienced staff
Advise outside users they must
ensure their equipment has been
tested
ELECTRICAL
Electrical appliances,
equipment, trailing
cables
(see note 1 below)
Electrical
L
Manual handling training and
awareness
Ensure volunteers do not try to
move objects which are too
heavy
Page |3
Chemicals,
hazardous
substances
(see note 2 below)
Accidental ingestion
Burns
Children,
vulnerable
adults
L
Using childproof containers
Using domestic familiar
products
Biological
Risk of bacterial
contamination
All
L/L
Keep bread/wine in airtight
containers. Wine is fortified
Keep containers clean –
communion vessels washed
after services
Burials – law and good practice
followed
Refreshments served and
consumed on day only
(provided by congregation –
biscuits prepackaged)
Boiling water
(see note 3 below)
Burns
Volunteers
making drinks
or using water
boiler
M/M
Sign to warn users of hot water
Use trolley
Responsible adults only
Pots designed for purpose
Training made available and
instruction sheet produced.
Candles could cause
fire
Vestments catching
light
Candles being knocked
over
Congregation
Servers fully trained not to tilt
Use of lighters not matches
Oil candles to avoid wax
dripping
Fire extinguisher
Improving best practice – use of
votive candles
Supervision of children
Training for fire extinguisher –
check water/foam
Review fire extinguisher provision
now we have switched to oil
FIRE SAFETY
Fire safety
Store hazardous substances out
of reach and/or sight – in South
Porch cupboard.
Always keep them in original
container with manufacturer's
instructions
INSTRUCTION sheet for use of
cleaning substances to be
produced.
Instructions for cleaning/storage
produced.
Page |4
EVACUATION
Terrorist threat
Fabric
Fire
Congregation or
public event
l/l
Clergy/
churchwardens/sidesperson
stop the service – sweep
through church (without risk)
Slips, trips, falls
All users
L
Ensure external lighting is
adequate
Ongoing project to widen paths
Churchyard maintenance
Personal injury
L
Public performance
events
Need to evacuate
rapidly
Staff and
volunteers
working in
churchyard
All users
EXTERIOR
Exterior of building:
steps, uneven paths
Record the findings with the date, then update annually or as needed
Record all incidents/accidents in the book which is located in the First Aid box
Note down locations of fireextinguishers/produce laminated
safety list of exits and locations of
extinguishers.
Raise to PCC whether candles
should be moved away from
lectern during children's services.
Evacuation plan – written
procedure required with
assembly point at church hill.
Explain exit plan at start of event
Ensure stewards are available
Advise LB Sutton of any faults in
pathways or trees
Replace existing lamps with LED
ones for maximum life
Ensure staff member/volunteers
adhere to H&S regulations
Crowd control – good practice
http://www.safelincs.co.uk/fireexit-help-and-information/
Page |5
Note 1 Electrical equipment and wiring
The electrical wiring within the building will be inspected regularly. No person is to make any alterations to the electrical installation without prior
agreement from the Rector. Portable and fixed electrical appliances will be maintained, inspected and tested routinely. Certificates of wiring
inspections, alterations and Portable Appliance Test records will be kept in the Health & Safety File.
Electrical equipment must be used safely, following the manufacturer's instructions, taking care not to overload sockets and ensuring extension
leads and cables do not cause a trip hazard. Electrical items brought into the church must be in good working order, and the current rating
should be verified before use.
Note 2 Chemicals
Hazardous chemicals, identified by an orange warning symbol (COSHH) must remain their original container, be correctly stored in a secure
cupboard, and used according to the manufacturers' instructions.
Note 3 First Aid
First Aid kits are available in the rear sacristy. Only suitably competent persons should administer First Aid. The contents of the First Aid kits
will be checked periodically. Any accidents or incidents must be recorded in the accident book.
Note 4 Fire Extinguishers
The Fire Extinguishers within the premises will be periodically examined and tested. Extinguishers should only be used by a competent person
and must not be removed from their locations except in an emergency.