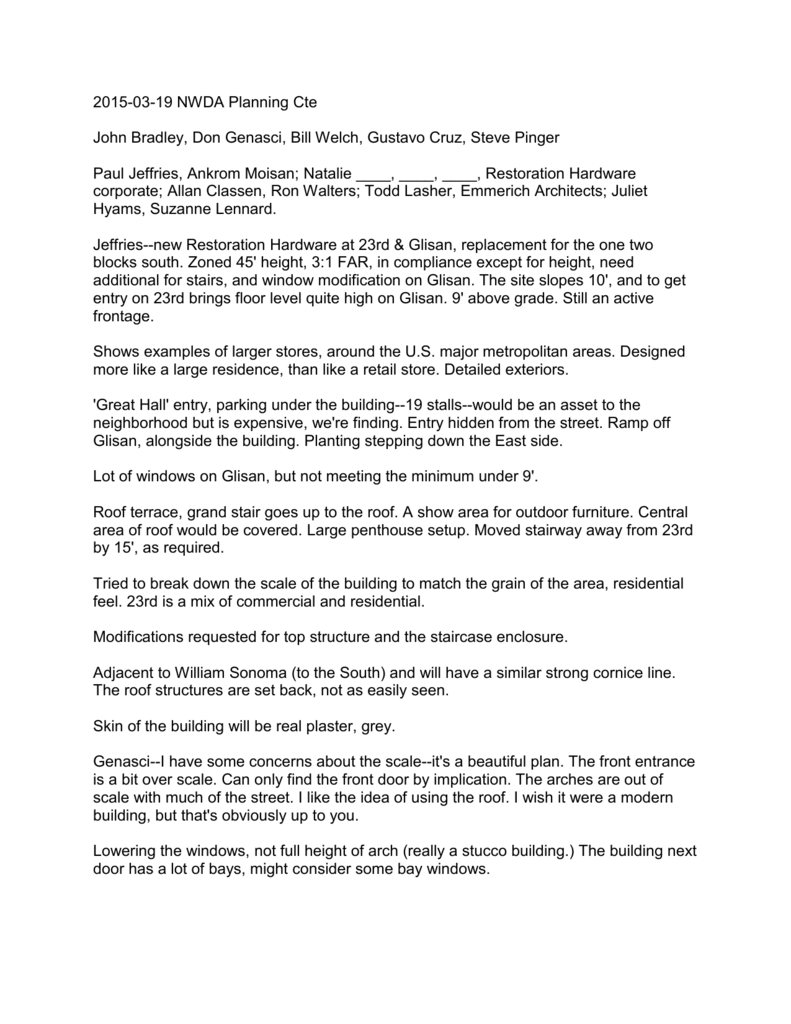 2015-03-19 NWDA Planning Cte
John Bradley, Don Genasci, Bill Welch, Gustavo Cruz, Steve Pinger
Paul Jeffries, Ankrom Moisan; Natalie ____, ____, ____, Restoration Hardware
corporate; Allan Classen, Ron Walters; Todd Lasher, Emmerich Architects; Juliet
Hyams, Suzanne Lennard.
Jeffries--new Restoration Hardware at 23rd & Glisan, replacement for the one two
blocks south. Zoned 45' height, 3:1 FAR, in compliance except for height, need
additional for stairs, and window modification on Glisan. The site slopes 10', and to get
entry on 23rd brings floor level quite high on Glisan. 9' above grade. Still an active
frontage.
Shows examples of larger stores, around the U.S. major metropolitan areas. Designed
more like a large residence, than like a retail store. Detailed exteriors.
'Great Hall' entry, parking under the building--19 stalls--would be an asset to the
neighborhood but is expensive, we're finding. Entry hidden from the street. Ramp off
Glisan, alongside the building. Planting stepping down the East side.
Lot of windows on Glisan, but not meeting the minimum under 9'.
Roof terrace, grand stair goes up to the roof. A show area for outdoor furniture. Central
area of roof would be covered. Large penthouse setup. Moved stairway away from 23rd
by 15', as required.
Tried to break down the scale of the building to match the grain of the area, residential
feel. 23rd is a mix of commercial and residential.
Modifications requested for top structure and the staircase enclosure.
Adjacent to William Sonoma (to the South) and will have a similar strong cornice line.
The roof structures are set back, not as easily seen.
Skin of the building will be real plaster, grey.
Genasci--I have some concerns about the scale--it's a beautiful plan. The front entrance
is a bit over scale. Can only find the front door by implication. The arches are out of
scale with much of the street. I like the idea of using the roof. I wish it were a modern
building, but that's obviously up to you.
Lowering the windows, not full height of arch (really a stucco building.) The building next
door has a lot of bays, might consider some bay windows.
Jeffries--my concern is that it gets overly complex. The rhythm of Kitchen Kaboodle is a
bit concerning. We're following the William Sonoma double-height entry.
Pinger--the floor level, is a bit beneath the sidewalk level to the south, by the NE corner
it's about 6-7' above grade. Scale elements to the sidewalk are also of concern. More
like an 11' level canopy. Not as concerning on Glisan, would encourage you to look at
what you can do about the pedestrian experience going around from 23rd.
The rear ramp, entry, looks like a no man's land, someone else's property they forgot
about.
Jeffries--east edge, bioswale and landscape buffer. Pedestrian exit ramp, ADA; loading
area, mechanical area on top. Driveway is 20' driveable area.
Pinger--entries under the building are less obtrusive.
Genasci--instead of 3 pieces of wall, could have one continuous.
The distance between the buildings keeps it from looming over the adjacent building.
Pinger--it could use an architectural continuity in the east area.
Cruz--I like your building, sorry if I sound like I have a fixation on parking. The history of
the site is that it was once one of the sites where a parking garage. I understand it's a
store, not a parking garage. I suggest adding parking where you could that could be
used as auxiliary local parking. That might pay for itself.
This is preliminary, no paperwork yet.
Bradley--thanks for coming in, and for the visitors from Restoration corporate.
Comments: suggests looking at the scale on 23rd entrance, and tidy up the rear on
Glisan, soften that work.
Genasci suggests using rainwater to water the plantings, roof plants.
--NW 23rd, south side between 22nd and 23rd.
Lasher--Historic Mary J. Smith house, was converted to 5 units previously. His client is
spiffing up the house, adding a sixth unit in basement. Went through review in June,
minor adjustments to move windows. Now need to add lighting, so new design review.
Mechanical inside, vents will not be in the front, most are the East and West elevations.
Six on-demand water heaters, vents on the roof, some under the soffit.
Egress window wells in the basement, railing.
Previous review, installed six units, were asked to split these, so three are under the
porch, three on the side.
This building is getting complete mechanical and plumbing upgrades.
Outdoor lights: in previous design, most tenants come in from the West. Lowered entry
for ADA, brought in one light there. Another for safety lighting on the side, another
opposite side.
In the 70's they added two stairs, ugly but we're dealing with them. Four or five lights
only for safety for emergency stairs, as needed. The planner asked to remove these
and work out a different solution.
Adding two lights to the front porch, to replace the one which is there now. Moving it,
preserving and UL rating nice old lights, new from Rejuvenation.
Gutting and starting the basement from scratch, adding fire code material where there is
change--they are allowing the rest as is. Sprinkling the basement, first floor and porch.
Announcements:
Next week, Tom Dichiara for the full hour, to talk about all the Con-way projects.
The Gypsy will be developed. No paperwork yet, don't know if it will take the back
residential lot. Will have a big impact. Ewalt architects?