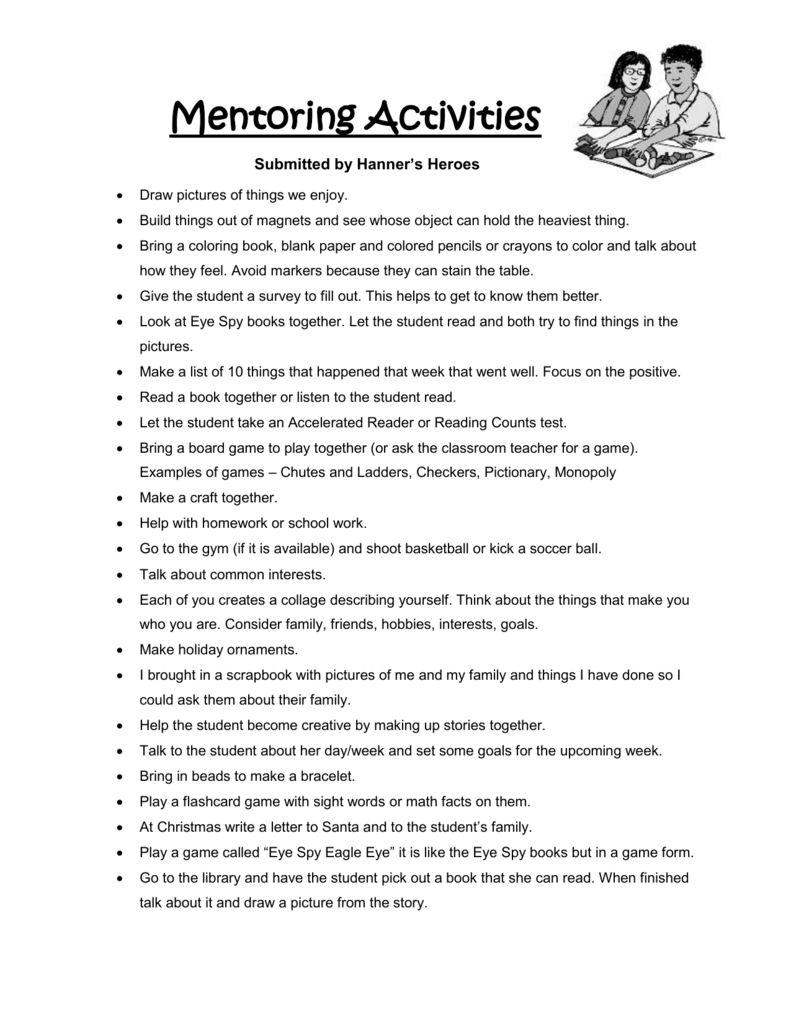 Mentoring Activities
Submitted by Hanner's Heroes

Draw pictures of things we enjoy.

Build things out of magnets and see whose object can hold the heaviest thing.

Bring a coloring book, blank paper and colored pencils or crayons to color and talk about
how they feel. Avoid markers because they can stain the table.

Give the student a survey to fill out. This helps to get to know them better.

Look at Eye Spy books together. Let the student read and both try to find things in the
pictures.

Make a list of 10 things that happened that week that went well. Focus on the positive.

Read a book together or listen to the student read.

Let the student take an Accelerated Reader or Reading Counts test.

Bring a board game to play together (or ask the classroom teacher for a game).
Examples of games – Chutes and Ladders, Checkers, Pictionary, Monopoly

Make a craft together.

Help with homework or school work.

Go to the gym (if it is available) and shoot basketball or kick a soccer ball.

Talk about common interests.

Each of you creates a collage describing yourself. Think about the things that make you
who you are. Consider family, friends, hobbies, interests, goals.

Make holiday ornaments.

I brought in a scrapbook with pictures of me and my family and things I have done so I
could ask them about their family.

Help the student become creative by making up stories together.

Talk to the student about her day/week and set some goals for the upcoming week.

Bring in beads to make a bracelet.

Play a flashcard game with sight words or math facts on them.

At Christmas write a letter to Santa and to the student's family.

Play a game called "Eye Spy Eagle Eye" it is like the Eye Spy books but in a game form.

Go to the library and have the student pick out a book that she can read. When finished
talk about it and draw a picture from the story.

Sing a song.

Cut pictures out of magazines of things that interest the both of you and make a collage.

Play an ice breaker game; such as, Would you Rather?

Sample Questions:
o
Would you rather be able to fly or have the ability to read people's minds?
o
Would you rather have a third eye in the middle of your head, or a horn, in the
middle of your head?
o
Would you rather it be winter forever or summer forever?
o
If you could only eat one thing for the rest of your life, would you rather it be
sweet or salt?
o
If you could choose a super-power, would you rather be able to fly or move
objects?
o
If you had to be an animal, would you rather live in the ocean or on the land?
o
Would you rather have a foot long eyelash you can never pluck or an earlobe the
size of a basketball?

Create a sculpture with clay or play dough. Try making your own batch of play dough
together.

To get to know each other better you could play Two Truths and a Lie. You could do
this first to model. State three sentences, two of them are true and one is a lie. Your
partner has to guess which one is the lie.