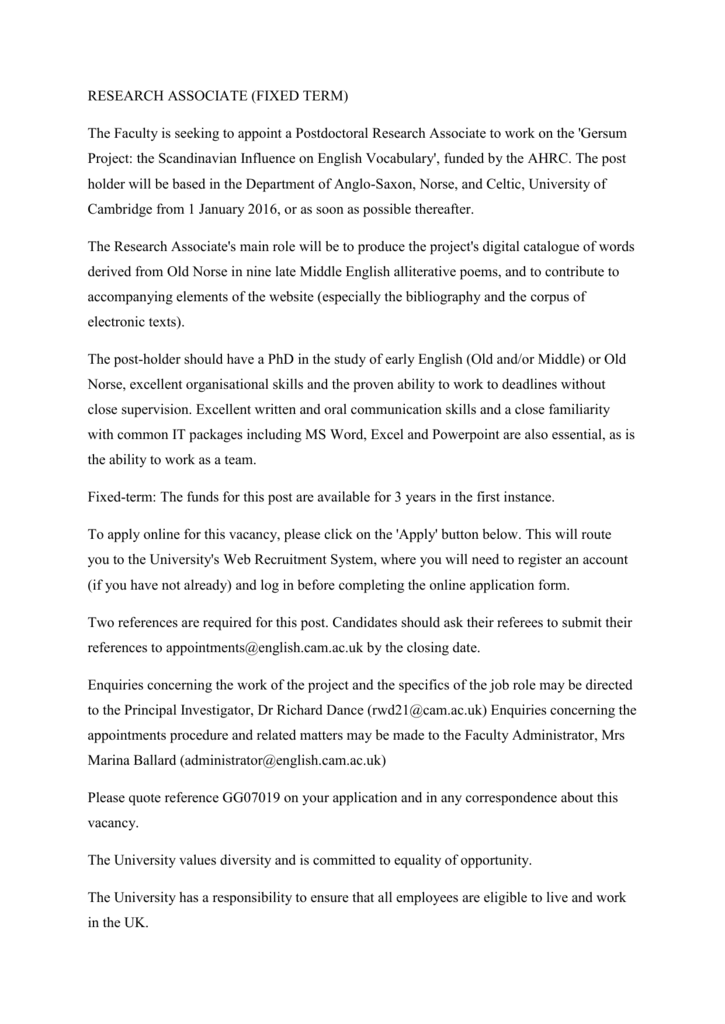 RESEARCH ASSOCIATE (FIXED TERM)
The Faculty is seeking to appoint a Postdoctoral Research Associate to work on the 'Gersum
Project: the Scandinavian Influence on English Vocabulary', funded by the AHRC. The post
holder will be based in the Department of Anglo-Saxon, Norse, and Celtic, University of
Cambridge from 1 January 2016, or as soon as possible thereafter.
The Research Associate's main role will be to produce the project's digital catalogue of words
derived from Old Norse in nine late Middle English alliterative poems, and to contribute to
accompanying elements of the website (especially the bibliography and the corpus of
electronic texts).
The post-holder should have a PhD in the study of early English (Old and/or Middle) or Old
Norse, excellent organisational skills and the proven ability to work to deadlines without
close supervision. Excellent written and oral communication skills and a close familiarity
with common IT packages including MS Word, Excel and Powerpoint are also essential, as is
the ability to work as a team.
Fixed-term: The funds for this post are available for 3 years in the first instance.
To apply online for this vacancy, please click on the 'Apply' button below. This will route
you to the University's Web Recruitment System, where you will need to register an account
(if you have not already) and log in before completing the online application form.
Two references are required for this post. Candidates should ask their referees to submit their
references to [email protected] by the closing date.
Enquiries concerning the work of the project and the specifics of the job role may be directed
to the Principal Investigator, Dr Richard Dance ([email protected]) Enquiries concerning the
appointments procedure and related matters may be made to the Faculty Administrator, Mrs
Marina Ballard ([email protected])
Please quote reference GG07019 on your application and in any correspondence about this
vacancy.
The University values diversity and is committed to equality of opportunity.
The University has a responsibility to ensure that all employees are eligible to live and work
in the UK.
Salary: £28,695-£37,394
Closing Date: 9 October 2015
The University of Westminster is a charity and a company limited by guarantee. Registration
number: 977818 England. Registered Office: 309 Regent Street, London W1B 2UW.