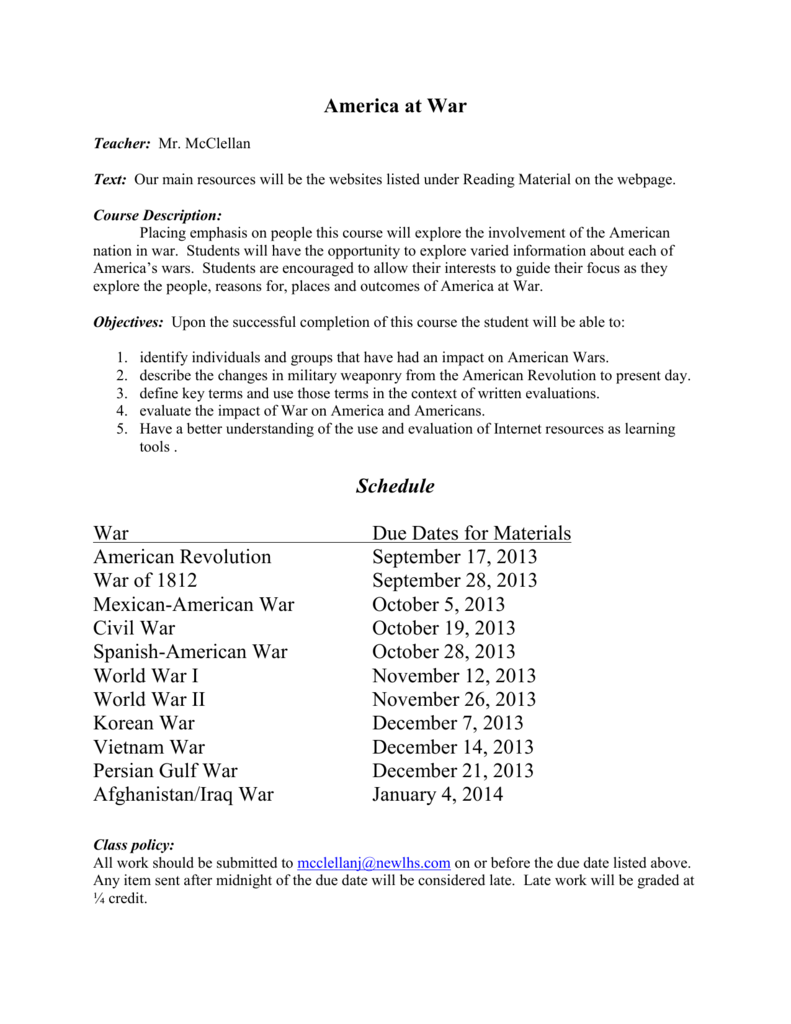 America at War
Teacher: Mr. McClellan
Text: Our main resources will be the websites listed under Reading Material on the webpage.
Course Description:
Placing emphasis on people this course will explore the involvement of the American
nation in war. Students will have the opportunity to explore varied information about each of
America's wars. Students are encouraged to allow their interests to guide their focus as they
explore the people, reasons for, places and outcomes of America at War.
Objectives: Upon the successful completion of this course the student will be able to:
1.
2.
3.
4.
5.
identify individuals and groups that have had an impact on American Wars.
describe the changes in military weaponry from the American Revolution to present day.
define key terms and use those terms in the context of written evaluations.
evaluate the impact of War on America and Americans.
Have a better understanding of the use and evaluation of Internet resources as learning
tools .
Schedule
War
American Revolution
War of 1812
Mexican-American War
Civil War
Spanish-American War
World War I
World War II
Korean War
Vietnam War
Persian Gulf War
Afghanistan/Iraq War
Due Dates for Materials
September 17, 2013
September 28, 2013
October 5, 2013
October 19, 2013
October 28, 2013
November 12, 2013
November 26, 2013
December 7, 2013
December 14, 2013
December 21, 2013
January 4, 2014
Class policy:
All work should be submitted to [email protected] on or before the due date listed above.
Any item sent after midnight of the due date will be considered late. Late work will be graded at
¼ credit.