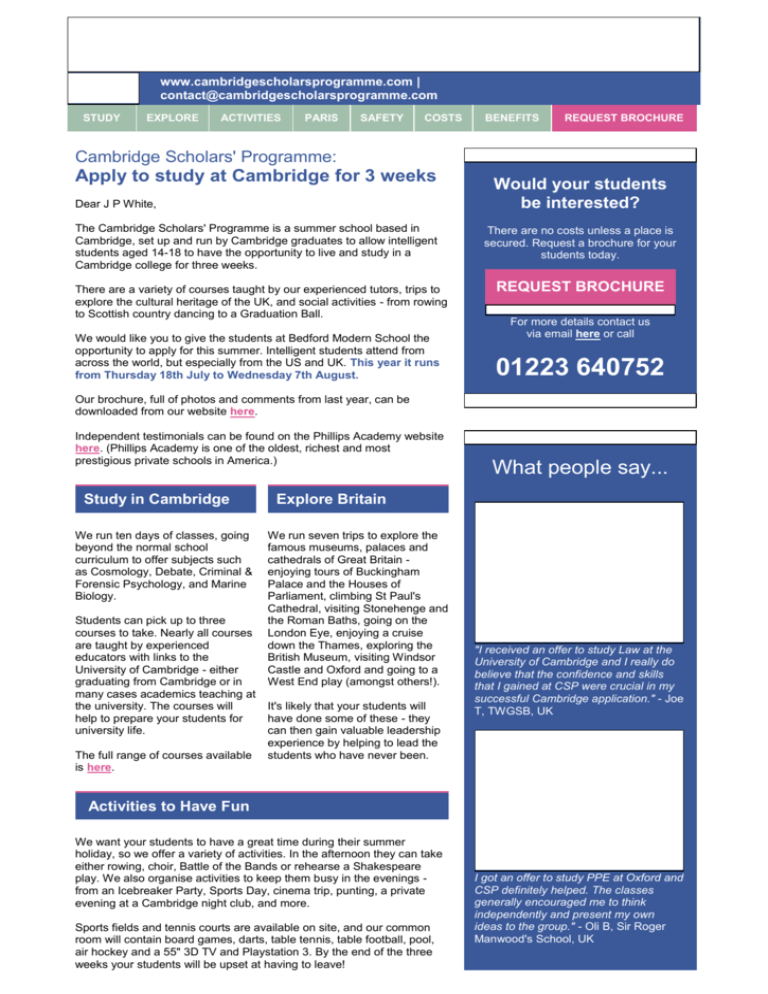 www.cambridgescholarsprogramme.com |
contact@cambridgescholarsprogramme.com
STUDY
EXPLORE
ACTIVITIES
PARIS
SAFETY
COSTS
BENEFITS
REQUEST BROCHURE
Cambridge Scholars' Programme:
Apply to study at Cambridge for 3 weeks
Dear J P White,
The Cambridge Scholars' Programme is a summer school based in
Cambridge, set up and run by Cambridge graduates to allow intelligent
students aged 14-18 to have the opportunity to live and study in a
Cambridge college for three weeks.
There are a variety of courses taught by our experienced tutors, trips to
explore the cultural heritage of the UK, and social activities - from rowing
to Scottish country dancing to a Graduation Ball.
We would like you to give the students at Bedford Modern School the
opportunity to apply for this summer. Intelligent students attend from
across the world, but especially from the US and UK. This year it runs
from Thursday 18th July to Wednesday 7th August.
Would your students
be interested?
There are no costs unless a place is
secured. Request a brochure for your
students today.
REQUEST BROCHURE
For more details contact us
via email here or call
01223 640752
Our brochure, full of photos and comments from last year, can be
downloaded from our website here.
Independent testimonials can be found on the Phillips Academy website
here. (Phillips Academy is one of the oldest, richest and most
prestigious private schools in America.)
Study in Cambridge
We run ten days of classes, going
beyond the normal school
curriculum to offer subjects such
as Cosmology, Debate, Criminal &
Forensic Psychology, and Marine
Biology.
Students can pick up to three
courses to take. Nearly all courses
are taught by experienced
educators with links to the
University of Cambridge - either
graduating from Cambridge or in
many cases academics teaching at
the university. The courses will
help to prepare your students for
university life.
The full range of courses available
is here.
What people say...
Explore Britain
We run seven trips to explore the
famous museums, palaces and
cathedrals of Great Britain enjoying tours of Buckingham
Palace and the Houses of
Parliament, climbing St Paul's
Cathedral, visiting Stonehenge and
the Roman Baths, going on the
London Eye, enjoying a cruise
down the Thames, exploring the
British Museum, visiting Windsor
Castle and Oxford and going to a
West End play (amongst others!).
It's likely that your students will
have done some of these - they
can then gain valuable leadership
experience by helping to lead the
students who have never been.
"I received an offer to study Law at the
University of Cambridge and I really do
believe that the confidence and skills
that I gained at CSP were crucial in my
successful Cambridge application." - Joe
T, TWGSB, UK
Activities to Have Fun
We want your students to have a great time during their summer
holiday, so we offer a variety of activities. In the afternoon they can take
either rowing, choir, Battle of the Bands or rehearse a Shakespeare
play. We also organise activities to keep them busy in the evenings from an Icebreaker Party, Sports Day, cinema trip, punting, a private
evening at a Cambridge night club, and more.
Sports fields and tennis courts are available on site, and our common
room will contain board games, darts, table tennis, table football, pool,
air hockey and a 55" 3D TV and Playstation 3. By the end of the three
weeks your students will be upset at having to leave!
I got an offer to study PPE at Oxford and
CSP definitely helped. The classes
generally encouraged me to think
independently and present my own
ideas to the group." - Oli B, Sir Roger
Manwood's School, UK
Optional Trip to Paris
We run an optional trip to Paris after the main Programme ends, from
Wednesday 7th August to Tuesday 13th August, with further cultural and
social benefits. We stay at a hotel near the Eiffel Tower, and visit the
cultural and historic sites in and near Paris - the Arc de Triomphe, the
Louvre, Notre Dame, Sacre-Coeur, the Palace of Versailles, Monet's
Gardens and more.
We enjoy views of the Eiffel Tower from a variety of locations around the
city and go to the top, and also have a fun day out at Disneyland Paris.
Although your students won't need to know any French to enjoy the trip,
it can give many opportunities to practice their French if they wish! More
information about Paris is here.
"I'm sure that CSP helped me get into
Yale this year. I met amazing people,
learned from inspirational teachers,
delevoped as a person and had an
incredible time." - Naveen K, St Mary's
Hall, TX, USA
The Safety of Your Students
While we want your students to have a great time, learn a lot, broaden
their horizons and make new friends from around the world, our
overriding concern is their safety. We have a zero tolerance policy on
drugs and alcohol, accommodation is segregated by gender, and
students are split into small groups of 6-8 who are led by University of
Cambridge students or graduates on trips. These group leaders are a
useful resource to learn about the University of Cambridge, the colleges,
subjects and applying.
Costs
Over half our students last year came from America so the website lists
prices in US dollars. British students get a discount, allowing them to
come for just £3500 for three weeks. Financial aid is available for
students who can't afford the full price, but is competitive.
"CSP boosted my confidence as I was
continually encouraged to take part in
activities that I would never have
considered outside of CSP. I now row
for my local club!" - Samantha JM, Truro
School, UK
This includes accommodation at Newnham College of the University of
Cambridge, breakfast every day, dinner while in Cambridge, classes,
most activities (rowing is an additional £200), and transport and entry to
the places we visit on trips.
Paris is £995, including accommodation for six nights, transport to and
from Cambridge, and entry to all the places we visit. We encourage your
students to apply as soon as possible, as places are limited.
We will therefore offer a £300 discount for those who apply within one
week of you receiving this email, £200 within two weeks, and £100
within three weeks. Applications are made on the website.
How to Benefit Your Students
"I fell in love with Paris. We got to
experience some of the most
inspirational sights and sounds that the
city has to offer. The Paris trip was one
of the highlights of CSP." - Brooke C,
The Loomis Chaffee School, CT, USA
If we think your students are intelligent, ambitious and open to new
cultures we'll award them a place, and they will:




learn fascinating new things inside and outside the classroom
gain confidence and maturity from studying in a new
environment for three weeks
make great new friends from around the world
have a wonderful summer full of memories they'll never forget!
So please tell them about the Cambridge Scholars' Programme and
encourage them to apply! If you would like us to send you a number of
brochures, please let us know using the form, or you could forward
them this email.
We look forward to meeting some of your intelligent students this
summer!
Kind regards,
The Cambridge Scholars' Programme Team
"The independence, meeting new
people and studying fascinating courses
prepared me for college really well." Jooho S, King's Academy in Jordan and
now a freshman at Princeton University
Cambridge Scholars' Programme Ltd
Registered Office address: Cambridge Scholars' Programme, Suite 17691, Lower Ground Floor, 145-157 St John Street,
London, EC1V 4PW Company Number: 07894663
Click here to unsubscribe from future mailings.