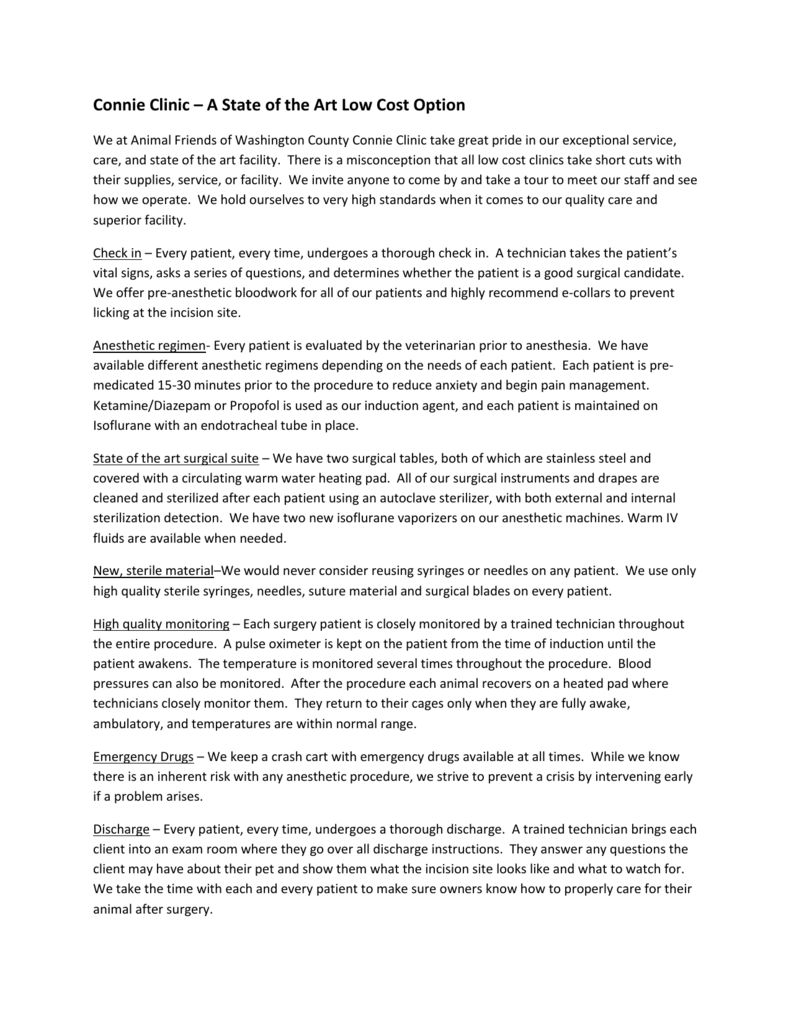 Connie Clinic – A State of the Art Low Cost Option
We at Animal Friends of Washington County Connie Clinic take great pride in our exceptional service,
care, and state of the art facility. There is a misconception that all low cost clinics take short cuts with
their supplies, service, or facility. We invite anyone to come by and take a tour to meet our staff and see
how we operate. We hold ourselves to very high standards when it comes to our quality care and
superior facility.
Check in – Every patient, every time, undergoes a thorough check in. A technician takes the patient's
vital signs, asks a series of questions, and determines whether the patient is a good surgical candidate.
We offer pre-anesthetic bloodwork for all of our patients and highly recommend e-collars to prevent
licking at the incision site.
Anesthetic regimen- Every patient is evaluated by the veterinarian prior to anesthesia. We have
available different anesthetic regimens depending on the needs of each patient. Each patient is premedicated 15-30 minutes prior to the procedure to reduce anxiety and begin pain management.
Ketamine/Diazepam or Propofol is used as our induction agent, and each patient is maintained on
Isoflurane with an endotracheal tube in place.
State of the art surgical suite – We have two surgical tables, both of which are stainless steel and
covered with a circulating warm water heating pad. All of our surgical instruments and drapes are
cleaned and sterilized after each patient using an autoclave sterilizer, with both external and internal
sterilization detection. We have two new isoflurane vaporizers on our anesthetic machines. Warm IV
fluids are available when needed.
New, sterile material–We would never consider reusing syringes or needles on any patient. We use only
high quality sterile syringes, needles, suture material and surgical blades on every patient.
High quality monitoring – Each surgery patient is closely monitored by a trained technician throughout
the entire procedure. A pulse oximeter is kept on the patient from the time of induction until the
patient awakens. The temperature is monitored several times throughout the procedure. Blood
pressures can also be monitored. After the procedure each animal recovers on a heated pad where
technicians closely monitor them. They return to their cages only when they are fully awake,
ambulatory, and temperatures are within normal range.
Emergency Drugs – We keep a crash cart with emergency drugs available at all times. While we know
there is an inherent risk with any anesthetic procedure, we strive to prevent a crisis by intervening early
if a problem arises.
Discharge – Every patient, every time, undergoes a thorough discharge. A trained technician brings each
client into an exam room where they go over all discharge instructions. They answer any questions the
client may have about their pet and show them what the incision site looks like and what to watch for.
We take the time with each and every patient to make sure owners know how to properly care for their
animal after surgery.