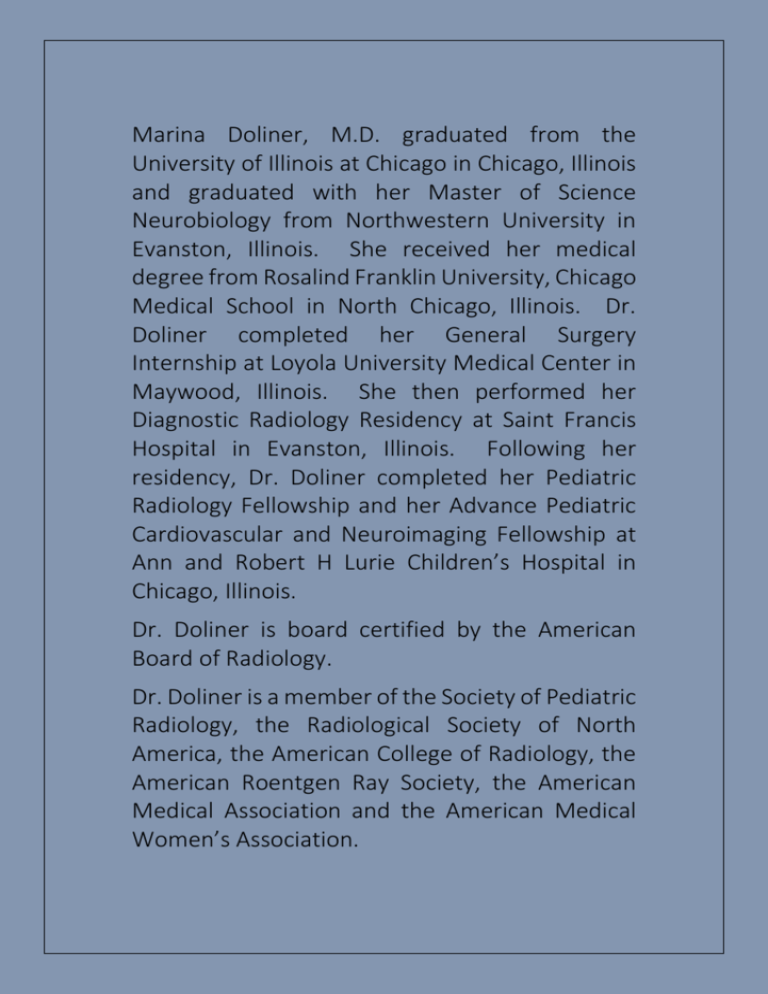 Marina Doliner, M.D. graduated from the
University of Illinois at Chicago in Chicago, Illinois
and graduated with her Master of Science
Neurobiology from Northwestern University in
Evanston, Illinois. She received her medical
degree from Rosalind Franklin University, Chicago
Medical School in North Chicago, Illinois. Dr.
Doliner completed her General Surgery
Internship at Loyola University Medical Center in
Maywood, Illinois. She then performed her
Diagnostic Radiology Residency at Saint Francis
Hospital in Evanston, Illinois. Following her
residency, Dr. Doliner completed her Pediatric
Radiology Fellowship and her Advance Pediatric
Cardiovascular and Neuroimaging Fellowship at
Ann and Robert H Lurie Children's Hospital in
Chicago, Illinois.
Dr. Doliner is board certified by the American
Board of Radiology.
Dr. Doliner is a member of the Society of Pediatric
Radiology, the Radiological Society of North
America, the American College of Radiology, the
American Roentgen Ray Society, the American
Medical Association and the American Medical
Women's Association.