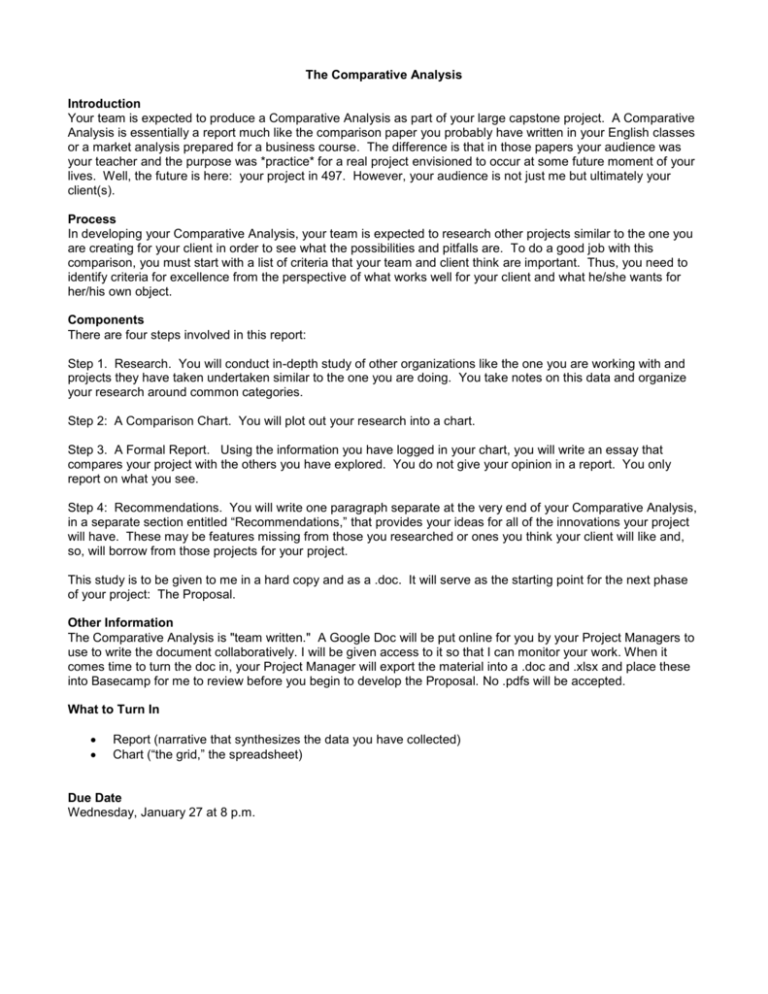 The Comparative Analysis
Introduction
Your team is expected to produce a Comparative Analysis as part of your large capstone project. A Comparative
Analysis is essentially a report much like the comparison paper you probably have written in your English classes
or a market analysis prepared for a business course. The difference is that in those papers your audience was
your teacher and the purpose was *practice* for a real project envisioned to occur at some future moment of your
lives. Well, the future is here: your project in 497. However, your audience is not just me but ultimately your
client(s).
Process
In developing your Comparative Analysis, your team is expected to research other projects similar to the one you
are creating for your client in order to see what the possibilities and pitfalls are. To do a good job with this
comparison, you must start with a list of criteria that your team and client think are important. Thus, you need to
identify criteria for excellence from the perspective of what works well for your client and what he/she wants for
her/his own object.
Components
There are four steps involved in this report:
Step 1. Research. You will conduct in-depth study of other organizations like the one you are working with and
projects they have taken undertaken similar to the one you are doing. You take notes on this data and organize
your research around common categories.
Step 2: A Comparison Chart. You will plot out your research into a chart.
Step 3. A Formal Report. Using the information you have logged in your chart, you will write an essay that
compares your project with the others you have explored. You do not give your opinion in a report. You only
report on what you see.
Step 4: Recommendations. You will write one paragraph separate at the very end of your Comparative Analysis,
in a separate section entitled "Recommendations," that provides your ideas for all of the innovations your project
will have. These may be features missing from those you researched or ones you think your client will like and,
so, will borrow from those projects for your project.
This study is to be given to me in a hard copy and as a .doc. It will serve as the starting point for the next phase
of your project: The Proposal.
Other Information
The Comparative Analysis is "team written." A Google Doc will be put online for you by your Project Managers to
use to write the document collaboratively. I will be given access to it so that I can monitor your work. When it
comes time to turn the doc in, your Project Manager will export the material into a .doc and .xlsx and place these
into Basecamp for me to review before you begin to develop the Proposal. No .pdfs will be accepted.
What to Turn In


Report (narrative that synthesizes the data you have collected)
Chart ("the grid," the spreadsheet)
Due Date
Wednesday, January 27 at 8 p.m.