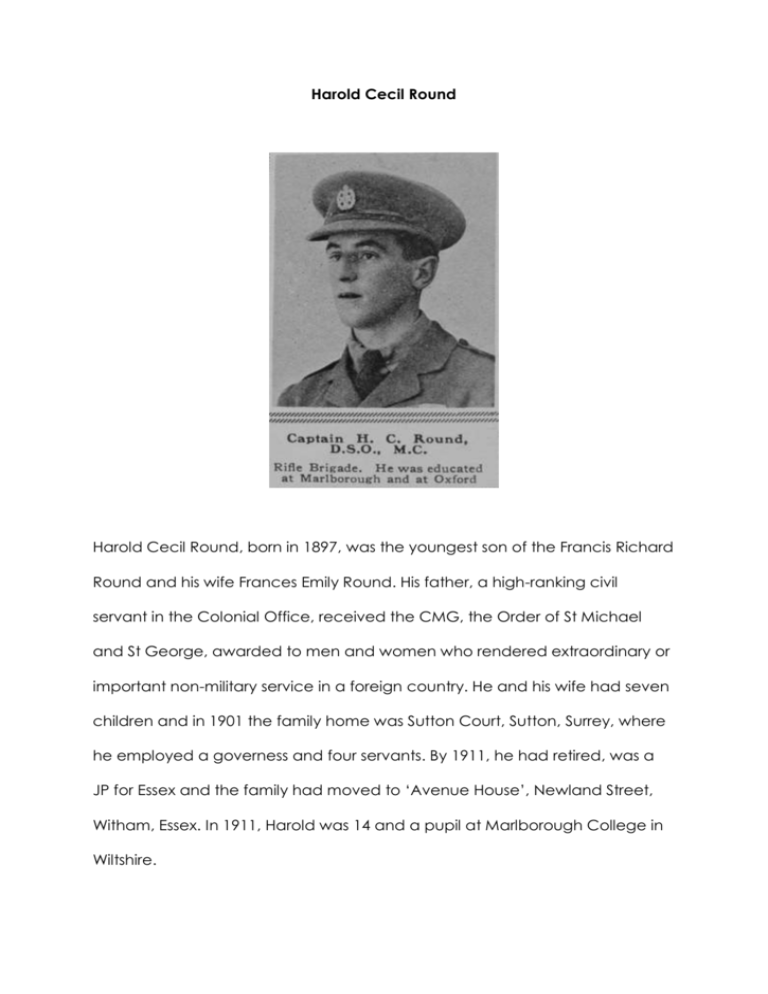 Harold Cecil Round
Harold Cecil Round, born in 1897, was the youngest son of the Francis Richard
Round and his wife Frances Emily Round. His father, a high-ranking civil
servant in the Colonial Office, received the CMG, the Order of St Michael
and St George, awarded to men and women who rendered extraordinary or
important non-military service in a foreign country. He and his wife had seven
children and in 1901 the family home was Sutton Court, Sutton, Surrey, where
he employed a governess and four servants. By 1911, he had retired, was a
JP for Essex and the family had moved to 'Avenue House', Newland Street,
Witham, Essex. In 1911, Harold was 14 and a pupil at Marlborough College in
Wiltshire.
When war broke out he gained a commission with the Rifle Brigade and
served as a Second Lieutenant. He was awarded the Military Cross for
exemplary gallantry and, after a later engagement, when he held out with
his men and got back safely, he was awarded a DSO for conspicuous
gallantry and devotion to duty. The citation states: 'When our troops were
forced to withdraw he collected a few men and made a strong-point within
70 yards of the enemy trench. This position he held for two days without
supplies of any kind. He was finally able to get a valuable report through
before being ordered to withdraw.' As a Captain, Harold Cecil Round MC
DSO was later killed in action on 24 Aug 1917, aged 21. He is remembered
with honour at Tyne Cot Memorial.
He and his brothers, Auriol Francis Hay Round and James Murray Round, are
all commemorated on the memorial at St Matthew's Church, Oxhey. The
reason for this is that Emma Margaret Round, who married John Wilfred Lewis,
by 1915 the vicar of St Matthew's Church, Oxhey, was their cousin. Her sister,
Lucy Frances Round, married Major Charles Ernest Higginbotham, who is also
commemorated at St Matthew's.