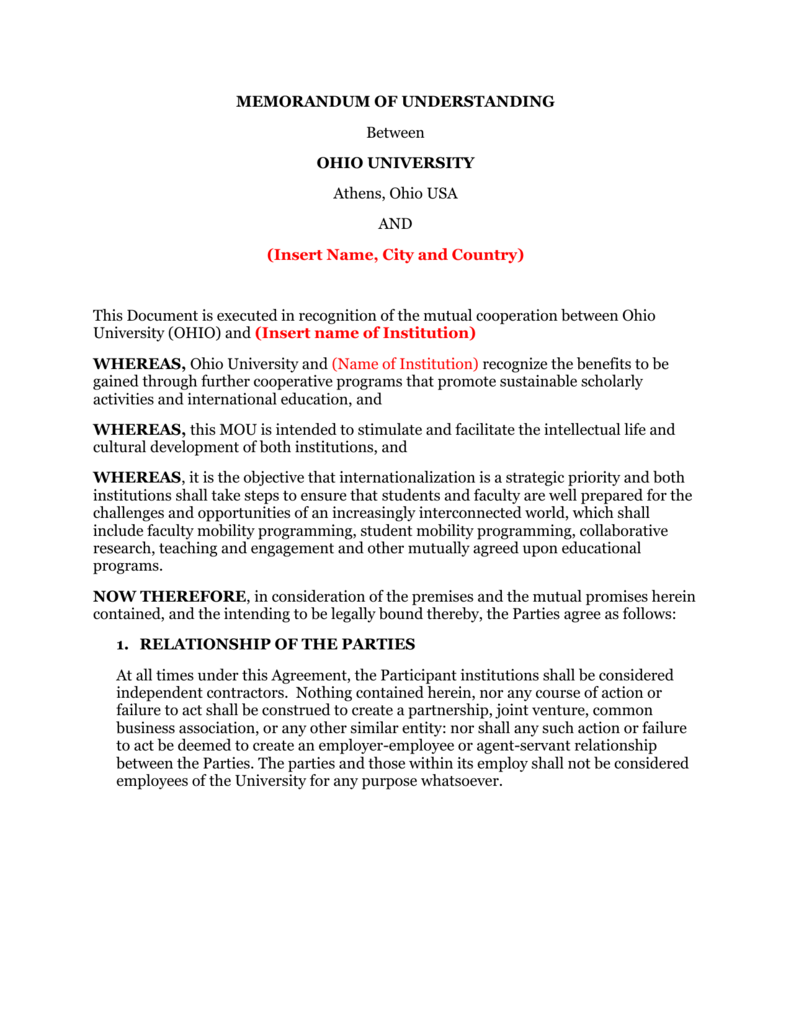 MEMORANDUM OF UNDERSTANDING
Between
OHIO UNIVERSITY
Athens, Ohio USA
AND
(Insert Name, City and Country)
This Document is executed in recognition of the mutual cooperation between Ohio
University (OHIO) and (Insert name of Institution)
WHEREAS, Ohio University and (Name of Institution) recognize the benefits to be
gained through further cooperative programs that promote sustainable scholarly
activities and international education, and
WHEREAS, this MOU is intended to stimulate and facilitate the intellectual life and
cultural development of both institutions, and
WHEREAS, it is the objective that internationalization is a strategic priority and both
institutions shall take steps to ensure that students and faculty are well prepared for the
challenges and opportunities of an increasingly interconnected world, which shall
include faculty mobility programming, student mobility programming, collaborative
research, teaching and engagement and other mutually agreed upon educational
programs.
NOW THEREFORE, in consideration of the premises and the mutual promises herein
contained, and the intending to be legally bound thereby, the Parties agree as follows:
1. RELATIONSHIP OF THE PARTIES
At all times under this Agreement, the Participant institutions shall be considered
independent contractors. Nothing contained herein, nor any course of action or
failure to act shall be construed to create a partnership, joint venture, common
business association, or any other similar entity: nor shall any such action or failure
to act be deemed to create an employer-employee or agent-servant relationship
between the Parties. The parties and those within its employ shall not be considered
employees of the University for any purpose whatsoever.
2. SCOPE OF WORK – This agreement or MOU covers the following
2.1 Each participant institution shall identify a contact person to co-ordinate the
development and conduct of joint activities.
At (Name of institution) this person will be: (Insert title)
At OHIO this person will be (Insert Title)
2.2 Should the specific individuals named above change, the institution shall
immediately notify the other institution of such change and provide an
alternative contact individual.
2.3 Either party may initiate proposals for activities under this MOU. No proposal
shall be instituted without the full approval of the other participant which shall
be in writing. Specific details of any activity shall be set forth in Service Contracts
and/or Supplemental Amendments to this MOU which shall become addendums
to this MOU upon signing by the authorized signatory at each institution. These
documents will include details of the planned activities, budgets and sources of
funding, the responsibilities of each party for the agreed upon activity, and other
items necessary for the efficient achievement of the activity. All Service Contacts
and Amendments will be negotiated, mutually agreed to, and formalized in
writing, prior to the commencement of a particular program.
2.4 Both institutions will conduct an ongoing evaluation of the activities outlined in
this MOU. Results of the evaluation will be shared by the two institutions and
will be used to propose improvements to the terms of the agreement or
extensions to those terms. Any changes to the terms must be approved or ratified
by each institution in writing
2.5 Each University shall be responsible for providing adequate space, power and
network availability for all equipment necessary to carry out the approved
activities.
2.6 All participants shall be instructed to have valid health insurance and comply
with the host country's immigration regulations.
2.7 Each University shall perform the work or activity under this Agreement or any
amendment to this MOU with a degree of care, skill, and competence that, at a
minimum, is ordinarily exercised by other professionals who perform the same or
similar services.
2.8 Activities shall be provided and performed in a timely manner in accordance
with the schedule that is relevant to the particular activity.
3 COMMENCEMENT, DURATION, RENEWAL, AMENDMENT AND
TERMINATION
3.1 This MOU shall become effective on the date that it is signed by both parties and
shall be valid for a period of five (5) years unless terminated, revoked or modified
by mutual agreement between the parties, or terminated for cause by one or both
of the parties. This agreement shall not be automatically renewed or extended,
and can only be renewed or extended by the mutual consent of each party upon
the specific terms and conditions that the parties agree upon at the time. Any
such modification, extension, or renewal shall be in writing.
3.2 This MOU may be terminated for convenience at any time, provided that the
terminating party gives written notice of its intention to terminate the MOU at
least six months prior to the termination. All activity under any other
amendment to this MOU may also be terminated in the same manner or certain
activities may continue upon the mutual consent of each party if other activities
are terminated, and shall so be described in writing how such activities will
continue.
4
ETHICS
To the best of each participant's knowledge and belief, no part of this agreement has
been made as a part of a payment by either participant directly or indirectly to any
employee of the University, any person who is a member of the University's Board of
Trustees, or to any person who is a family member or business affiliate of any of the
foregoing. No person has received or solicited anything of value from the other
participant or any third party in return for influencing or exercising his or her discretion
in a particular way with respect to undertaking this MOU.
5
UNIVERSITY DIVERSITY POLICY
It is the policy of the University to provide an environment for its students, faculty and
administrative employees that is free from illegal discrimination, intrusion,
intimidation, or exploitation. University will not tolerate any invidious or inequitable
treatment of a member of the University Community that is based on race, color,
religion, national origin, sex, including sexual harassment, sexual orientation, age,
marital status, personal appearance, disability, political affiliation, or on any other
classification that is prohibited by law or by the University policy.
6
INTELLECTUAL PROPERTY RIGHTS
All inventions, discoveries, research results, reports, notes, drawings, designs, technical
data, computer software and other copyrightable works created by employees of Ohio
University during the term of this Agreement, MOU or any Activity generated by this
MOU shall be the exclusive property of Ohio University, as work for hire. The
University shall have the right, title and interest in all such work products regardless of
the medium in which it is stored or prepared.
6.1
6.1.1
Intellectual Property Ownership
Unless otherwise agreed by the parties in writing:
6.1.2 Intellectual Property created solely by personnel or students of one party shall be
owned in accordance with the policies and procedures of that party;
6.1.2 Intellectual Property created jointly by personnel or students of more than one
party shall be owned jointly, subject to the policies and procedures of the relevant
parties; and,
6.1.3 In the case of joint ownership of Intellectual Property, the relevant parties will in
good faith endeavor to establish a joint ownership agreement regarding the
allocation and terms of exercising that joint ownership, taking into account the
relevant contributions of the parties.
6.1.4 All terms shall be negotiated on a mutual basis prior to the start of the
collaborative project in question and in accordance with the policies of each
institution.
7
PUBLIC RELATIONS
All public relations or publicity activities and announcements about the existence of this
MOU, the scope of work, or any activities or the subject matter of this Agreement shall
be subject to the sole management and control of Ohio University, however, no
information shall be publicly shared by Ohio University without first notifying the other
participant to this agreement.
8
CONFIDENTIALITY OF INFORMATION
Ohio University is a public institution of higher education in the United States of
America and is subject to certain public information laws which compel it to release
upon request documents or other written information that documents the business of
this institution. Some or all of the information generated by this MOU and any activity
undertaken with other participants may be subject to disclosure to the general public if
requested and it is not otherwise exempted from being public information.
9
TAXES
Participants to this MOU agree that each shall be responsible for their own tax liability,
if any that is relevant to the activities undertaken by students, faculty or staff under this
MOU or any activity agreement.
10
INTERPRETATION
There is nothing in this MOU that should be construed to hold the parties to be legally
bound to the other parties' jurisdiction, or governmental forum. The parties shall seek
to support and promote the spirit of this MOU to encourage external academic
collaboration, and to facilitate as much as possible the academic progress, physical
relocation and cultural orientation of all student, faculty and staff.
11
SIGNATURES
Signed on behalf of
Ohio University
Signed on behalf of
(Insert name of Institution)
1.
1.
Dr. Roderick J. McDavis
TBD
Signature:
Signature:
___________________________
(President)
_________________________
(President)
Date:
Date:
______________________________
_____________________________
………………………………………………………
………………………………………………….