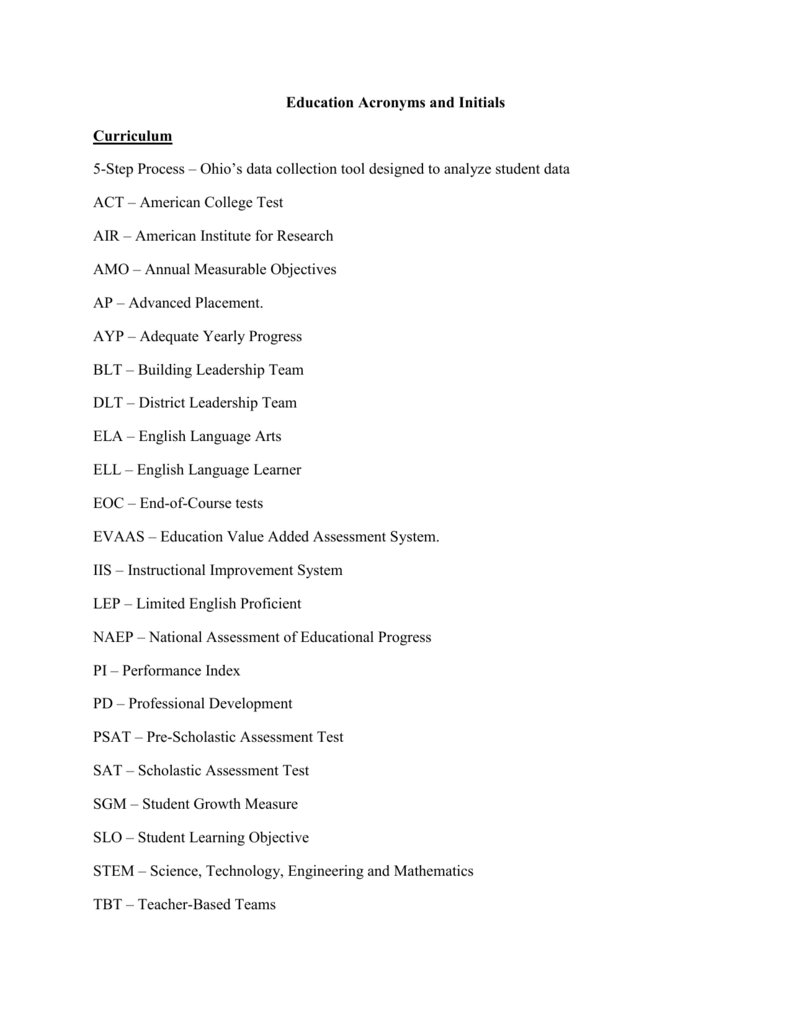 Education Acronyms and Initials
Curriculum
5-Step Process – Ohio's data collection tool designed to analyze student data
ACT – American College Test
AIR – American Institute for Research
AMO – Annual Measurable Objectives
AP – Advanced Placement.
AYP – Adequate Yearly Progress
BLT – Building Leadership Team
DLT – District Leadership Team
ELA – English Language Arts
ELL – English Language Learner
EOC – End-of-Course tests
EVAAS – Education Value Added Assessment System.
IIS – Instructional Improvement System
LEP – Limited English Proficient
NAEP – National Assessment of Educational Progress
PI – Performance Index
PD – Professional Development
PSAT – Pre-Scholastic Assessment Test
SAT – Scholastic Assessment Test
SGM – Student Growth Measure
SLO – Student Learning Objective
STEM – Science, Technology, Engineering and Mathematics
TBT – Teacher-Based Teams
Ohio Department of Education
21st CCLC – 21st Century Community Learning Center
CCIP – Comprehensive Continuous Improvement Plan
EMIS – Education Management Education System
ESEA – Elementary and Secondary Education Act
NCLB – No Child Left Behind
ODE – Ohio Department of Education
OIP – Ohio Improvement Process
OPES – Ohio Principal Evaluation System
OTES – Ohio Teacher Evaluation System
Title I – Title I is the largest federal education funding program for schools. Its aim is to help
students who are behind academically or at risk of falling behind.
Title III – Title III is the section of the Elementary and Secondary Education Act that provides
funding and addresses English language acquisition and standards and accountability
requirements for limited English proficient students.
Title IX – Title IX of the Educational Amendments of 1972 bans sex discrimination in schools
receiving federal funds, whether it is in academics or athletics.
Special Education
ETR – Evaluation Team Report. This was formerly called a Multi-Factored Evaluation (MFE).
FAPE – Free and Appropriate Public Education
IAT – Intervention Assistance Team. IAT is now commonly called Response to Intervention
(RtI).
IDEA – Individuals with Disabilities Education Act
IEP – Individualized Education Program
LRE – Least Restrictive Environment
MTSS – Multi-Tiered System of Supports. This was formerly known as RtI – Response to
Intervention.
PBIS – Positive Behavior Intervention and Support
RtI – Response to Intervention. This is currently Multi-Tiered System of Supports (MTSS).