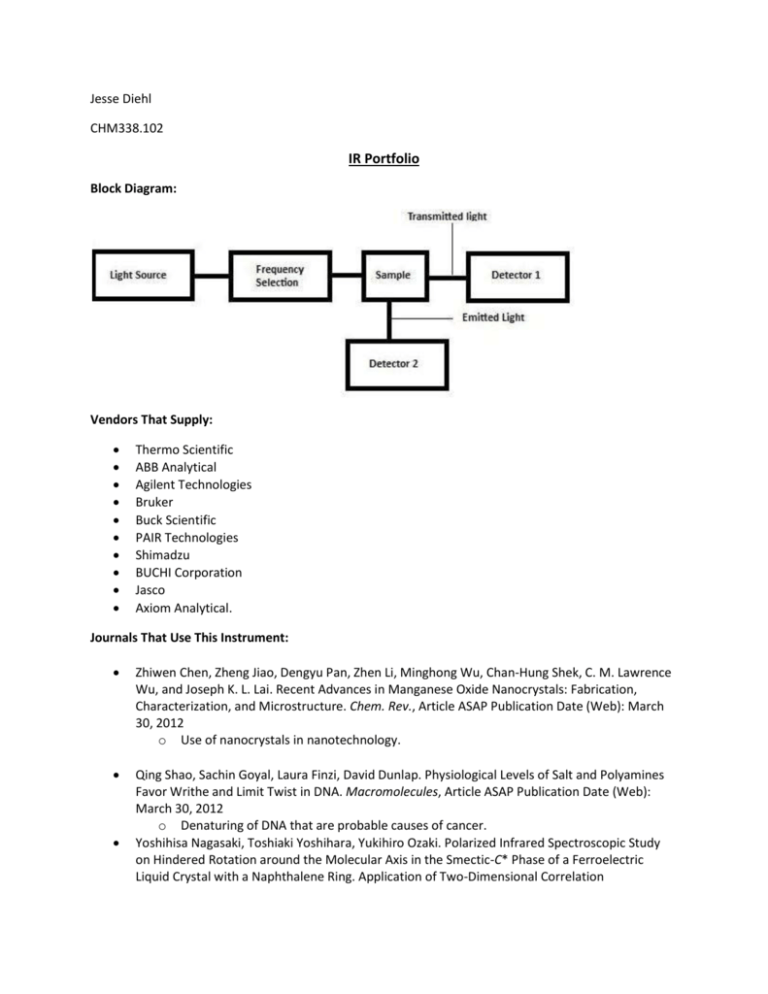 Jesse Diehl
CHM338.102
IR Portfolio
Block Diagram:
Vendors That Supply:










Thermo Scientific
ABB Analytical
Agilent Technologies
Bruker
Buck Scientific
PAIR Technologies
Shimadzu
BUCHI Corporation
Jasco
Axiom Analytical.
Journals That Use This Instrument:

Zhiwen Chen, Zheng Jiao, Dengyu Pan, Zhen Li, Minghong Wu, Chan-Hung Shek, C. M. Lawrence
Wu, and Joseph K. L. Lai. Recent Advances in Manganese Oxide Nanocrystals: Fabrication,
Characterization, and Microstructure. Chem. Rev., Article ASAP Publication Date (Web): March
30, 2012
o Use of nanocrystals in nanotechnology.

Qing Shao, Sachin Goyal, Laura Finzi, David Dunlap. Physiological Levels of Salt and Polyamines
Favor Writhe and Limit Twist in DNA. Macromolecules, Article ASAP Publication Date (Web):
March 30, 2012
o Denaturing of DNA that are probable causes of cancer.
Yoshihisa Nagasaki, Toshiaki Yoshihara, Yukihiro Ozaki. Polarized Infrared Spectroscopic Study
on Hindered Rotation around the Molecular Axis in the Smectic-C* Phase of a Ferroelectric
Liquid Crystal with a Naphthalene Ring. Application of Two-Dimensional Correlation

Spectroscopy to Polarization Angle-Dependent Spectral Variations. J. Phys. Chem. B, 2000, 104
(13), pp 2846–2852 Publication Date (Web): March 7, 2000
o Study of Ferroelectric Liquid crystals and their possible mechanism.
Common Uses for Analysis:


Identification of compounds based on functional group structures.
Detection of sample purity.