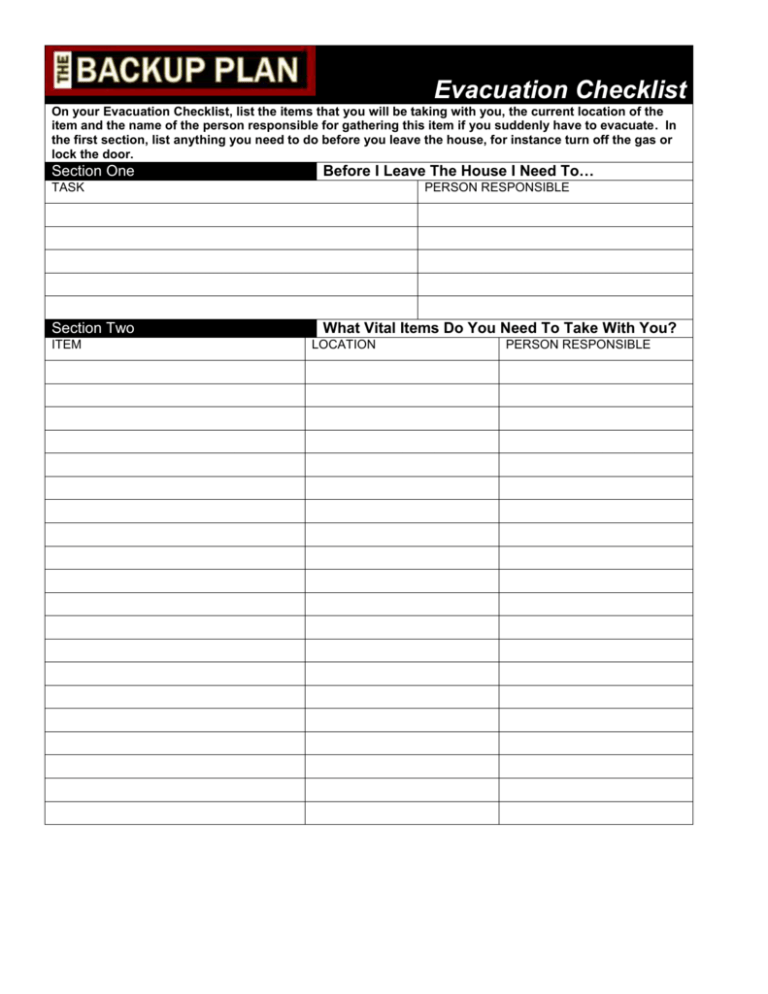 Evacuation Checklist
On your Evacuation Checklist, list the items that you will be taking with you, the current location of the
item and the name of the person responsible for gathering this item if you suddenly have to evacuate. In
the first section, list anything you need to do before you leave the house, for instance turn off the gas or
lock the door.
Section One
Before I Leave The House I Need To…
TASK
Section Two
ITEM
PERSON RESPONSIBLE
What Vital Items Do You Need To Take With You?
LOCATION
PERSON RESPONSIBLE
Section Three What Keepsakes Do You Need To Take With You?
ITEM
Section Four
ITEM
LOCATION
PERSON RESPONSIBLE
Emergency Supplies
LOCATION
PERSON RESPONSIBLE
For more great tips and resources visit The Backup Plan Blog at http://bit.ly/icemyiphone. And to check out
the rest of our books, or to order them in bulk or our special customized editions at a discount, go to
www.getyourstufftogether.com
©Copyright 2014 Stuf Productions This work is copyrighted and may not be shared, used or reprinted
without permission.