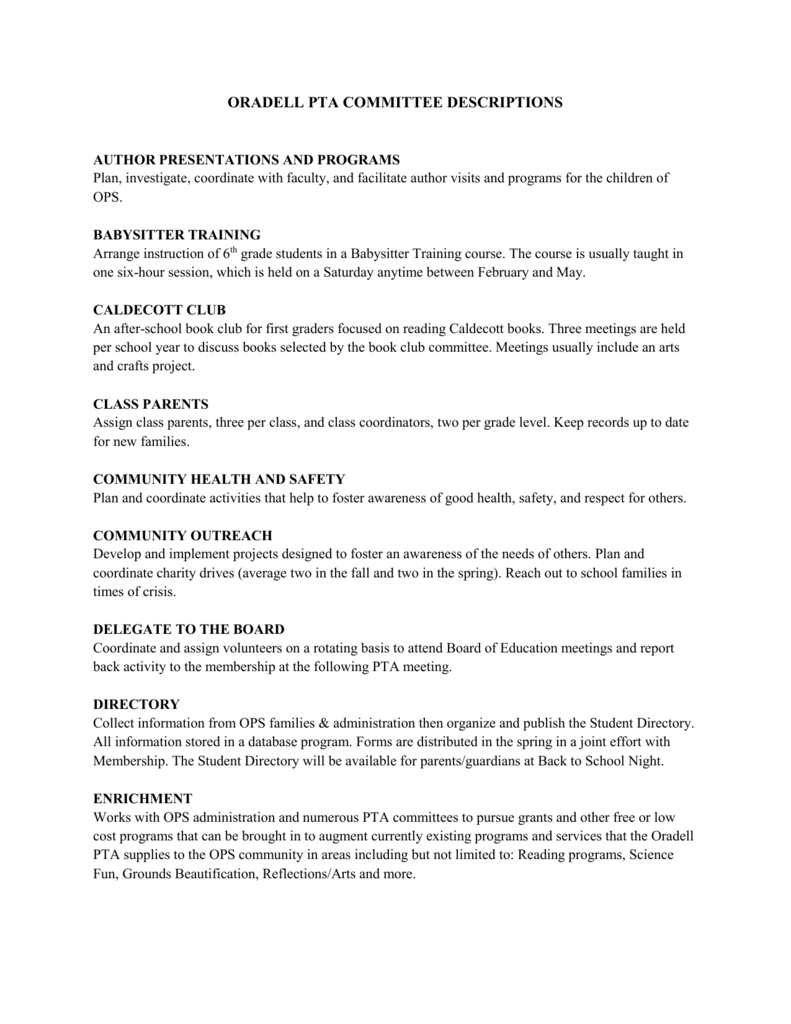 ORADELL PTA COMMITTEE DESCRIPTIONS
AUTHOR PRESENTATIONS AND PROGRAMS
Plan, investigate, coordinate with faculty, and facilitate author visits and programs for the children of
OPS.
BABYSITTER TRAINING
Arrange instruction of 6th grade students in a Babysitter Training course. The course is usually taught in
one six-hour session, which is held on a Saturday anytime between February and May.
CALDECOTT CLUB
An after-school book club for first graders focused on reading Caldecott books. Three meetings are held
per school year to discuss books selected by the book club committee. Meetings usually include an arts
and crafts project.
CLASS PARENTS
Assign class parents, three per class, and class coordinators, two per grade level. Keep records up to date
for new families.
COMMUNITY HEALTH AND SAFETY
Plan and coordinate activities that help to foster awareness of good health, safety, and respect for others.
COMMUNITY OUTREACH
Develop and implement projects designed to foster an awareness of the needs of others. Plan and
coordinate charity drives (average two in the fall and two in the spring). Reach out to school families in
times of crisis.
DELEGATE TO THE BOARD
Coordinate and assign volunteers on a rotating basis to attend Board of Education meetings and report
back activity to the membership at the following PTA meeting.
DIRECTORY
Collect information from OPS families & administration then organize and publish the Student Directory.
All information stored in a database program. Forms are distributed in the spring in a joint effort with
Membership. The Student Directory will be available for parents/guardians at Back to School Night.
ENRICHMENT
Works with OPS administration and numerous PTA committees to pursue grants and other free or low
cost programs that can be brought in to augment currently existing programs and services that the Oradell
PTA supplies to the OPS community in areas including but not limited to: Reading programs, Science
Fun, Grounds Beautification, Reflections/Arts and more.
FAMILY FUN
Plan events, projects, or programs designed for family enjoyment. Two events per year, usually in the
evening. Possibility for a third event if budget and time allow. Committee is also responsible for the backto-school coffee for the parents on the first day of school.
GARDEN
Work with faculty and administration on programs involving the school garden throughout the year.
Arrange for master gardeners to come in for presentations. Keep shed stocked and follow-up on any
specific needs. Ensure that we are following procedure to keep our grant.
GIFTS
Select and purchase any gifts to be given by the PTA. Responsible for facilitating two $1,000
scholarships for RDHS seniors who graduated from OPS. Also, provide staff and faculty with "treats"
throughout school year to celebrate certain holidays.
GRADE LEVEL GRANTS
Coordinate, approve and act as a liaison between grade level teachers and the PTA regarding money
allotted to each grade level in the form of grants. Depending on surplus funds, can be opened up to
special areas as well.
GROUNDS BEAUTIFICATION
Coordinate seasonal decorations and maintain grounds around the OPS sign. Also decorate front doors of
school to coordinate with the season.
HOSPITALITY
Arrange for refreshments for PTA meetings. Organize the teachers' back-to-school breakfast and crossing
guard, lunch aide and custodian breakfast.
KINDERGARTEN BOOK CLUB
An after-school book club for kindergartners. Three meetings are held per year to discuss books selected
by the book club committee. Meetings usually include an arts and crafts project.
FAMILY/KINDERGARTEN MENTORING
Help NEW kindergarten parents and other NEW OPS families navigate their way through their first year
at OPS.
LUNCHTIME ACTIVITIES
Support the indoor lunch activity program as directed by OPS administration; provide bingo supplies,
prizes, board games and coordinate volunteer efforts during the indoor lunches throughout the winter for
grades K-6
MEMBERSHIP
Run the annual membership drive; coordinate the collection of PTA dues. Work begins in the spring prior
to the next school year; committee works with Directory to gather information. Memberships are accepted
through March.
MEMORY BOOK
Prepare the annual yearbook for publication; collect monetary donations from local businesses; collect
booster and contributor ads from OPS families; receive and organize photos for the publication. Plan the
layout of the memory book.
PUBLICITY
Coordinate publicity in the local media for PTA-sponsored events. Work with administration to collect
photo consent forms from parents in September; maintain the message board in the front lobby of OPS
READ & RAP BOOK CLUB
An after-school club for second and third graders. Three meetings are held per year to discuss books
selected by the book club committee.
REFLECTIONS/ARTS
Responsible for coordinating Reflections contest entries, arranging for judges and sending entries up to
the county level; orders ribbons to acknowledge student participation and works with arts teachers to
encourage participation in arts both in and out of school. Present participating students with ribbons at a
PTA meeting in the spring.
RIF
Reading Is Fundamental (RIF) is a federal program designed to promote literacy through financial support
of reading incentive programs on the local level. The Oradell PTA provides funding for an OPS RIF
program, allowing OPS children to own and enjoy quality books available at two book distributions
during the school year. Chairs are also responsible to creating two motivational activities leading up to
the fall and spring distributions.
SCHOOL ELECTIONS/LEGISLATIVE
Monitor pending legislation to keep PTA members informed and propose action to the membership
consistent with PTA goals and local membership approval; Promote voter registration and educate both
the school community and Oradell residents about the school budget. Arrange Candidates Night in the
event of a contested BOE election. Run the Mock Election for students in years when it is encouraged by
OPS administration.
SCIENCE FUN
Schedule, coordinate, and facilitate the organization of the annual OPS Science Fair. Arrange a schoolwide Science Day and run a minimum of one after school science-based workshop per school year for
children in grades K – 6.
SPECIAL NEEDS
Primary focus is parent and peer education on a wide range of special needs, connecting parents and
making OPS and the Oradell PTA more inclusive in regards to children with special needs of any kind.
UPPER GRADES BOOK CLUB
A lunchtime book club for fourth, fifth, and sixth graders. At least two meetings are held during the year
to discuss the books selected by the book club committee.
STUDENT PROGRAMMING
Arrange for educational programs in support of the arts to be brought into school for the children. Also
provide information about such programs to the faculty so that they can promote an awareness and
understanding of the programs within the classrooms. At least two programs per year.
TALENT SHOW
Plan and coordinate volunteers and participants for biennial talent show, which is open to all OPS
students.
TEACHER APPRECIATION WEEK
Organize and host the annual Teacher Appreciation Week luncheon held for faculty during the first week
of May. Organize committee volunteers to present faculty and staff with a gift/goodie bag and encourage
all OPS children to show their appreciation to a teacher during the week.
*************************************************************************************
FUND-RAISING COMMITTEES
Plan and implement ideas to raise the necessary money to fund the PTA budget.
BOOK FAIR
Arrange the sale of books usually over a three-day period to the OPS community and the general public.
A small, fall book fair is also be held at Back to School Night.
BOX TOPS FOR EDUCATION
Collect, clip, bundle and mail General Mills Box Tops. Conduct two contests during the school year to
motivate the children to bring in Box Tops. Award prizes to contest winners.
CLASS PHOTOS
Coordinate school photos for all students. Photos are taken in the fall. Requires one full day for photos
and several days for paperwork. Also responsible for 6th grade class photo and faculty photo taken in the
spring. Provide all class photos, 6th grade class photo and faculty photo to the Memory Book committee.
COUPON BOOK
Handle relationship with the coupon book vendor and work with staff and administration to determine the
best distribution method. Coordinate sale of the books and return of unsold books.
HOLIDAY BOUTIQUE
Organize three day sale for students (K-6) to purchase inexpensive holiday gifts for friends and family.
ICE CREAM SALES
Arrange for the delivery and sale of ice cream to students during lunch (usually once a month). Students
pay and pre-order at the beginning of the school year. Order ice cream for special school events such as
field day and DARE graduation. Host the ice cream "sell-off" at the end of the year.
IN-STORE PROMOTIONS
Organize cash-back programs and other similar opportunities.
MICHAEL'S LUNCH
Coordinate, order, and arrange distribution of lunch to students two days per month. Students pay and
pre-order at the beginning of the school year. Responsible for remaining at school during the lunch
periods to handle any incorrect or missing orders.
PIZZA LUNCH
Coordinate, order, and arrange distribution of pizza to students two days per month. Students pay and preorder at the beginning of the school year. Responsible for coordinating volunteers to serve each class.
PLANT SALE
Coordinate the purchase and delivery of small plants for the students to purchase for Mother's Day gifts.
Sale held the Friday prior to Mother's Day.
SCHOOL SPIRIT SALE
Coordinate the sale of OPS insignia articles of clothing and accessories throughout the year.
SCHOOL SUPPLIES
Coordinate the sale of pre-packaged school supplies. Sale commences in the late spring. Distribution
takes place sometime during the week before the first day of school.
WRAPPING PAPER
Coordinate the sale and distribution of holiday and occasion wrapping paper as well as holiday gifts. Sale
held in early fall.