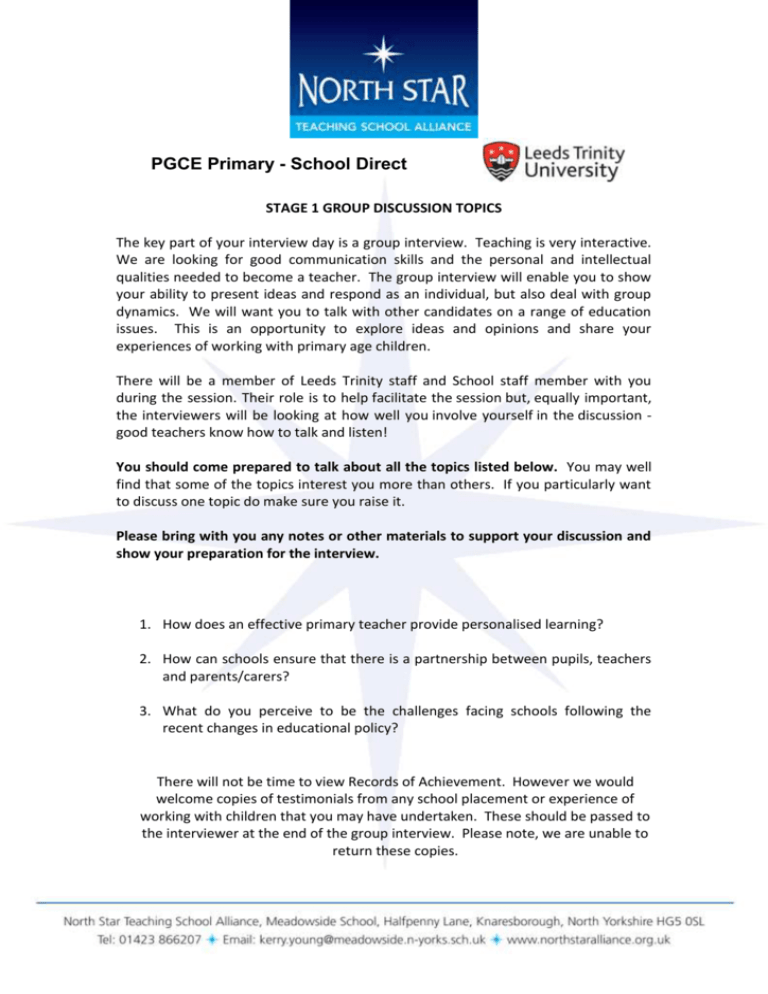 PGCE Primary - School Direct
STAGE 1 GROUP DISCUSSION TOPICS
The key part of your interview day is a group interview. Teaching is very interactive.
We are looking for good communication skills and the personal and intellectual
qualities needed to become a teacher. The group interview will enable you to show
your ability to present ideas and respond as an individual, but also deal with group
dynamics. We will want you to talk with other candidates on a range of education
issues. This is an opportunity to explore ideas and opinions and share your
experiences of working with primary age children.
There will be a member of Leeds Trinity staff and School staff member with you
during the session. Their role is to help facilitate the session but, equally important,
the interviewers will be looking at how well you involve yourself in the discussion good teachers know how to talk and listen!
You should come prepared to talk about all the topics listed below. You may well
find that some of the topics interest you more than others. If you particularly want
to discuss one topic do make sure you raise it.
Please bring with you any notes or other materials to support your discussion and
show your preparation for the interview.
1. How does an effective primary teacher provide personalised learning?
2. How can schools ensure that there is a partnership between pupils, teachers
and parents/carers?
3. What do you perceive to be the challenges facing schools following the
recent changes in educational policy?
There will not be time to view Records of Achievement. However we would
welcome copies of testimonials from any school placement or experience of
working with children that you may have undertaken. These should be passed to
the interviewer at the end of the group interview. Please note, we are unable to
return these copies.