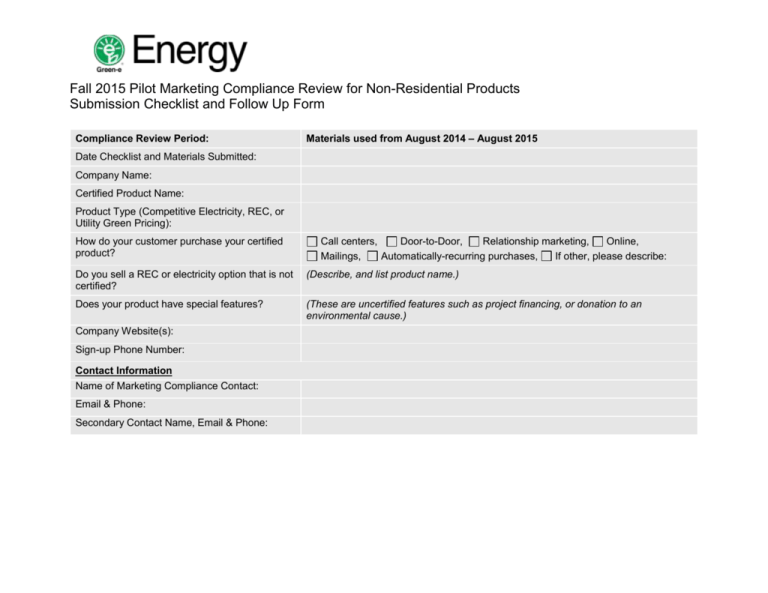 Fall 2015 Pilot Marketing Compliance Review for Non-Residential Products
Submission Checklist and Follow Up Form
Compliance Review Period:
Materials used from August 2014 – August 2015
Date Checklist and Materials Submitted:
Company Name:
Certified Product Name:
Product Type (Competitive Electricity, REC, or
Utility Green Pricing):
How do your customer purchase your certified
product?
Call centers,
Door-to-Door,
Relationship marketing,
Online,
Mailings,
Automatically-recurring purchases,
If other, please describe:
Do you sell a REC or electricity option that is not
certified?
(Describe, and list product name.)
Does your product have special features?
(These are uncertified features such as project financing, or donation to an
environmental cause.)
Company Website(s):
Sign-up Phone Number:
Contact Information
Name of Marketing Compliance Contact:
Email & Phone:
Secondary Contact Name, Email & Phone:
Green-e Energy MCR
Page 2 of 3
Materials
What to submit: Multiple-mix and single-mix products sold to commercial customers only, thank you for participating in this voluntary Pilot
Marketing Compliance Review. This is an opportunity to prepare your commercial products for compliance with the new version of the
Green-e Energy Code of Conduct released July 24, 2015, which requires all product types to submit for Marketing Compliance Review
starting August 2016.
Single mix products sold to residential customers: Submit all materials related to your Green-e Energy certified product per annual MCR
requirements. The Checklist and instructions for residential products are available at: http://www.green-e.org/getcert_re_veri.shtml#mcr.
How to fill out this form: Submit separate Checklists for each product. Complete the Checklist by listing the document name (as written
on the electronic file) or Web Link beside the appropriate Material Type. Include any pertinent notes to your Green-e Energy staff reviewer
in the right hand column after the document name.
How to submit: Submit the Checklist in Word.doc format only. Other materials may be submitted in Word or PDF. Please do not group all
documents into one long document; instead, label documents individually according to their "Material Type" listed in the left-hand column.
Send materials to energy@green-e.org by Monday, August 31, 2015 with a subject line "<company name> Fall 2015 Pilot MCR."
After you submit: Green-e Energy staff will review your submissions against requirements in the Green-e Energy Code of Conduct and
send the Follow Up Form back to you with requests for required changes in the gray rows. Green-e Energy recommends incorporating
these changes as soon as possible.
Material Type
Document File Name/Web Link, and Notes
1 sample 2015 Prospective Product Content Label
Please leave gray rows blank for Green-e Energy comments. We will be returning this form to you with our recommended changes.
1 sample 2014 Historic Product Content Label
Discloses the renewable energy mix delivered to the customer
in the previous year. See the requirements in the Code of
Conduct and review the FAQ.
Green-e Energy MCR
Page 3 of 3
(block out all confidential customer information)
Sample Price, Terms & Conditions and/or applicable
contracts provided to customer at time of sale
Submit samples of all contracts, sales agreements, addendums
used in association with single or multiple mix products sold to
commercial customers.
Company website, and webpages where the product
is advertised
Notes to Green-e Energy staff:
Green-e Energy Regional Representative:
Email and Phone Number:
Date Follow Up Items Must be Complete:
General Comments:
This part of the form will be filled out by Green-e Energy staff as part of
the Pilot Marketing Compliance Review, and sent back to you.