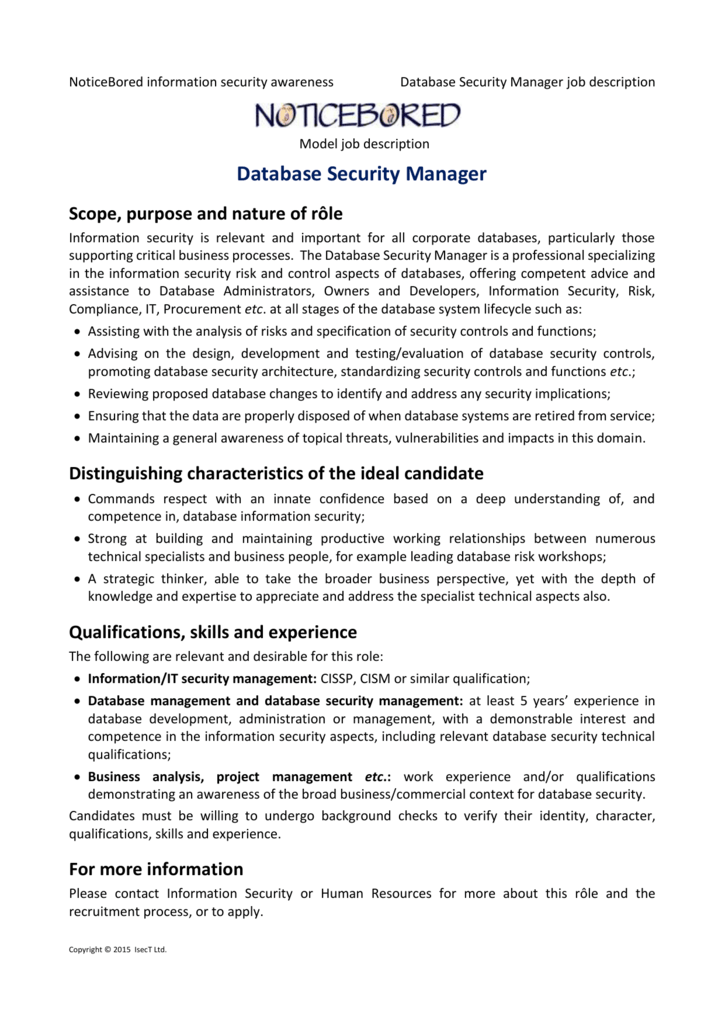 NoticeBored information security awareness
Database Security Manager job description
Model job description
Database Security Manager
Scope, purpose and nature of rôle
Information security is relevant and important for all corporate databases, particularly those
supporting critical business processes. The Database Security Manager is a professional specializing
in the information security risk and control aspects of databases, offering competent advice and
assistance to Database Administrators, Owners and Developers, Information Security, Risk,
Compliance, IT, Procurement etc. at all stages of the database system lifecycle such as:
 Assisting with the analysis of risks and specification of security controls and functions;
 Advising on the design, development and testing/evaluation of database security controls,
promoting database security architecture, standardizing security controls and functions etc.;
 Reviewing proposed database changes to identify and address any security implications;
 Ensuring that the data are properly disposed of when database systems are retired from service;
 Maintaining a general awareness of topical threats, vulnerabilities and impacts in this domain.
Distinguishing characteristics of the ideal candidate
 Commands respect with an innate confidence based on a deep understanding of, and
competence in, database information security;
 Strong at building and maintaining productive working relationships between numerous
technical specialists and business people, for example leading database risk workshops;
 A strategic thinker, able to take the broader business perspective, yet with the depth of
knowledge and expertise to appreciate and address the specialist technical aspects also.
Qualifications, skills and experience
The following are relevant and desirable for this role:
 Information/IT security management: CISSP, CISM or similar qualification;
 Database management and database security management: at least 5 years' experience in
database development, administration or management, with a demonstrable interest and
competence in the information security aspects, including relevant database security technical
qualifications;
 Business analysis, project management etc.: work experience and/or qualifications
demonstrating an awareness of the broad business/commercial context for database security.
Candidates must be willing to undergo background checks to verify their identity, character,
qualifications, skills and experience.
For more information
Please contact Information Security or Human Resources for more about this rôle and the
recruitment process, or to apply.
Copyright © 2015 IsecT Ltd.