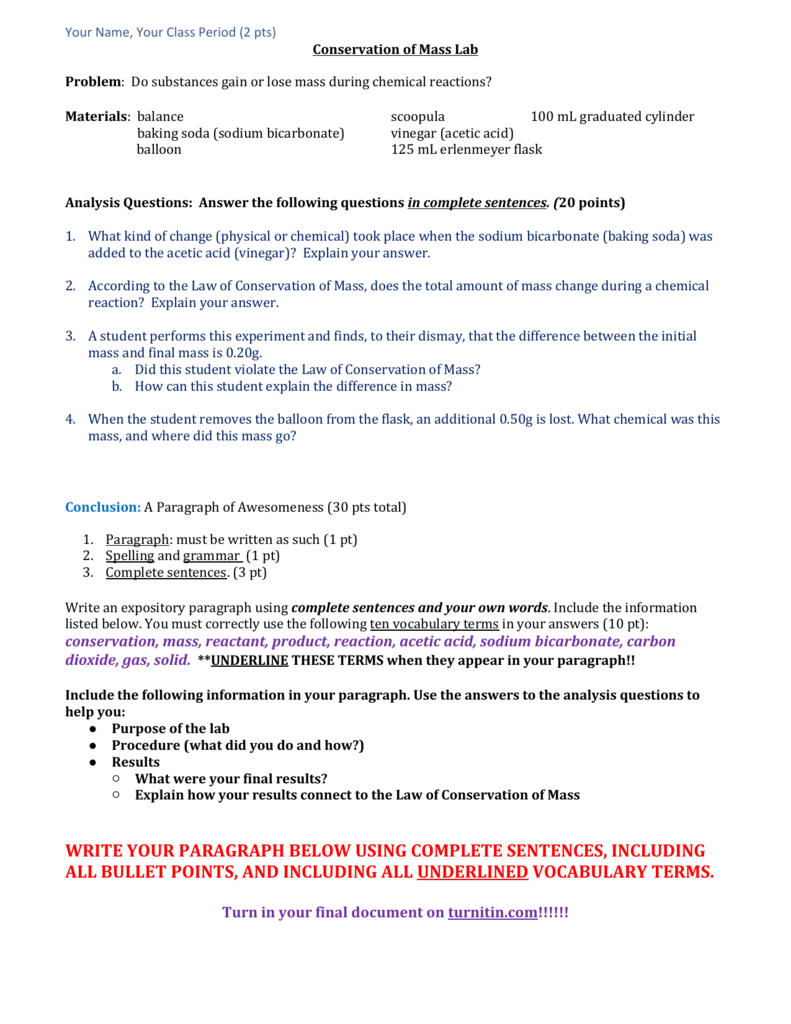 Your Name, Your Class Period (2 pts)
Conservation of Mass Lab
Problem: Do substances gain or lose mass during chemical reactions?
Materials: balance
baking soda (sodium bicarbonate)
balloon
scoopula
100 mL graduated cylinder
vinegar (acetic acid)
125 mL erlenmeyer flask
Analysis Questions: Answer the following questions in complete sentences. (20 points)
1. What kind of change (physical or chemical) took place when the sodium bicarbonate (baking soda) was
added to the acetic acid (vinegar)? Explain your answer.
2. According to the Law of Conservation of Mass, does the total amount of mass change during a chemical
reaction? Explain your answer.
3. A student performs this experiment and finds, to their dismay, that the difference between the initial
mass and final mass is 0.20g.
a. Did this student violate the Law of Conservation of Mass?
b. How can this student explain the difference in mass?
4. When the student removes the balloon from the flask, an additional 0.50g is lost. What chemical was this
mass, and where did this mass go?
Conclusion: A Paragraph of Awesomeness (30 pts total)
1. Paragraph: must be written as such (1 pt)
2. Spelling and grammar (1 pt)
3. Complete sentences. (3 pt)
Write an expository paragraph using complete sentences and your own words. Include the information
listed below. You must correctly use the following ten vocabulary terms in your answers (10 pt):
conservation, mass, reactant, product, reaction, acetic acid, sodium bicarbonate, carbon
dioxide, gas, solid. **UNDERLINE THESE TERMS when they appear in your paragraph!!
Include the following information in your paragraph. Use the answers to the analysis questions to
help you:
● Purpose of the lab
● Procedure (what did you do and how?)
● Results
○ What were your final results?
○ Explain how your results connect to the Law of Conservation of Mass
WRITE YOUR PARAGRAPH BELOW USING COMPLETE SENTENCES, INCLUDING
ALL BULLET POINTS, AND INCLUDING ALL UNDERLINED VOCABULARY TERMS.
Turn in your final document on turnitin.com!!!!!!