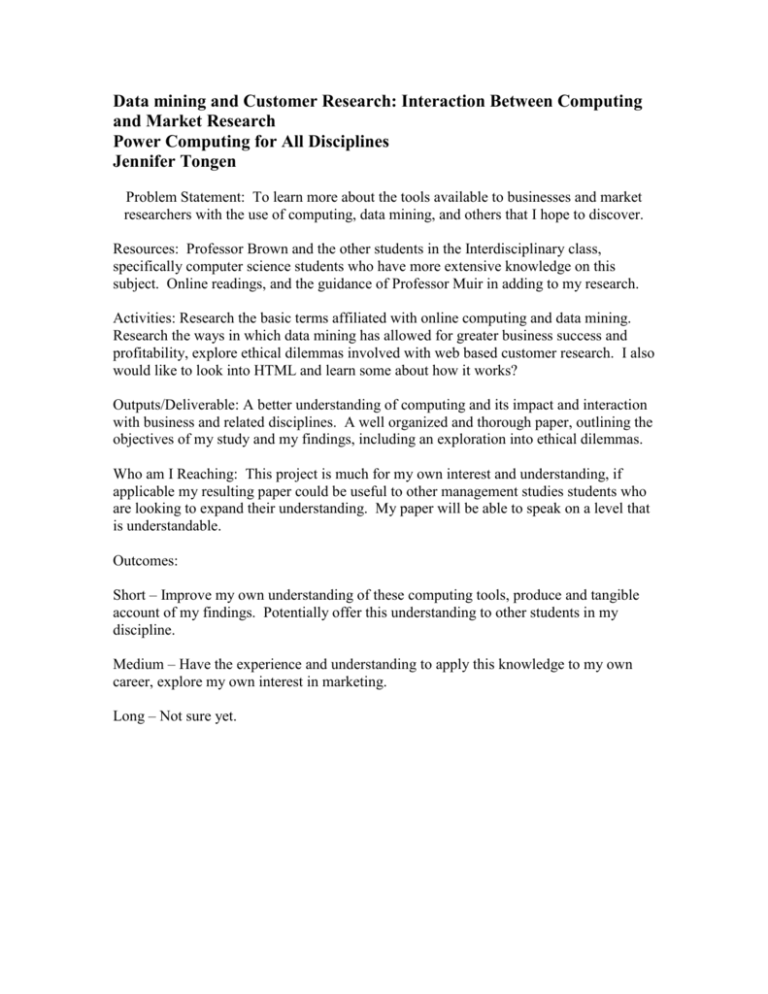 Data mining and Customer Research: Interaction Between Computing
and Market Research
Power Computing for All Disciplines
Jennifer Tongen
Problem Statement: To learn more about the tools available to businesses and market
researchers with the use of computing, data mining, and others that I hope to discover.
Resources: Professor Brown and the other students in the Interdisciplinary class,
specifically computer science students who have more extensive knowledge on this
subject. Online readings, and the guidance of Professor Muir in adding to my research.
Activities: Research the basic terms affiliated with online computing and data mining.
Research the ways in which data mining has allowed for greater business success and
profitability, explore ethical dilemmas involved with web based customer research. I also
would like to look into HTML and learn some about how it works?
Outputs/Deliverable: A better understanding of computing and its impact and interaction
with business and related disciplines. A well organized and thorough paper, outlining the
objectives of my study and my findings, including an exploration into ethical dilemmas.
Who am I Reaching: This project is much for my own interest and understanding, if
applicable my resulting paper could be useful to other management studies students who
are looking to expand their understanding. My paper will be able to speak on a level that
is understandable.
Outcomes:
Short – Improve my own understanding of these computing tools, produce and tangible
account of my findings. Potentially offer this understanding to other students in my
discipline.
Medium – Have the experience and understanding to apply this knowledge to my own
career, explore my own interest in marketing.
Long – Not sure yet.