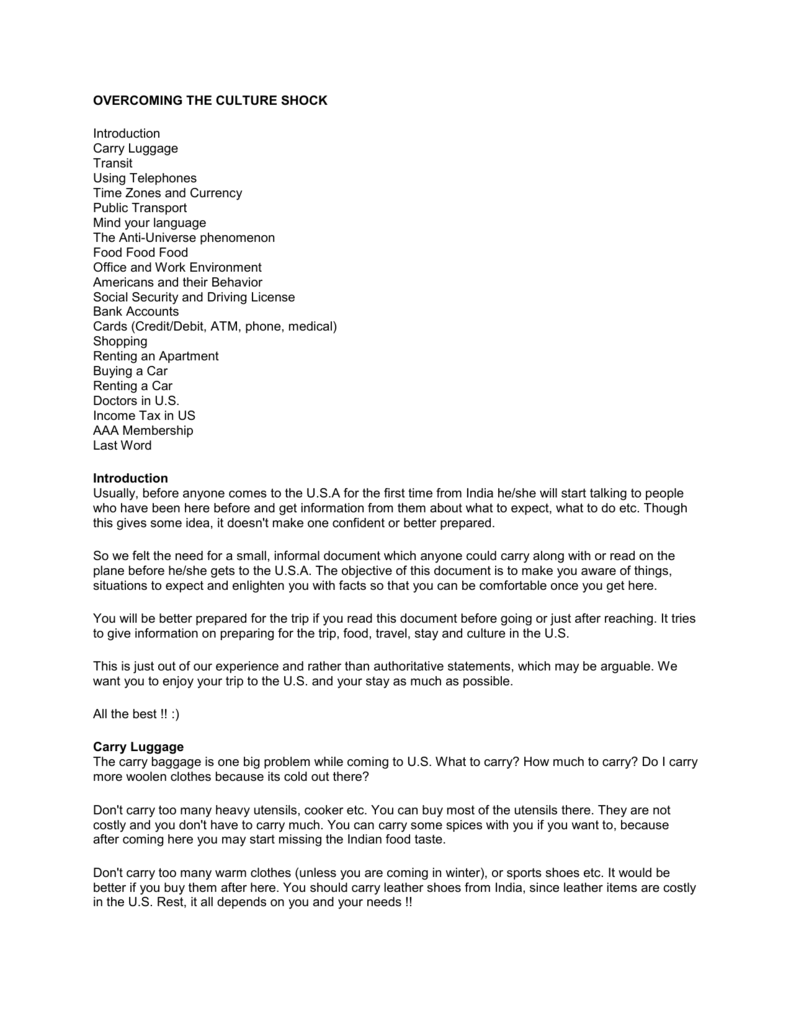 OVERCOMING THE CULTURE SHOCK
Introduction
Carry Luggage
Transit
Using Telephones
Time Zones and Currency
Public Transport
Mind your language
The Anti-Universe phenomenon
Food Food Food
Office and Work Environment
Americans and their Behavior
Social Security and Driving License
Bank Accounts
Cards (Credit/Debit, ATM, phone, medical)
Shopping
Renting an Apartment
Buying a Car
Renting a Car
Doctors in U.S.
Income Tax in US
AAA Membership
Last Word
Introduction
Usually, before anyone comes to the U.S.A for the first time from India he/she will start talking to people
who have been here before and get information from them about what to expect, what to do etc. Though
this gives some idea, it doesn't make one confident or better prepared.
So we felt the need for a small, informal document which anyone could carry along with or read on the
plane before he/she gets to the U.S.A. The objective of this document is to make you aware of things,
situations to expect and enlighten you with facts so that you can be comfortable once you get here.
You will be better prepared for the trip if you read this document before going or just after reaching. It tries
to give information on preparing for the trip, food, travel, stay and culture in the U.S.
This is just out of our experience and rather than authoritative statements, which may be arguable. We
want you to enjoy your trip to the U.S. and your stay as much as possible.
All the best !! :)
Carry Luggage
The carry baggage is one big problem while coming to U.S. What to carry? How much to carry? Do I carry
more woolen clothes because its cold out there?
Don't carry too many heavy utensils, cooker etc. You can buy most of the utensils there. They are not
costly and you don't have to carry much. You can carry some spices with you if you want to, because
after coming here you may start missing the Indian food taste.
Don't carry too many warm clothes (unless you are coming in winter), or sports shoes etc. It would be
better if you buy them after here. You should carry leather shoes from India, since leather items are costly
in the U.S. Rest, it all depends on you and your needs !!
Transit
Enjoy your flight. Try to learn more about other nations from the co-passengers. There can be
international stops on your way to the U.S.
International Stops
Generally passengers are required to get down at an International stop, which might be for Security
checkup or fueling / cleaning of the airplane. You will be given a 'transit card` or say 'transit visa`.
Normally the halt is for a couple of hours. Listen to the announcement which is always made before the
international halt. You will hear information about departure time, gate number etc. After getting down at
International Airport, you can move around in the airport. Be at the gate within 45 minutes of your flight's
departure for the onward journey, because they may require to check your tickets or even the gate might
be changed at the last moment. Once you get in, you are all set to take off for the final destination.
Immigration
The first thing you need to go through at the port-of-entry U.S. airport (international airport where you first
land in the U.S.), after landing is the immigration and customs clearance. After that you may board a
domestic flight to reach your final destination. Before getting down at your port-of-entry final international
halt, inside the plane, you will be given a form to fill up called I-94. You will have to fill that up carefully.
Feel free to get help from the flight crew. They will also ask you to fill you a 'declaration form' asking you
about what objectionable items you have in your baggage (there will be a checklist).
On alighting from the plane you may ask people or signs will guide you to the immigration. Keep your
passport, I-20 and the form you filled inside the plane, handy. At the counter you might be asked some
questions. TALK ABSOLUTELY TO THE POINT. DON'T TRY TO LIE. MAKE SURE THAT WHATEVER
YOU SAY IS WRITTEN ON THE PAPER. You will be given the counter foil of I-94 form. Keep that very
carefully. It may / may not be stapled to your passport.