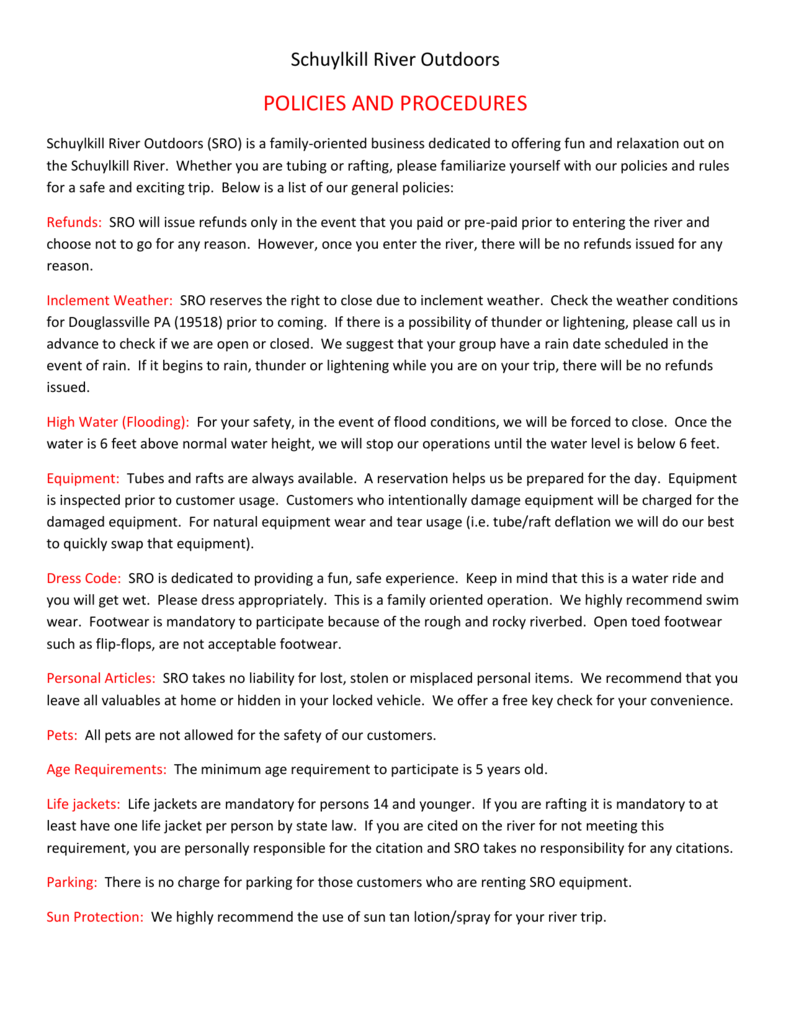 Schuylkill River Outdoors
POLICIES AND PROCEDURES
Schuylkill River Outdoors (SRO) is a family-oriented business dedicated to offering fun and relaxation out on
the Schuylkill River. Whether you are tubing or rafting, please familiarize yourself with our policies and rules
for a safe and exciting trip. Below is a list of our general policies:
Refunds: SRO will issue refunds only in the event that you paid or pre-paid prior to entering the river and
choose not to go for any reason. However, once you enter the river, there will be no refunds issued for any
reason.
Inclement Weather: SRO reserves the right to close due to inclement weather. Check the weather conditions
for Douglassville PA (19518) prior to coming. If there is a possibility of thunder or lightening, please call us in
advance to check if we are open or closed. We suggest that your group have a rain date scheduled in the
event of rain. If it begins to rain, thunder or lightening while you are on your trip, there will be no refunds
issued.
High Water (Flooding): For your safety, in the event of flood conditions, we will be forced to close. Once the
water is 6 feet above normal water height, we will stop our operations until the water level is below 6 feet.
Equipment: Tubes and rafts are always available. A reservation helps us be prepared for the day. Equipment
is inspected prior to customer usage. Customers who intentionally damage equipment will be charged for the
damaged equipment. For natural equipment wear and tear usage (i.e. tube/raft deflation we will do our best
to quickly swap that equipment).
Dress Code: SRO is dedicated to providing a fun, safe experience. Keep in mind that this is a water ride and
you will get wet. Please dress appropriately. This is a family oriented operation. We highly recommend swim
wear. Footwear is mandatory to participate because of the rough and rocky riverbed. Open toed footwear
such as flip-flops, are not acceptable footwear.
Personal Articles: SRO takes no liability for lost, stolen or misplaced personal items. We recommend that you
leave all valuables at home or hidden in your locked vehicle. We offer a free key check for your convenience.
Pets: All pets are not allowed for the safety of our customers.
Age Requirements: The minimum age requirement to participate is 5 years old.
Life jackets: Life jackets are mandatory for persons 14 and younger. If you are rafting it is mandatory to at
least have one life jacket per person by state law. If you are cited on the river for not meeting this
requirement, you are personally responsible for the citation and SRO takes no responsibility for any citations.
Parking: There is no charge for parking for those customers who are renting SRO equipment.
Sun Protection: We highly recommend the use of sun tan lotion/spray for your river trip.
Inherent Risks: SRO is not responsible for any injuries. Please be aware that this is an un-guided trip on a
natural waterway with inherent risks. Risks include but are not limited to: sunburn, sun poisoning, heat
stroke, dehydration, cuts, bruises, scrapes, allergic reactions, fractures, dislocations, broken limbs and
drowning/death. There are no life guards on duty along the river.
This is a physical activity in a semi-wild environment. The River is constantly changing and unforeseen
conditions can and do exist such as fallen trees and limbs; rocks and other obstacles in the water; fast and
suddenly changing water currents; changing weather conditions; wildlife; etc. Many of the obvious and most
frequent conditions to be aware of will be described to you by one of our staff members prior to your trip. If
you have not received these instructions you must ask the staff for them prior to getting on the River. You are
the only one who can determine your ability to safely handle these types of conditions and you must be willing
to accept the risks associated with them. If there is any doubt in your mind don't go.
Participant Restrictions: We do not allow individuals to participate if they are pregnant, have heart or lung
conditions, are under the influence of any drug or alcohol, are under the age of five (5) or under the age of 18
without a parent/guardian.
Language and Conduct: Offensive language or behavior will not be tolerated. Please remember this is a family
oriented business. Thank you.
Coupons: Coupons are limited to one per transaction and cannot be combined with any other offers. You
must present the coupon to the cashier to redeem the special promotion.
Filming and Photography: Please be aware that SRO will occasionally be filming and taking pictures for our
website, videos and/or promotional uses while you are on the property or the river. If this is a problem,
please do not participate. On the days that we will film or take pictures, a notice will be posted.
FOR THE PROTECTION OF ALL AND THE RIVER WE ASK THAT YOU DO NOT BRING ANY GLASS ON THE RIVER.
DISCLAIMER:
IF YOU DO NOT AGREE WITH ANY POLICY OR THE POLICIES, DO NOT PARTICIPATE!
IF YOU ARE CAUGHT VIOLATING ANY OF OUR POLICIES, YOU WILL NOT BE PERMITTED TO PARTICIPATE.
BY ENTERING THE RIVER, YOU ARE VOLUNTARILY ACCEPTING ALL OF SCHUYLKILL RIVER OUTDOOR'S POLICIES
AND ARE ACKNOWLEDGING THAT YOU HAVE FULLY READ AND UNDERSTOOD THE POLICIES AND
PROCEDURES. FURTHERMORE, YOU UNDERSTAND THAT THIS TRIP IS NON-GUIDED AND YOU ARE ENTERING
AT YOUR OWN RISK.
IF YOU HAVE ANY QUESTIONS IN REGARDS TO OUR POLICIES, PLEASE SEND YOUR INQUIRIES TO US BY EMAIL.