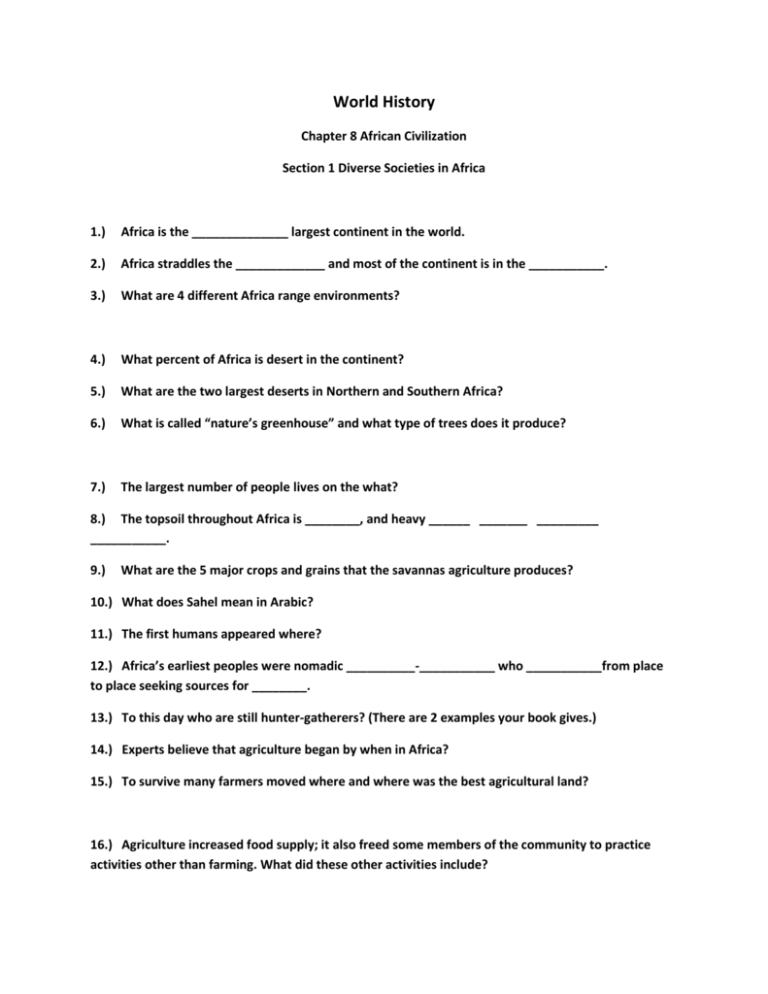 World History
Chapter 8 African Civilization
Section 1 Diverse Societies in Africa
1.)
Africa is the ______________ largest continent in the world.
2.)
Africa straddles the _____________ and most of the continent is in the ___________.
3.)
What are 4 different Africa range environments?
4.)
What percent of Africa is desert in the continent?
5.)
What are the two largest deserts in Northern and Southern Africa?
6.)
What is called "nature's greenhouse" and what type of trees does it produce?
7.)
The largest number of people lives on the what?
8.) The topsoil throughout Africa is ________, and heavy ______ _______ _________
___________.
9.)
What are the 5 major crops and grains that the savannas agriculture produces?
10.) What does Sahel mean in Arabic?
11.) The first humans appeared where?
12.) Africa's earliest peoples were nomadic __________-___________ who ___________from place
to place seeking sources for ________.
13.) To this day who are still hunter-gatherers? (There are 2 examples your book gives.)
14.) Experts believe that agriculture began by when in Africa?
15.) To survive many farmers moved where and where was the best agricultural land?
16.) Agriculture increased food supply; it also freed some members of the community to practice
activities other than farming. What did these other activities include?
17.) San women fasten a two-compartment bag called a __________, which carries more than 20
pounds of food. Name the 8 types of food that your text book gives you.
18.) The societies south of the Sahara----like all human cultures ----shared common elements. One of
these elements was the importance of the social unit, ____ _______.
19.) Define EXTENDED FAMILY and CLAN.
20.) ANIMISM is a religion in which spirits played an important role in regulating daily life. Animist
believed that what?
21.) In West Africa what were the storytellers called?
22.) In West Africa, Archaeologists believe that early peoples moved into this area from the north
because of what?
23.) The oldest objects dated from 250 B.C. making this city the oldest known city in Africa, south of
the Sahara. What is this cities name?
24.) At its height, Djenne-Djeno had how many residents live there and what was the name of the
other city that arose in A.D. 1400 about 2 miles away?
25.) West Africa's earliest known culture was that of what people?
26.) The _____ were farmers, they were also the first West African people known to ________ iron.
27.) The Nok developed _______- ____________ technology about 500 B.C. nearly 300 years before it
arose in Djenne-Djeno.
28.) Many of the Nok sculptures are made out of terra cotta. What is terra cotta?
29.) The Nok sculptures were often depicted of human or animal heads. What was the distinctive
hairdo that was in one of the heads and what did this indicate?
30.) While the early inhabitants of West Africa were developing cities, cultures, and technologies,
what was East Africa doing?