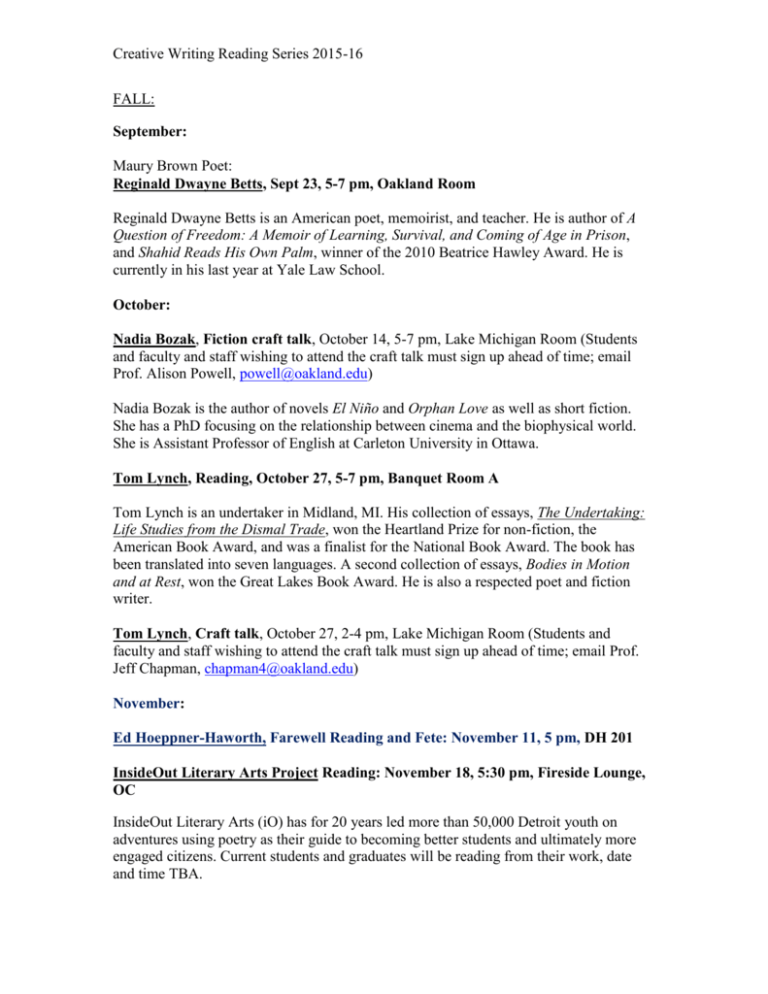 Creative Writing Reading Series 2015-16
FALL:
September:
Maury Brown Poet:
Reginald Dwayne Betts, Sept 23, 5-7 pm, Oakland Room
Reginald Dwayne Betts is an American poet, memoirist, and teacher. He is author of A
Question of Freedom: A Memoir of Learning, Survival, and Coming of Age in Prison,
and Shahid Reads His Own Palm, winner of the 2010 Beatrice Hawley Award. He is
currently in his last year at Yale Law School.
October:
Nadia Bozak, Fiction craft talk, October 14, 5-7 pm, Lake Michigan Room (Students
and faculty and staff wishing to attend the craft talk must sign up ahead of time; email
Prof. Alison Powell, powell@oakland.edu)
Nadia Bozak is the author of novels El Niño and Orphan Love as well as short fiction.
She has a PhD focusing on the relationship between cinema and the biophysical world.
She is Assistant Professor of English at Carleton University in Ottawa.
Tom Lynch, Reading, October 27, 5-7 pm, Banquet Room A
Tom Lynch is an undertaker in Midland, MI. His collection of essays, The Undertaking:
Life Studies from the Dismal Trade, won the Heartland Prize for non-fiction, the
American Book Award, and was a finalist for the National Book Award. The book has
been translated into seven languages. A second collection of essays, Bodies in Motion
and at Rest, won the Great Lakes Book Award. He is also a respected poet and fiction
writer.
Tom Lynch, Craft talk, October 27, 2-4 pm, Lake Michigan Room (Students and
faculty and staff wishing to attend the craft talk must sign up ahead of time; email Prof.
Jeff Chapman, chapman4@oakland.edu)
November:
Ed Hoeppner-Haworth, Farewell Reading and Fete: November 11, 5 pm, DH 201
InsideOut Literary Arts Project Reading: November 18, 5:30 pm, Fireside Lounge,
OC
InsideOut Literary Arts (iO) has for 20 years led more than 50,000 Detroit youth on
adventures using poetry as their guide to becoming better students and ultimately more
engaged citizens. Current students and graduates will be reading from their work, date
and time TBA.
Creative Writing Reading Series 2015-16
December:
Lee Ehlers: Talk on Screenwriting: the current scene, December 1, 5:30-7 pm, SFH
166
Lee Ehlers has won several awards, including Tracking Board's Young and Hungry List
(Top Screenwriters on the Verge) (2014) and Best Original Screenplay (Motion Picture
Institute of Michigan) (2008). He's had three screenplays commissioned, has worked as a
script doctor, and writes sketches for FunnyOrDie.com.
WINTER:
January:
Faculty Talk: on getting published; Alison Powell: poetry; Peter Markus: fiction.
Thursday, Jan 28th, 5 pm. Room: TBA.
February:
Simeon Berry, Reading, Feb., details TBA
Simeon Berry Poetry craft talk, (Students and faculty and staff wishing to attend the
craft talk must sign up ahead of time; email Prof. Alison Powell, powell@oakland.edu)
Simeon Berry has won the Academy of American Poets Award and the Career Chapter
Award from the National Society of Arts and Letters and has authored the prize-winning
collections Ampersand Revisited and Monograph.
March:
Elizabeth Graver Reading, March 17, 2016, Reading 5-7 pm, location TBA
Elizabeth Graver Fiction craft talk, March 17, 2-4 pm, location TBA (Students and
faculty and staff wishing to attend the craft talk must sign up ahead of time; email Prof.
Annie Gilson, gilson@oakland.edu)
Elizabeth Graver writes character-driven psychological novels as well as more
experimental short fiction, and non-fiction essays on a variety of subjects. Her 2013
novel, "The End of the Point," has met with much praise and was featured by New York
Times Book Review.
April:
Slam Poetry Showcase, Wednesday, April 6th and Thursday, April 7th, location TBA
Creative Writing Reading Series 2015-16
Alix Olson and Greg Jacobs
Alix Olson is an American poet who works exclusively in spoken word. She uses her
work to address issues of capitalism, sexism, homophobia, heterosexism, misogyny, and
patriarchy. She identifies as a queer feminist. In 1997, Olson began performing at the
Nuyorican Poets Cafe, where she quickly made the 1998 Nuyorican Poetry Slam team.
She and her fellow Nuyorican team members Lynne Procope, Steve Colman and Guy
LeCharles Gonzalez would go on to win the 1998 National Poetry Slam Championship in
Austin, TX. This championship would lead to Soft Skull Press publishing the anthology
Burning Down the House which showcased poetry by Olson, Procope, Coleman and
Gonzalez as well as poetry by the 1998 Nuyorican Team's coach, Roger Bonair-Agard.
GREG JACOBS is co-founder of Siskel / Jacobs Productions, founded in 2005. Jacobs
and his partner Jon Siskel produced and directed the documentary feature Louder Than a
Bomb, which follows four Chicago-area high school poetry teams as they prepare for and
compete in the world's largest youth slam. The film has won seventeen festival prizes,
including ten audience awards. It was also selected for the 2011 American Documentary
Showcase. Louder Than a Bomb had its world television premiere on the Oprah Winrey
Network in January 2012, as part of the OWN Documentary Club. Jacobs also served as
VP/Chief Creative Officer at Towers Productions, where he oversaw the content of more
than two hundred documentaries on five different networks, including award-winning
shows and series for A&E, History, Discovery, The Weather Channel, and CNN. A
graduate of Yale University, Greg is the author of Getting Around Brown:
Desegregation, Development, and the Columbus Public Schools.