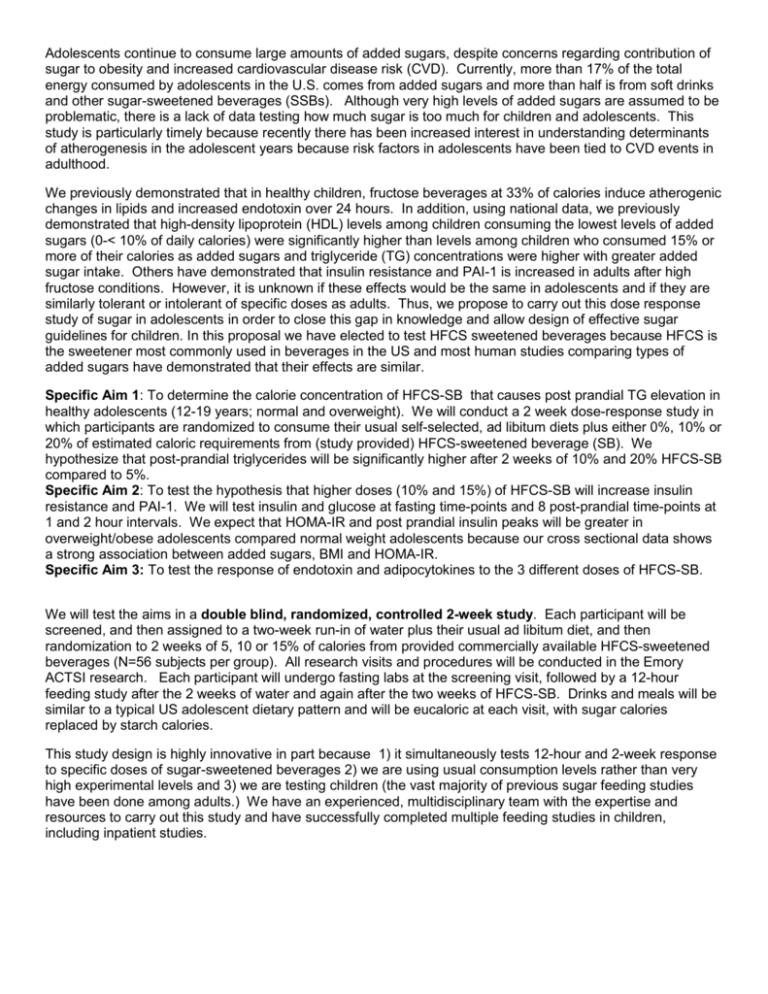 Adolescents continue to consume large amounts of added sugars, despite concerns regarding contribution of
sugar to obesity and increased cardiovascular disease risk (CVD). Currently, more than 17% of the total
energy consumed by adolescents in the U.S. comes from added sugars and more than half is from soft drinks
and other sugar-sweetened beverages (SSBs). Although very high levels of added sugars are assumed to be
problematic, there is a lack of data testing how much sugar is too much for children and adolescents. This
study is particularly timely because recently there has been increased interest in understanding determinants
of atherogenesis in the adolescent years because risk factors in adolescents have been tied to CVD events in
adulthood.
We previously demonstrated that in healthy children, fructose beverages at 33% of calories induce atherogenic
changes in lipids and increased endotoxin over 24 hours. In addition, using national data, we previously
demonstrated that high-density lipoprotein (HDL) levels among children consuming the lowest levels of added
sugars (0-< 10% of daily calories) were significantly higher than levels among children who consumed 15% or
more of their calories as added sugars and triglyceride (TG) concentrations were higher with greater added
sugar intake. Others have demonstrated that insulin resistance and PAI-1 is increased in adults after high
fructose conditions. However, it is unknown if these effects would be the same in adolescents and if they are
similarly tolerant or intolerant of specific doses as adults. Thus, we propose to carry out this dose response
study of sugar in adolescents in order to close this gap in knowledge and allow design of effective sugar
guidelines for children. In this proposal we have elected to test HFCS sweetened beverages because HFCS is
the sweetener most commonly used in beverages in the US and most human studies comparing types of
added sugars have demonstrated that their effects are similar.
Specific Aim 1: To determine the calorie concentration of HFCS-SB that causes post prandial TG elevation in
healthy adolescents (12-19 years; normal and overweight). We will conduct a 2 week dose-response study in
which participants are randomized to consume their usual self-selected, ad libitum diets plus either 0%, 10% or
20% of estimated caloric requirements from (study provided) HFCS-sweetened beverage (SB). We
hypothesize that post-prandial triglycerides will be significantly higher after 2 weeks of 10% and 20% HFCS-SB
compared to 5%.
Specific Aim 2: To test the hypothesis that higher doses (10% and 15%) of HFCS-SB will increase insulin
resistance and PAI-1. We will test insulin and glucose at fasting time-points and 8 post-prandial time-points at
1 and 2 hour intervals. We expect that HOMA-IR and post prandial insulin peaks will be greater in
overweight/obese adolescents compared normal weight adolescents because our cross sectional data shows
a strong association between added sugars, BMI and HOMA-IR.
Specific Aim 3: To test the response of endotoxin and adipocytokines to the 3 different doses of HFCS-SB.
We will test the aims in a double blind, randomized, controlled 2-week study. Each participant will be
screened, and then assigned to a two-week run-in of water plus their usual ad libitum diet, and then
randomization to 2 weeks of 5, 10 or 15% of calories from provided commercially available HFCS-sweetened
beverages (N=56 subjects per group). All research visits and procedures will be conducted in the Emory
ACTSI research. Each participant will undergo fasting labs at the screening visit, followed by a 12-hour
feeding study after the 2 weeks of water and again after the two weeks of HFCS-SB. Drinks and meals will be
similar to a typical US adolescent dietary pattern and will be eucaloric at each visit, with sugar calories
replaced by starch calories.
This study design is highly innovative in part because 1) it simultaneously tests 12-hour and 2-week response
to specific doses of sugar-sweetened beverages 2) we are using usual consumption levels rather than very
high experimental levels and 3) we are testing children (the vast majority of previous sugar feeding studies
have been done among adults.) We have an experienced, multidisciplinary team with the expertise and
resources to carry out this study and have successfully completed multiple feeding studies in children,
including inpatient studies.