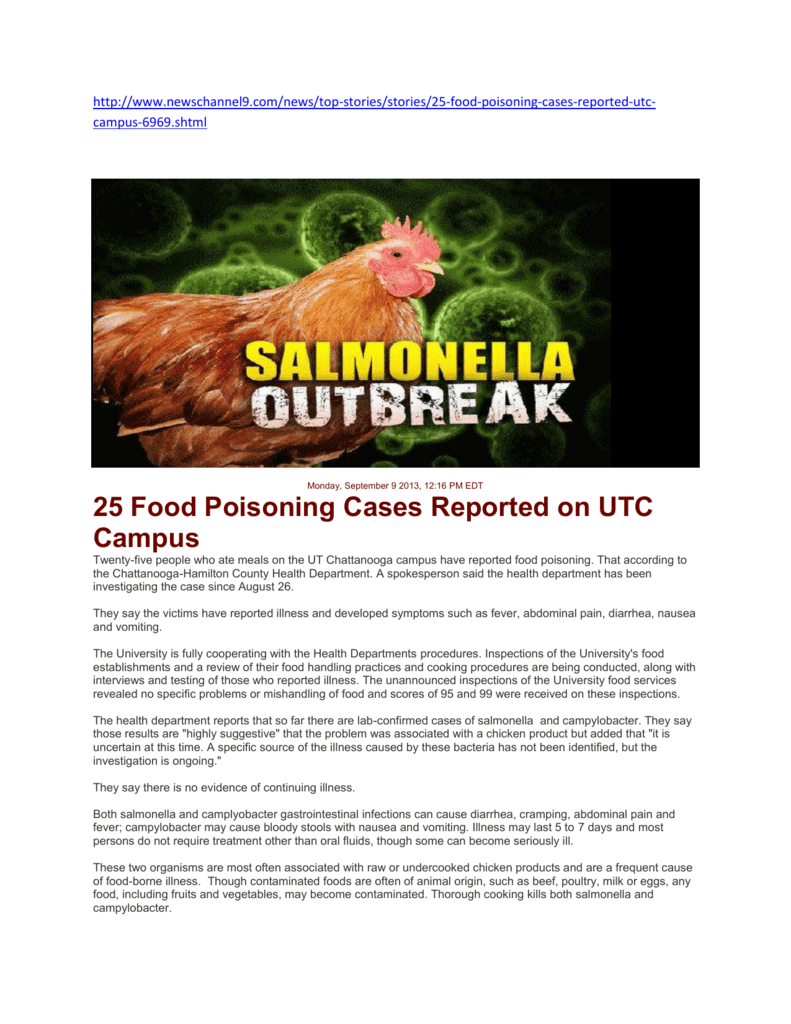 http://www.newschannel9.com/news/top-stories/stories/25-food-poisoning-cases-reported-utccampus-6969.shtml
Monday, September 9 2013, 12:16 PM EDT
25 Food Poisoning Cases Reported on UTC
Campus
Twenty-five people who ate meals on the UT Chattanooga campus have reported food poisoning. That according to
the Chattanooga-Hamilton County Health Department. A spokesperson said the health department has been
investigating the case since August 26.
They say the victims have reported illness and developed symptoms such as fever, abdominal pain, diarrhea, nausea
and vomiting.
The University is fully cooperating with the Health Departments procedures. Inspections of the University's food
establishments and a review of their food handling practices and cooking procedures are being conducted, along with
interviews and testing of those who reported illness. The unannounced inspections of the University food services
revealed no specific problems or mishandling of food and scores of 95 and 99 were received on these inspections.
The health department reports that so far there are lab-confirmed cases of salmonella and campylobacter. They say
those results are "highly suggestive" that the problem was associated with a chicken product but added that "it is
uncertain at this time. A specific source of the illness caused by these bacteria has not been identified, but the
investigation is ongoing."
They say there is no evidence of continuing illness.
Both salmonella and camplyobacter gastrointestinal infections can cause diarrhea, cramping, abdominal pain and
fever; campylobacter may cause bloody stools with nausea and vomiting. Illness may last 5 to 7 days and most
persons do not require treatment other than oral fluids, though some can become seriously ill.
These two organisms are most often associated with raw or undercooked chicken products and are a frequent cause
of food-borne illness. Though contaminated foods are often of animal origin, such as beef, poultry, milk or eggs, any
food, including fruits and vegetables, may become contaminated. Thorough cooking kills both salmonella and
campylobacter.
The Centers for Disease Control and Prevention (CDC) recommends that all persons follow these food handling
practices to prevent food borne infections, including those from salmonella and campylobacter:
-- Cook all poultry, ground beef, and eggs thoroughly. Make sure that the meat is cooked throughout (no longer pink)
and any juices run clear. Ensure that foods are cooked to a safe internal temperature: 165F for all poultry, 145 for
whole meats, 160 for ground meats.
-- Never eat raw or lightly cooked (runny whites or yolks) eggs.
-- Do not eat or drink foods containing raw (unpasteurized) milk.
-- If you are served undercooked meat, poultry or eggs in a restaurant, send it back for further cooking.
-- Wash hands with soap before preparing food
-- Wash hands with soap after handling raw foods of animal origin and before touching anything else.
-- Prevent cross-contamination in the kitchen by using separate cutting boards for foods of animal origin and other
foods and by thoroughly cleaning all cutting boards, countertops, and utensils with soap and hot water after preparing
raw food of animal origin.
-- Keep cold foods cold and hot foods hot. Refrigerate leftovers promptly.
-- Make sure that persons with diarrhea, especially children, wash their hands carefully and frequently with soap to
reduce the risk of spreading the infection.
-- Do not prepare food for others if you have diarrhea or vomiting.
-- Wash hands with soap immediately after coming in contact with pet feces or after handling reptiles (turtles,
iguanas, other lizards, snakes), birds or baby chicks, even if the animal is healthy.
UTC students or employees who experience prolonged diarrhea, fever and chills - or who may have done so
recently- are encouraged to contact the Chattanooga-Hamilton County Health Department at 423-209-8190 or the
UTC Student Health Center at 423-425-2266.